Of all the kale recipes, my Kale Pasta Casserole is probably one of the most satisfying. I have long wondered about how to cook kale and have finally found my way with my Kale Pesto which is the basis for this Kale Pasta Casserole. I bet you want to try it and add it to your list of must-try kale recipes.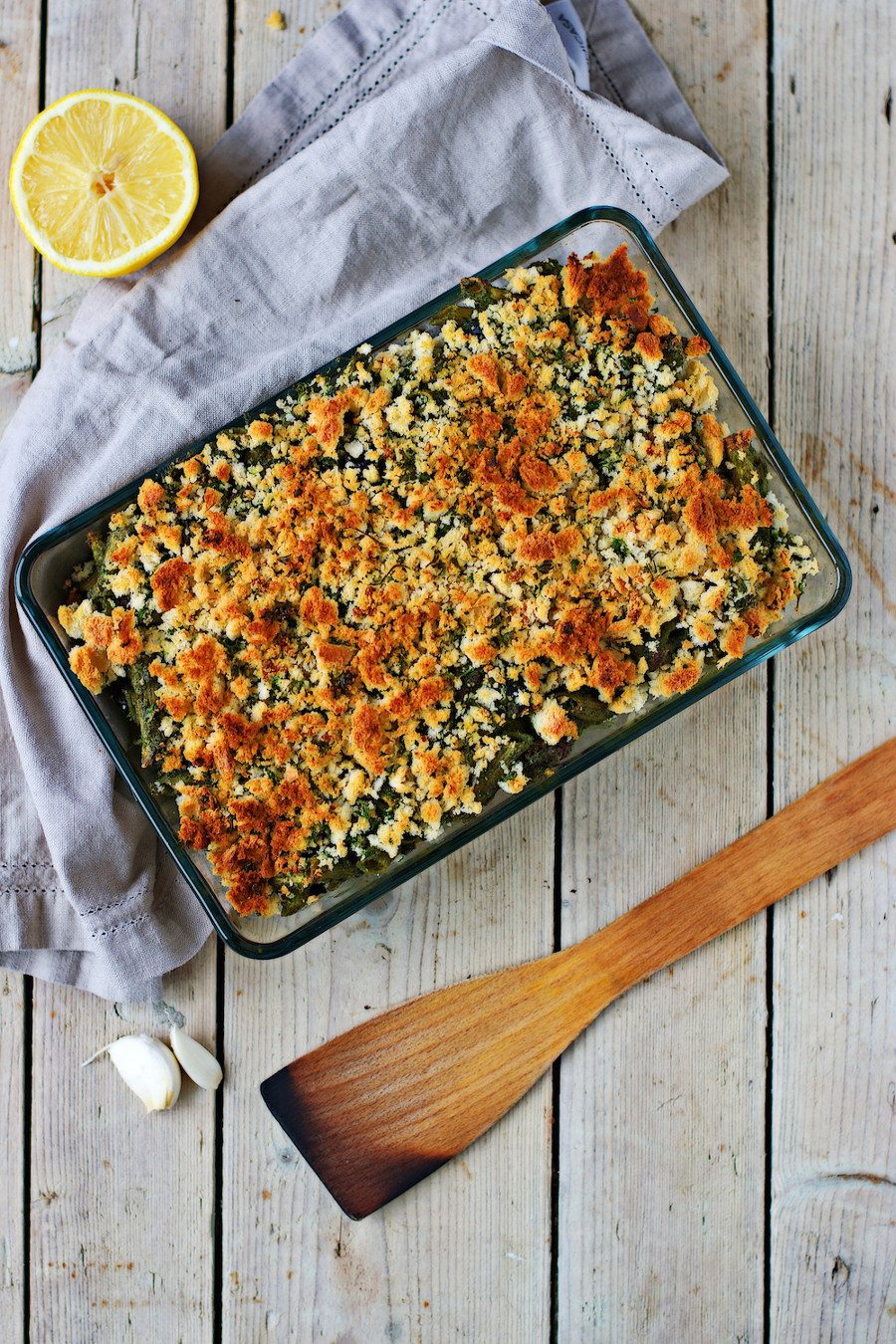 Contentedness Cooking has a couple of love stories. Some of them unexpected, like the one between my friends Denise and Michael. But more recently, another love story has been added to my blog. One that involves me.
Kale. I'm talking about kale. You know, that stuff that I couldn't really warm up to for a long time. Kale recipes were not very high on my list. Only after I not long ago made my Kale Pesto as a last chance for this stuff to convince me it's actually good.
And it did – I loved it to my own surprise.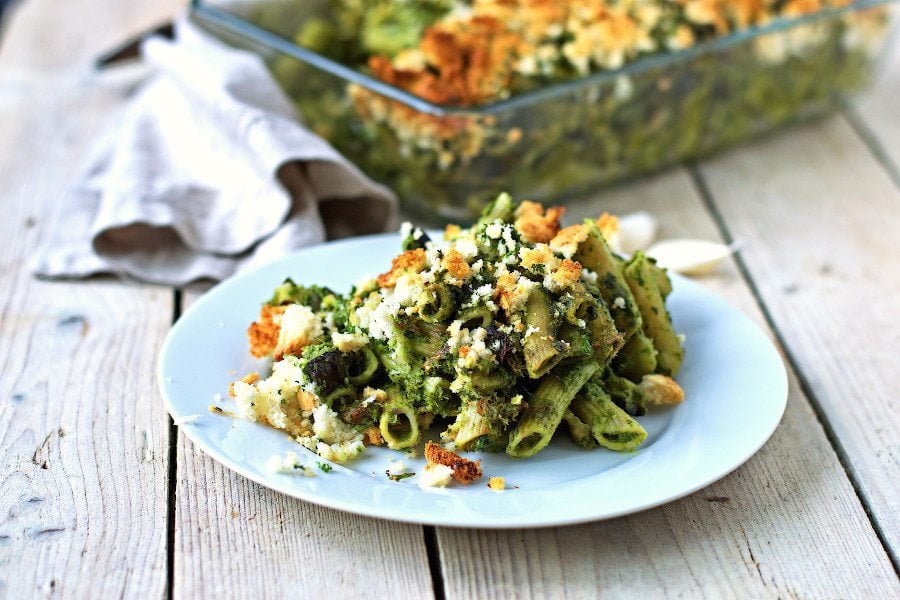 Truth to be told, I wasn't quite sure if this wasn't some fluke. So, time for double-checking! I made another batch of the Kale Pesto.
But this time, I would have it as part of a hearty Kale Pasta Casserole. With gluten-free pasta, and a special savory extra from sun-dried tomatoes as well as olives.
I also sautéed thin stripes of eggplant in a bit of olive oil and mixed all together with the pesto.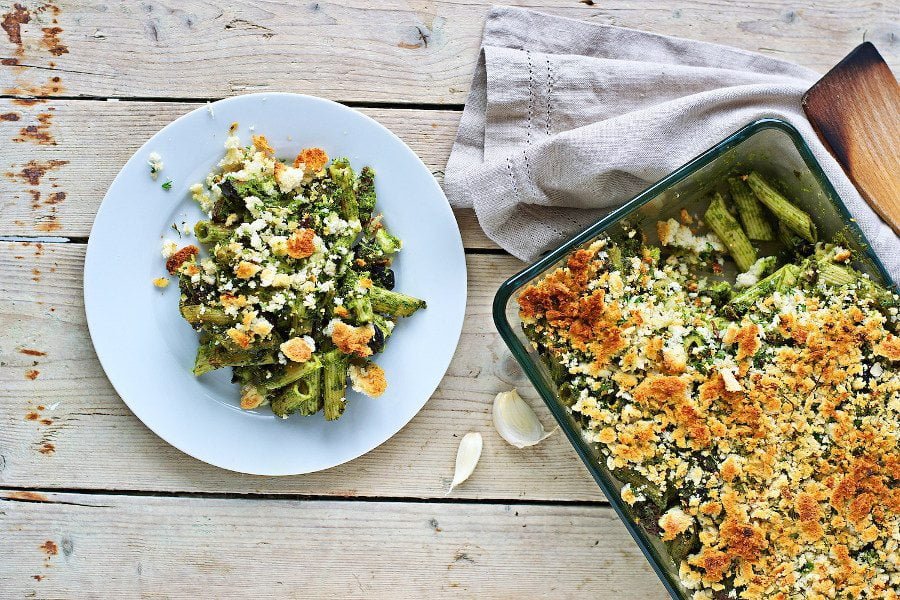 An absolutely lovely highlight is the crust consisting of a gf bread crumbs mix with olive oil and garlic that covers the casserole – crunchy, hearty, perfect! This Kale Pasta Casserole baked for 15-20 minutes and kept my love for kale hot and alive 😉

If you try my Kale Pasta Casserole I'm happy to see a tag on Facebook and Instagram. Snap a picture and let me know what you think. See you soon, Florian.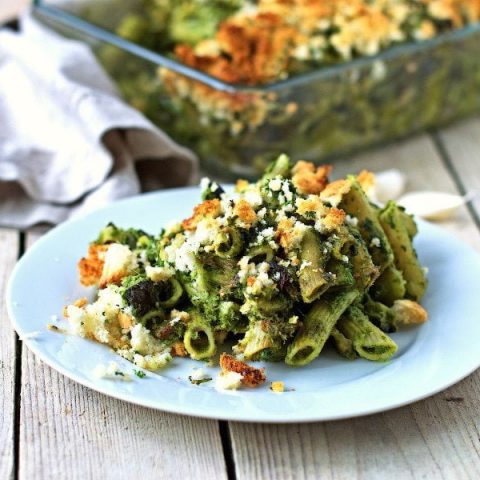 Kale Pasta Casserole
My newly discovered love for kale continues in this Kale Pasta Casserole recipe. My Kale Pesto is combined with sun-dried tomatoes, sautéed eggplant, and olives. A tasty bread crump mix covers this stunner of a healthy casserole.
Ingredients
8 oz (250 g) gluten-free pasta
one handful of chopped sun-dried tomatoes
3/4 cup (130 g) chopped olives
1 eggplant
2 handful of gluten-free breadcrumbs
1 clove of garlic
olive oil
Instructions
Preheat oven to 390°F (200°C).
Wash the eggplant and cut it into thin slices. Heat 1 Tbs of olive oil in a pan and add the eggplant slices. Season with salt and pepper and sauté until the eggplant begins to soften.
Cook the pasta according to manufacturer's instructions.
In the meantime, chop the olives and sun-dried tomatoes.
Mix the cooked pasta, sautéed eggplant, sun-dried tomatoes, olives, and the kale pesto in a large bowl. Transfer to a casserole dish.
In a small bowl, combine gf breadcrumbs with a Tbs of olive oil and one crushed clove of garlic. Spread mixture over the Kale Pasta.
Bake for 15-20 minutes.
Nutrition Information:
Yield:

6
Serving Size:

2 cups
Amount Per Serving:
Calories:

410
Total Fat:

0g
Saturated Fat:

0g
Trans Fat:

0g
Unsaturated Fat:

0g
Cholesterol:

0mg
Sodium:

100mg
Carbohydrates:

44g
Fiber:

17g
Sugar:

7g
Protein:

77g
The Kale Pasta Casserole Elsewhere