Super easy Moroccan Spiced Lentils are naturally vegan and gluten free. Amazingly tasty, made in one pot, this is easy meal preparation for everybody.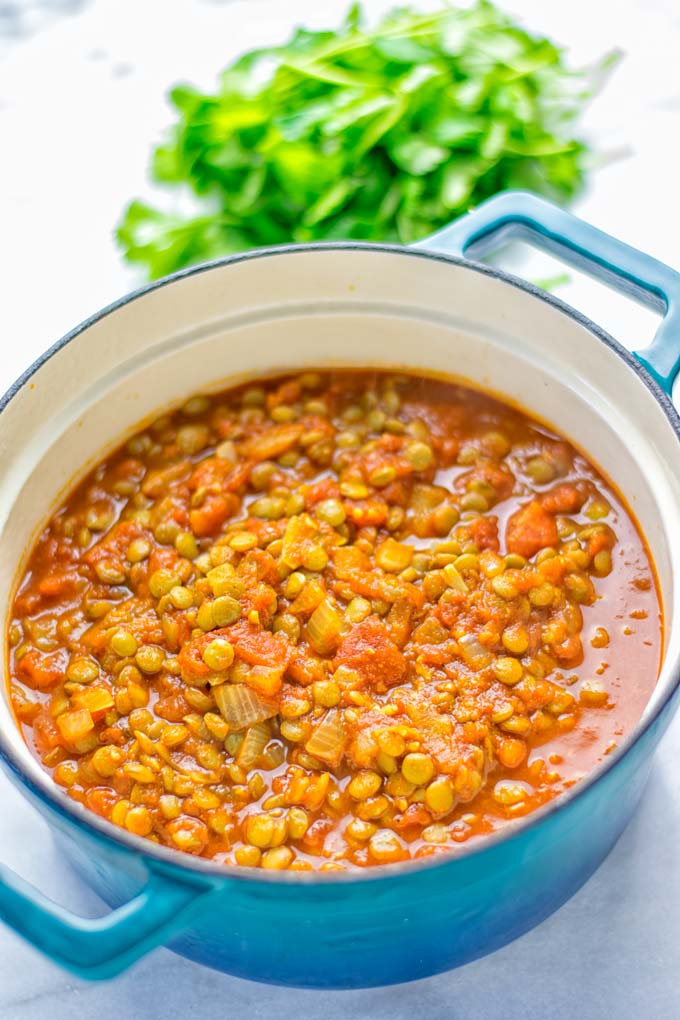 Moroccan inspired food is something that I could eat almost everyday. Mediterranean food is one of my favorite cuisines.
Filling plates with this Moroccan Chickpea Lentil Potato Casserole or the Moroccan Carrot Salad is as easy as it gets.
Ready in no time and always appreciated.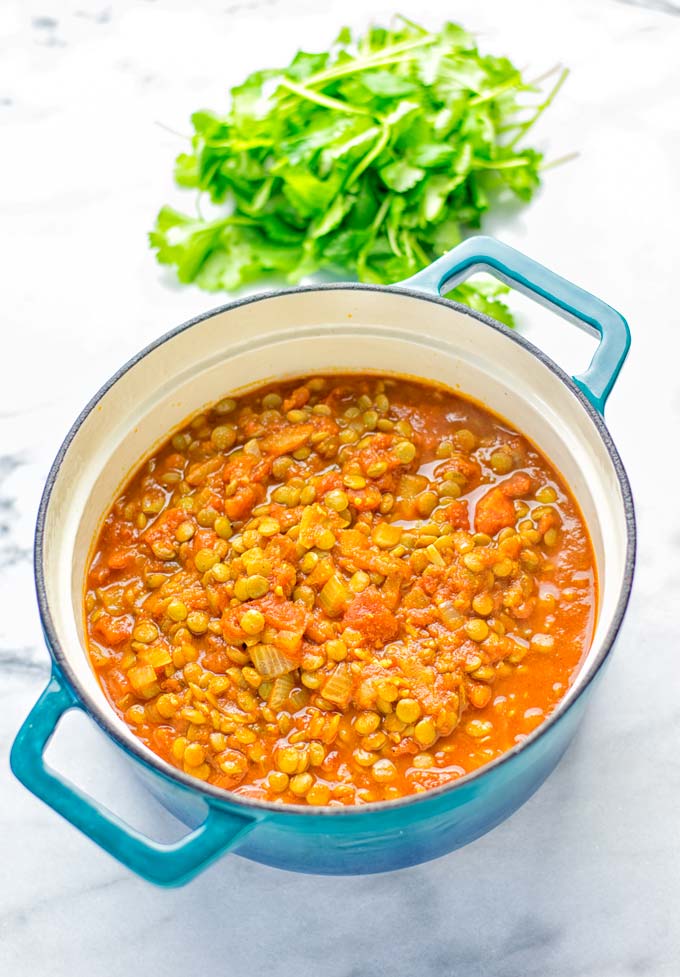 These Moroccan Spiced Lentils are no exception.
They are made in one pot, hearty, perfectly spiced from the first bite to the last, protein rich, super easy, inexpensive, really approachable, filling and seriously delicious.
Before we're going straight to making them, let's talk about how lentils are not only delicious, but also healthy.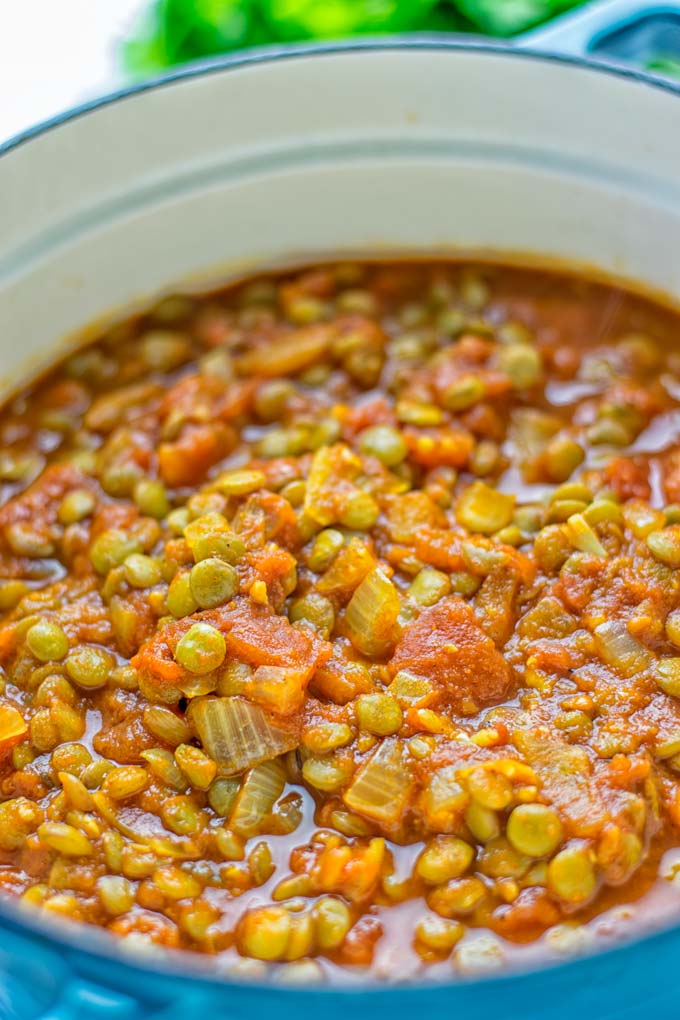 How much protein in lentils
One cup of uncooked lentils provide you 50 g of plant based protein.
That's a lot and even more amazing for you. Lentils are versatile, inexpensive, and have texture.
Makes them so versatile for so many things, burger night anyone? Check out the Vegan Lentil Burger, one of my favorite lentil recipes.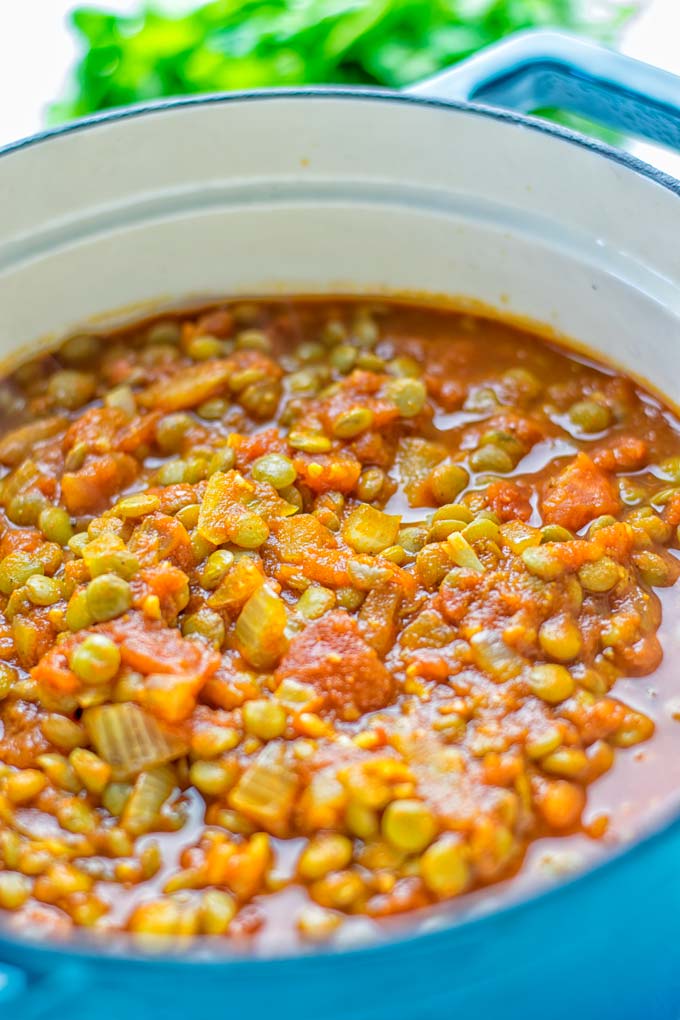 I make all of them all the time.
It's a must make, seriously you have to make and wow everyone. Even the pickiest meat eaters got a big soft spot on it.
The burger is a reader favorite for everyone. Seriously the best burger that you ever made and tasted.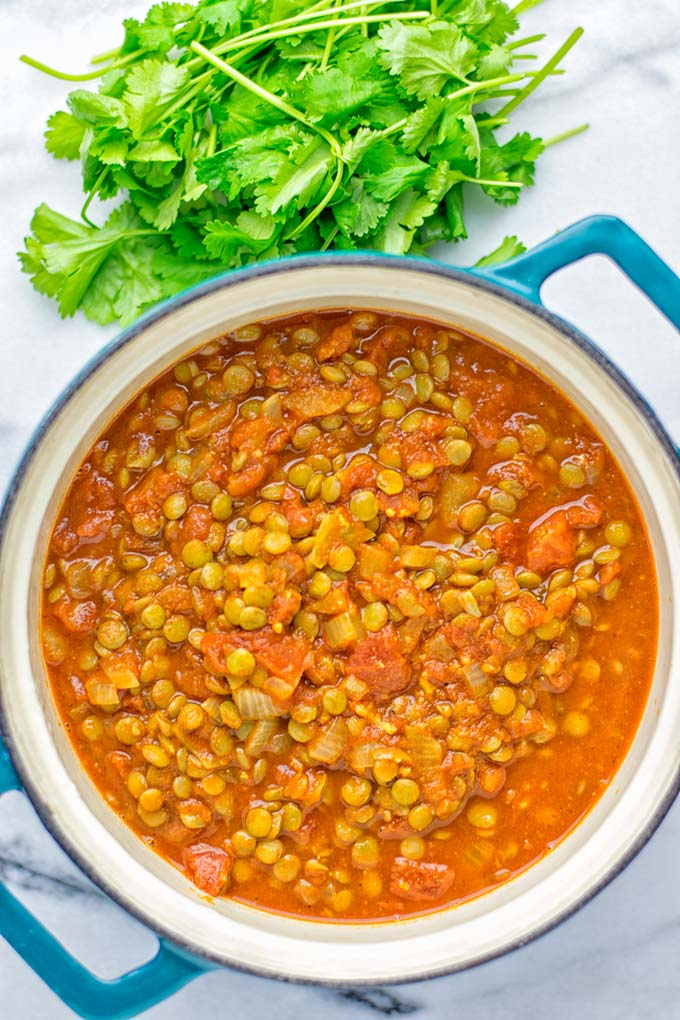 How to make Moroccan Spiced Lentils
Heat a pot with a bit of oil or vegetable broth for an oil free version. Add garlic and optional onions. Fry them for around 4 minutes.
Then add lentils and chopped tomatoes.
Finally, season with cumin, paprika spice, and optional Ras el Hanout. Let everything simmer on medium heat for around 20 minutes until lentils are soft and tender but leave some texture.
Serve on plates or in bowls, done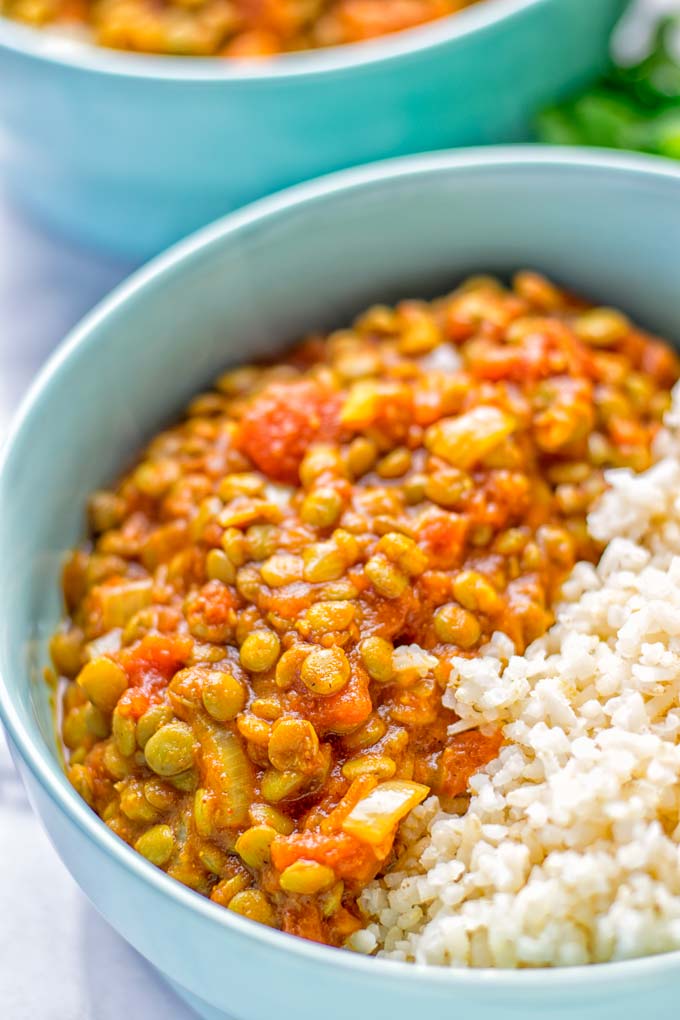 These lentils are amazing for dinner, lunch, and meal preparation.
If you want to skip the food court, make these and bring them as your work lunch.
You can enjoy these delicious lentils plain, but also with rice, quinoa, even pasta, potatoes, or over sweet potato fries, yum.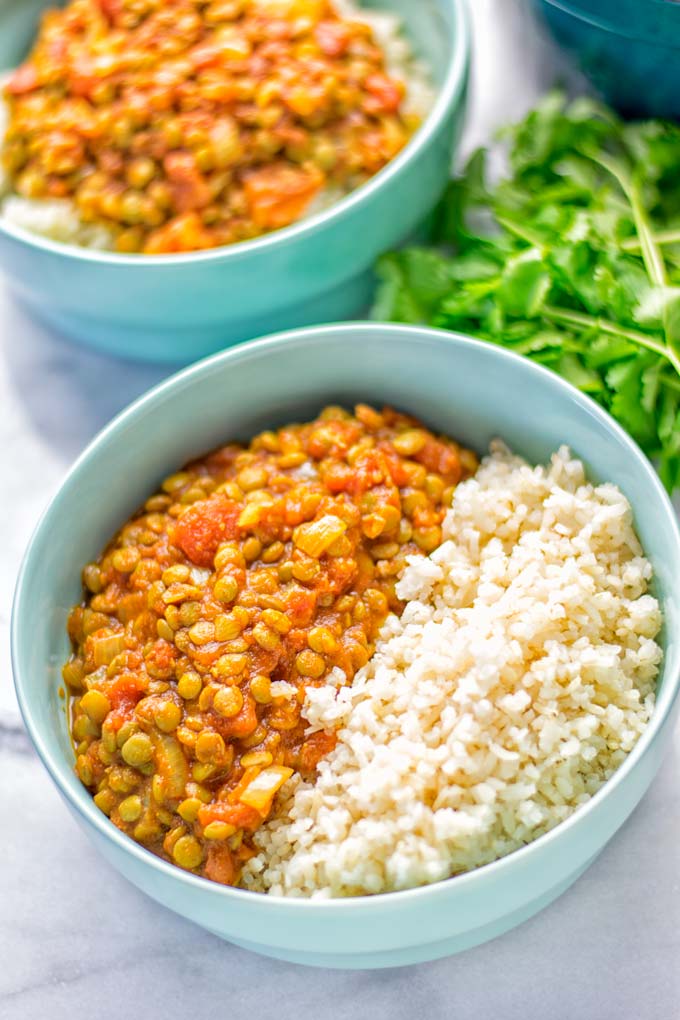 These Moroccan Spiced Lentils are super easy to make and so insanely versatile to have with almost anything you want and crave.
Time to dream big, there aren't any hustles just amazing deliciousness for me and you.
Make sure the lentils aren't overcooked. That will depend on your lentil type and brand. Some cook faster, some take longer.
Mine were fine after 20 minutes.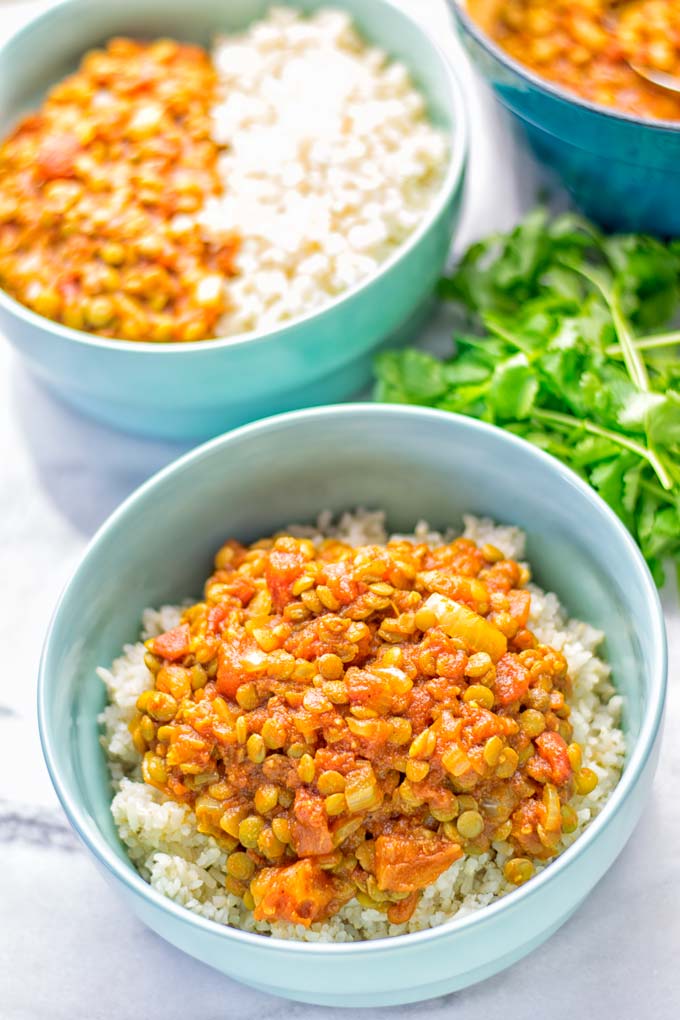 Note: You can always add more or less flavor with the spices.
For my taste, I find the quantities of spices ideal, but everyone is different. Some like it a lot more intense and some less.
If you're uncertain as always I recommend starting with a little less and then bring the level up to your liking and taste.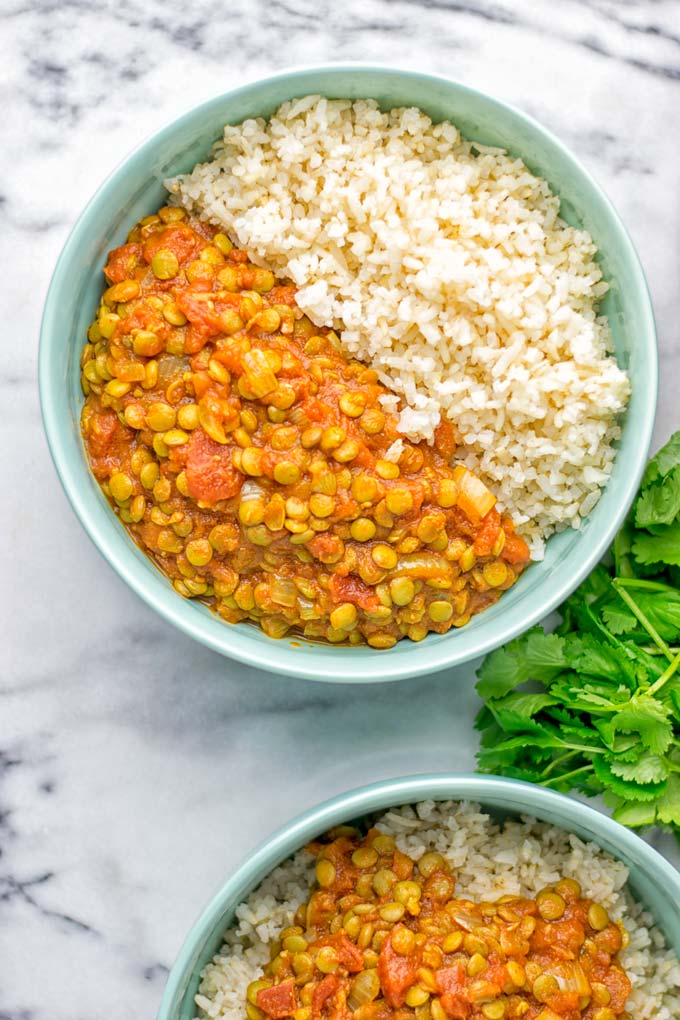 What is Ras el Hanout
Ras el Hanout is a Moroccan spice mix made from cinnamon, turmeric, cloves, cayenne pepper, laurier, ginger, and nutmeg.
You can find this at any store or online.
Using it is totally optional, but it will give these Moroccan Spiced Lentils another flavor makeover which takes them over the top, so good.

Try them for yourself, plain or with many side options.
Let me know with a tag on Instagram and Facebook.
Enjoy and cheers, Florian.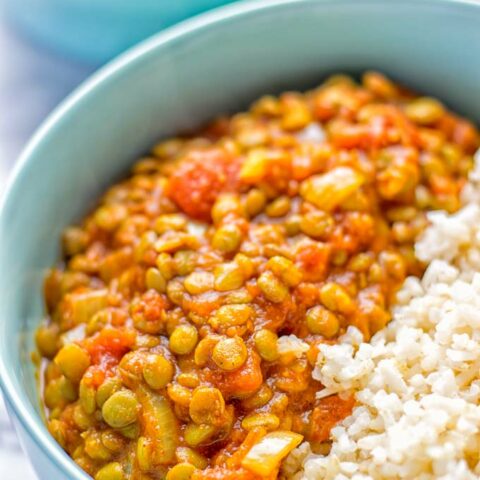 Moroccan Spiced Lentils
Super easy Moroccan Spiced Lentils are naturally vegan and gluten free. Amazingly tasty, made in one pot, this is easy meal preparation for everybody.
Ingredients
1 cup lentils, uncooked
3 14 oz cans chopped tomatoes
5 cloves garlic, minced
3 tsp cumin
2 tsp paprika spice
salt, pepper to
Optional add ons:
4 tsp Ras El Hanout
1 cup onions, chopped
Instructions
Heat a pot with a bit of oil or vegetable broth for an oil free version. Add garlic and optional onions. Fry them for around 4 minutes. Then add lentils and chopped tomatoes.
Finally, season with cumin, paprika spice, and optional Ras el Hanout. Let everything simmer on medium heat for around 20 minutes until lentils are soft and tender but leave some texture.
Serve on plates or in bowls, done
Nutrition Information:
Yield:

4
Serving Size:

3 cups
Amount Per Serving:
Calories:

276
Total Fat:

2g
Saturated Fat:

0g
Trans Fat:

0g
Unsaturated Fat:

1g
Cholesterol:

0mg
Sodium:

600mg
Carbohydrates:

55g
Fiber:

11g
Sugar:

16g
Protein:

18g