These Salted-Cashew Orange Cranberry Brownies are full of vegan awesomeness.
You may have noticed that I recently posted quite a lot of vegan recipes. I admit it – I was a bit skeptical at first, wondering if things would go smoothly.
After all, just making a green salad day after day cannot be at the heart of a vegan diet. And in fact, I was extremely surprised how versatile it is – thanks also to some vegan friends who introduced to a number of ingredients and ideas.
One of my personal favorites among my vegan recipes are these Salted-Cashew Orange Cranberry Brownies I show you today. I'll get to them later.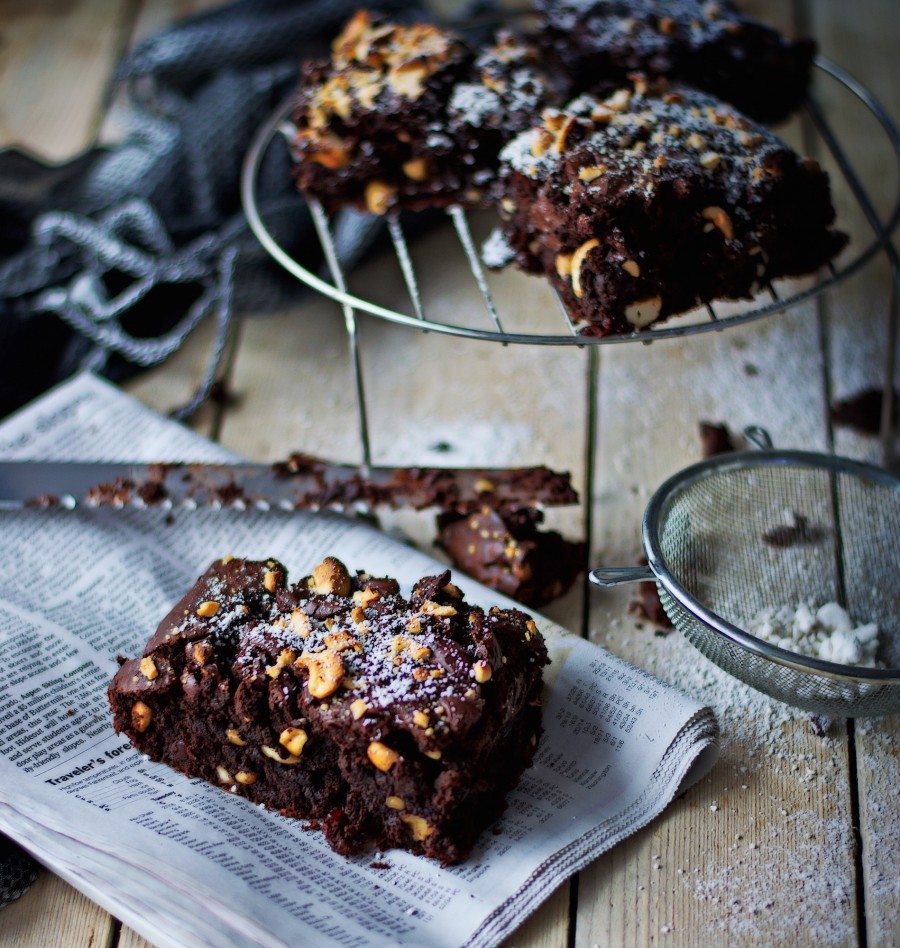 Before, I would like to share some thoughts about photography. When I started Contentedness Cooking a while ago, I had no real clue about how to make appealing pictures of what I cooked.
Decoration, setting, lighting, and so on was nothing I had given much thought to. I quickly had to realize that this was utterly naive. On the first pictures I took, my food looked like… a brick of something, hardly recognizable. Trust me, you do not want to see that…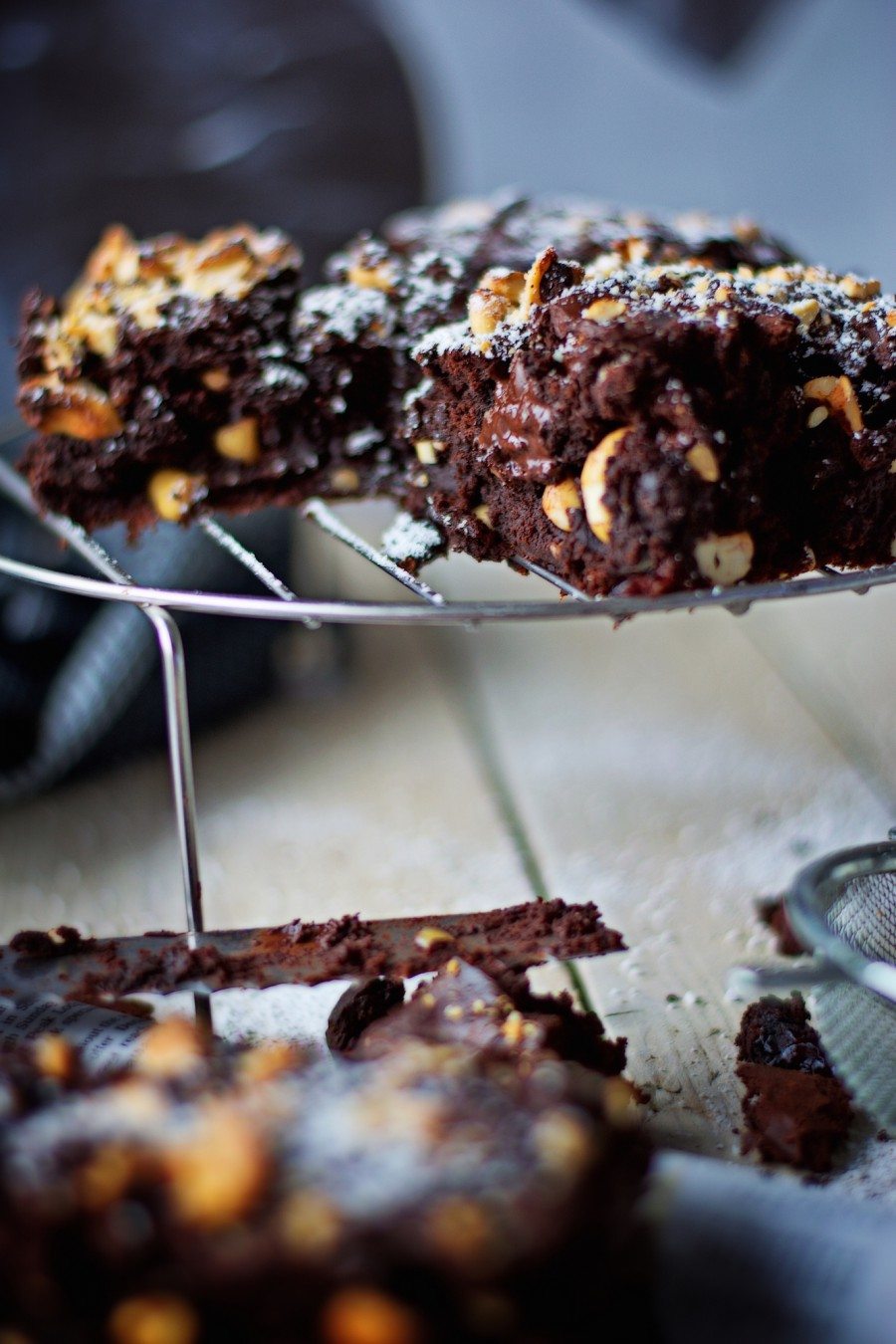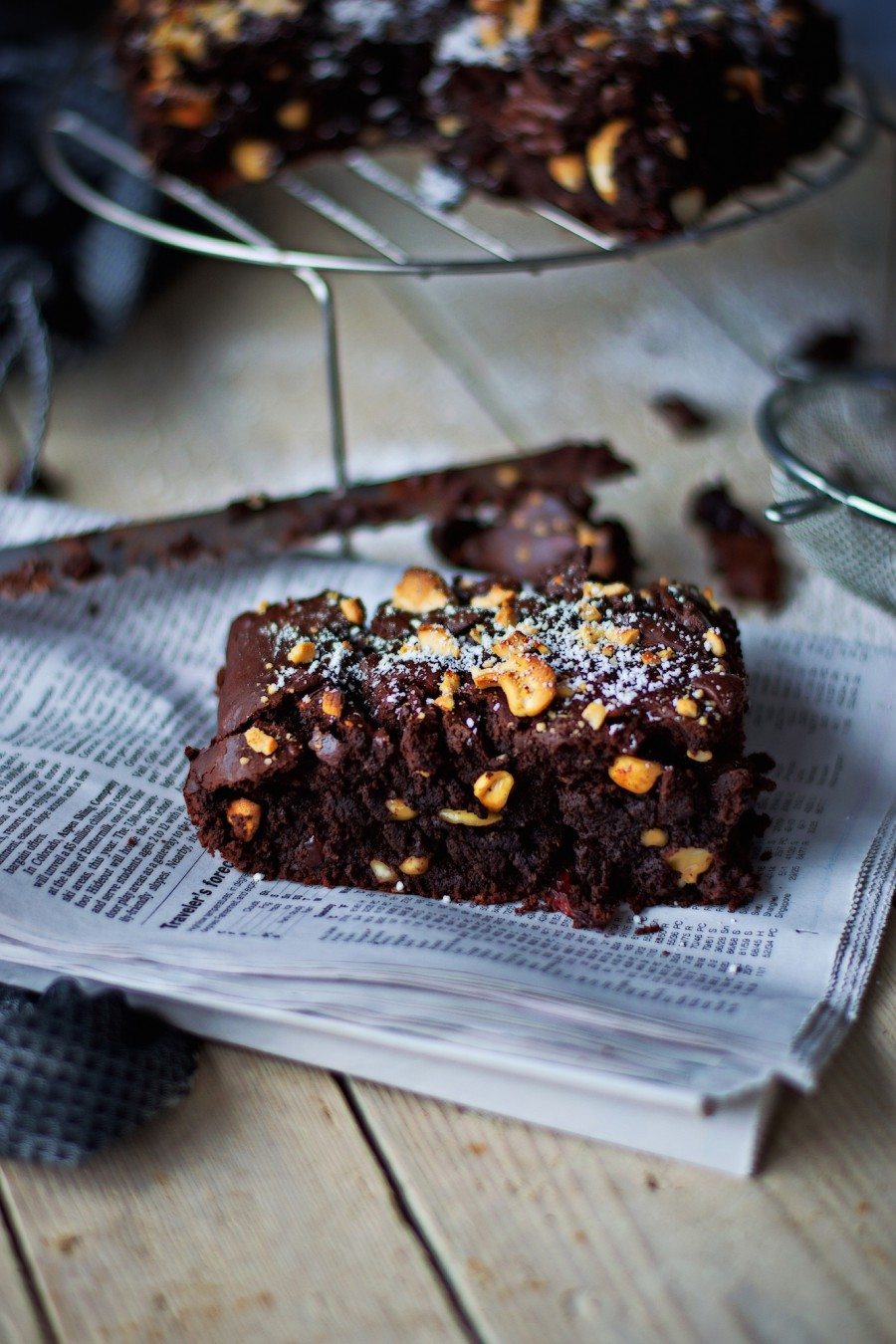 OK, after some experimentation, things improved quickly – to a point. I only had a simple point-and-shoot camera. I believe that this was very helpful. After all, what use is the best equipment, if the photographer has no idea what he/she is doing.
Still after a while it turned out the be a severe limitation. Interesting angles, depth of field, sharp closeups… all impossible. So after a while, I decided to upgrade to a DSLR with an reasonable lens. I hope you have noticed that I changed to that camera a couple of posts ago.
Now, with so much more new possibilities to explore, I'm learning again. I can play with depth-of-field, for example, meaning I have to rethink settings, to put something in back- and foregrounds, etc. Anyway, I hope you like the new direction this is taking!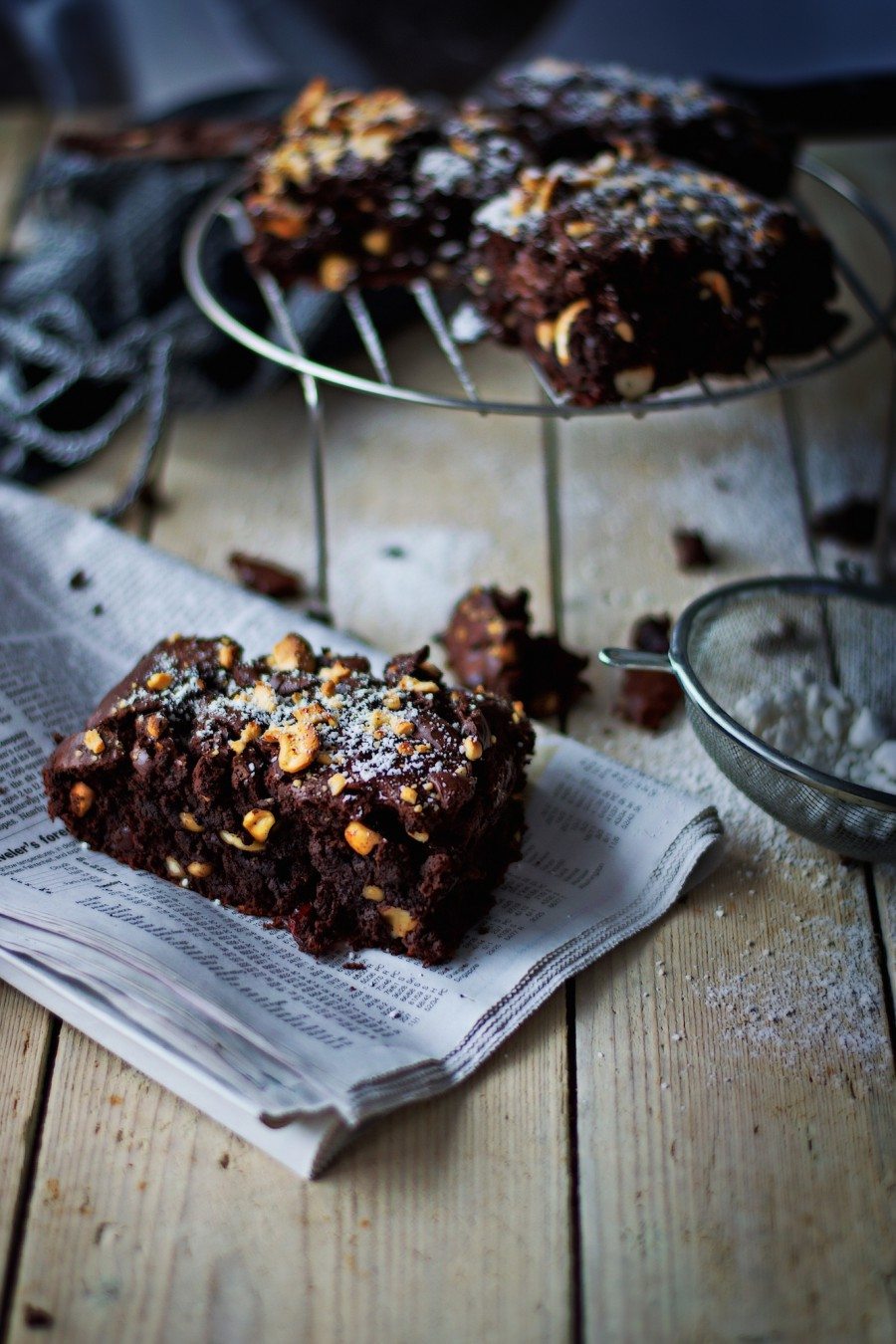 When it comes to the "Salted-Cashew Orange-Cranberry Brownies", I cannot find enough words how awesome they are. Flavors of chocolate and coconut mixed with the fresh and fruity aroma of oranges and cranberries, topped by bites of salted cashews. Simple to make, really, but I was blown away. You will be, too!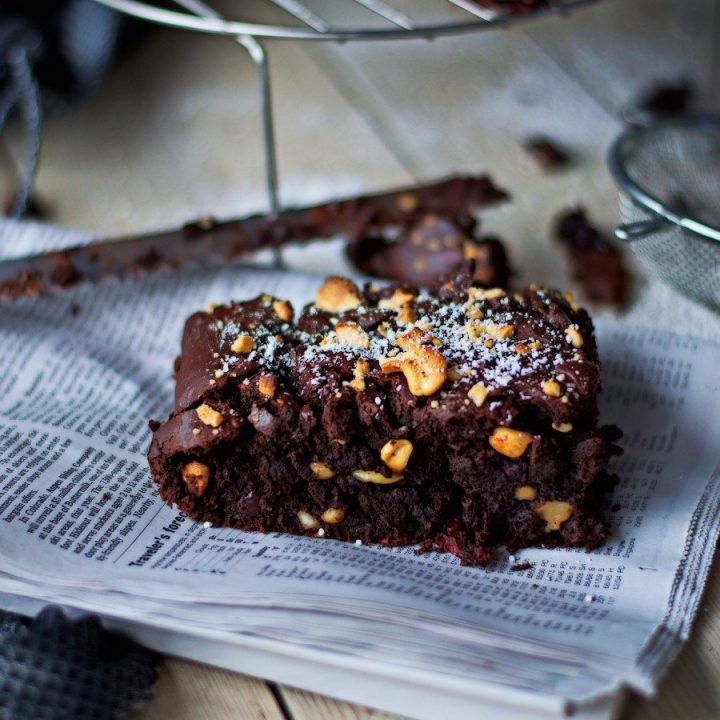 Salted-Cashew Orange Cranberry Brownies
Salted-Cashew Orange Cranberry Brownies - simple, delicious, vegan. One of the best desserts you ever tried.
Ingredients
1/3 cup (80 g) dried cranberries
2 cups (250 g) gf flour
1 cup (125 g) organic cocoa powder
2 tsp baking powder
1 tsp baking soda
pinch salt
3/4 cup (175 g) cashew butter
1/2 cup (120 ml) agave or maple syrup (or more, if you prefer it sweeter)
juice of three oranges pressed + 1 orange zest
1/4 cup (60 ml) organic extra virgin coconut oil melted
1/2 cup (100 g) almond yoghurt of choice (I'm going with vanilla)
1 Tbs vanilla extract
1 tsp almond extract (optional but delicious)
5 oz (150 g) at least 70% dark vegan chocolate, divided
1 cup (100 g) roasted and salted cashews, divided
splash oat milk to thin the batter
Instructions
Preheat oven about 375°F (190°C) and prepare a baking pan with parchment paper.
Melt 3.5 oz (100 g) of the chocolate in a saucepan or in the microwave.
In the meantime, juice the oranges and melt the coconut oil.
In a bowl, combine the flour, orange juice, vanilla and orange extract, coconut oil, melted chocolate, 1/2 cup (50 g) of the salted cashews, vanilla yoghurt, baking powder and soda, cashew butter, cocoa, cranberries salt and a splash of milk to thin.
Transfer the batter to the pan, sprinkle with the rest of the salted cashew nuts, break the chocolate into small chunks and sprinkle.
Bake for 40 minutes, let sit aside for 10 minutes.
Nutrition Information:
Serving Size:

1
Amount Per Serving:
Calories:

129
Total Fat:

4.7g
Saturated Fat:

1g
Trans Fat:

0g
Unsaturated Fat:

3.2g
Cholesterol:

0mg
Sodium:

50mg
Carbohydrates:

21.1g
Fiber:

0.7g
Sugar:

12.5g
Protein:

1.6g