Tomato Rice comes super handy made with leftover rice and pantry staples like tomato sauce and paste. A 15 minute meal that the whole family will love. Serve this and you can be sure even the pickiest eaters will eat it. This is such a great meal even for kids, because the flavors will remind everyone of a delicious spaghetti dinner.
Trust me, friends, there are a a ton of good reasons to make this tomato rice. Not just its amazing texture and flavor, there is more:
Quick prep: using leftover rice is great, because not only can you do something exciting with leftovers, but it also saves a good amount of time. No need to wait for boiling water. Also for the rice texture it is often better to let the rice cool down for a couple of minutes.
This is a basic recipe for meal prep: you can easily prepare a double or triple batch.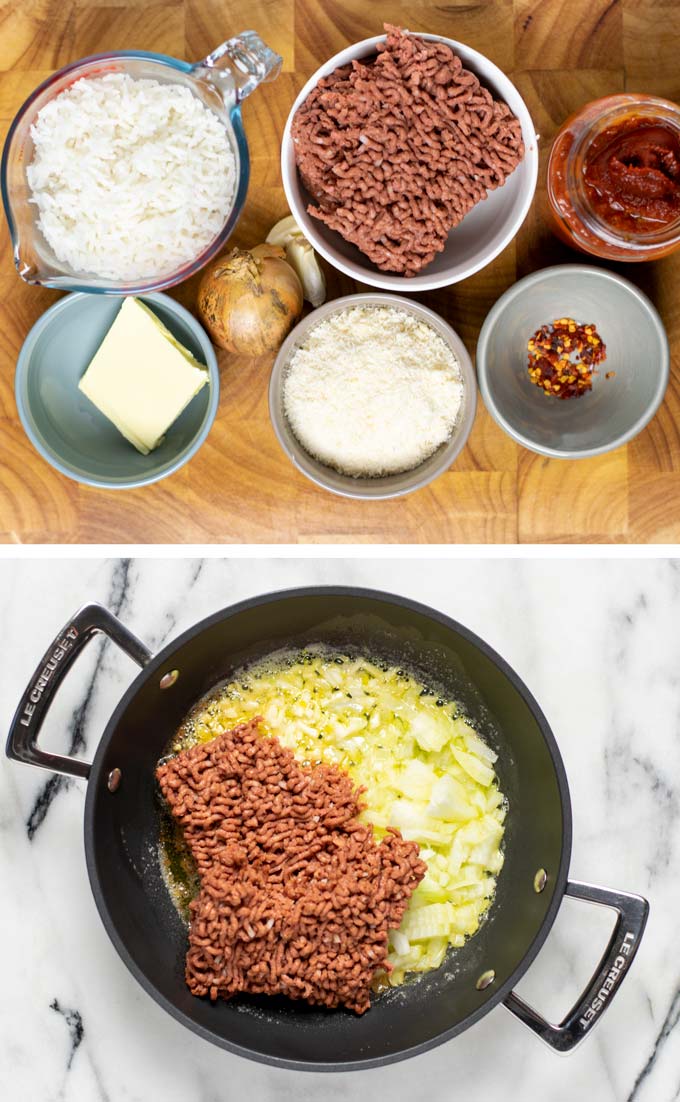 What you need for this Tomato Rice recipe
Rice is of course the foundation of this dish. You can use white, long grain, jasmine, or basmati. Any rice will work and is great.
Tomato sauce and paste: the combination of the two creates a bold flavor and an amazing texture. The paste really makes everything so tasty and vibrant. The tomato flavors are really delicious and bright. You can use tomato sauce and skip the paste, but the result will be less intense.
Garlic and onions: these are always my choice for flavor.
Dairy free butter really provides richness and creaminess without adding any cream or cheese. It taste seriously so good and takes the result to another level. Olive oil will also work great, you have a great flavor but will miss on the buttery and rich flavor. In my gusto there isn't any other ingredient comparable to dairy free butter.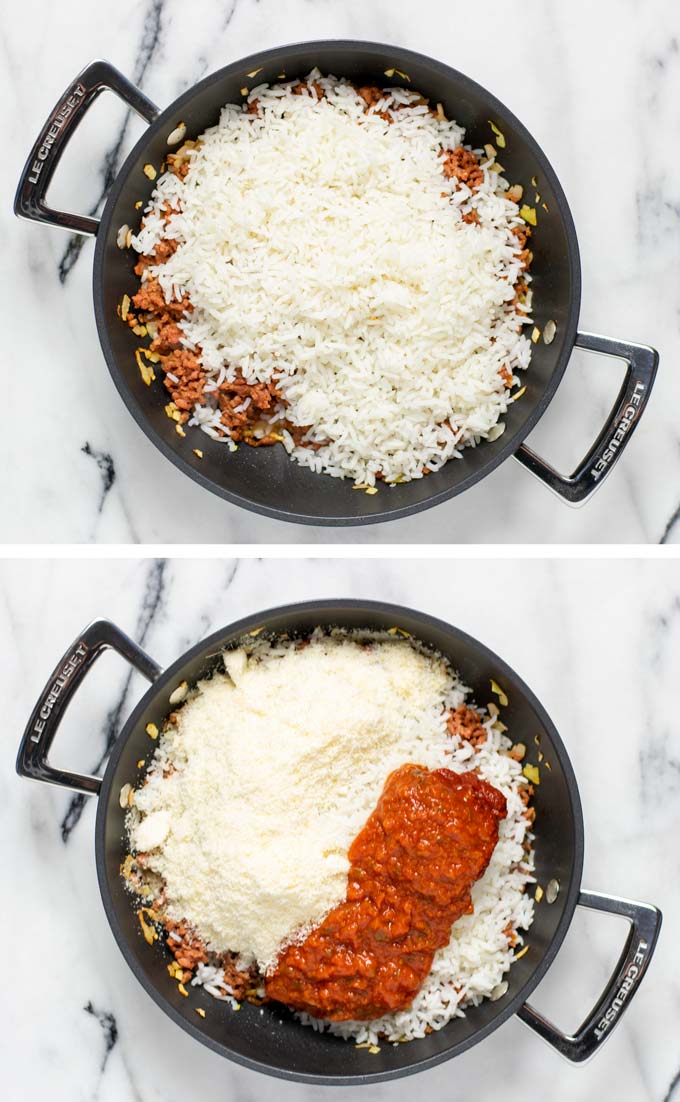 Vegan ground beef: is used in the Tomato Rice for a meaty and hearty texture. This is an ingredient that I love so much as you might know from my Million Dollar Spaghetti.
All what's left for me is a little bit of a kick: so I add red pepper flakes for a more well rounded flavor profile.
Of course don't miss out the cheesy stuff. I add vegan parmesan, use your favorite.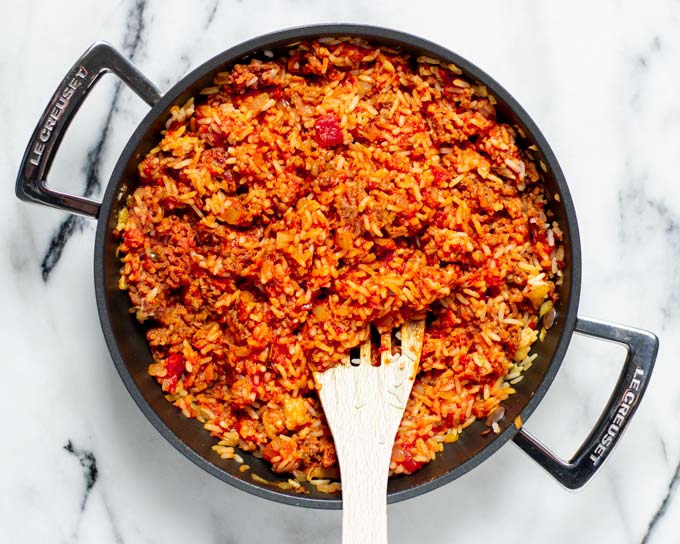 How to make Tomato Rice
Heat the butter in a skillet. Add minced garlic and diced onions together with the vegan ground beef. Cook for 4 minutes until everything starts browning slightly.
Next, mix in the tomato sauce and paste, red pepper flakes, parmesan. Add the leftover rice and season everything with a pinch of salt and pepper.
Let simmer on medium heat for about 5 minutes more. Serve in bowls or on plates.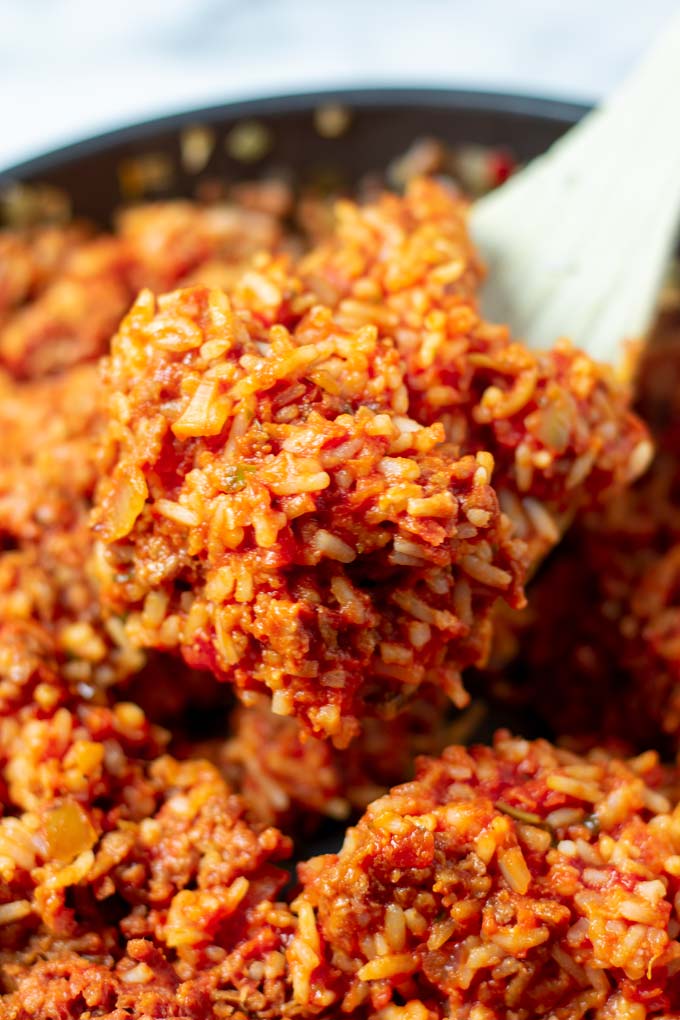 Leftovers and freezing directions
Leftovers of the Tomato Rice can be stored in the fridge for around 4 days. Freezing can be done in a freezing container for around 3 months. Just make sure to cool everything completely down before giving it into the freezer.
For reheating: best is to thaw completely overnight, but if short on time you can thaw in the microwave and reheat from there until you have the desired result.
Other rice recipes to try:
You can also make other delicious and tasty recipes like my Korean Rice, Taco Rice, and the Broccoli Rice Casserole.
And definitely don't miss out on my Mujadara recipe. 15 minutes from start to finish, friends and this makes it a winner which is perfectly suitable for quick weeknight dinners.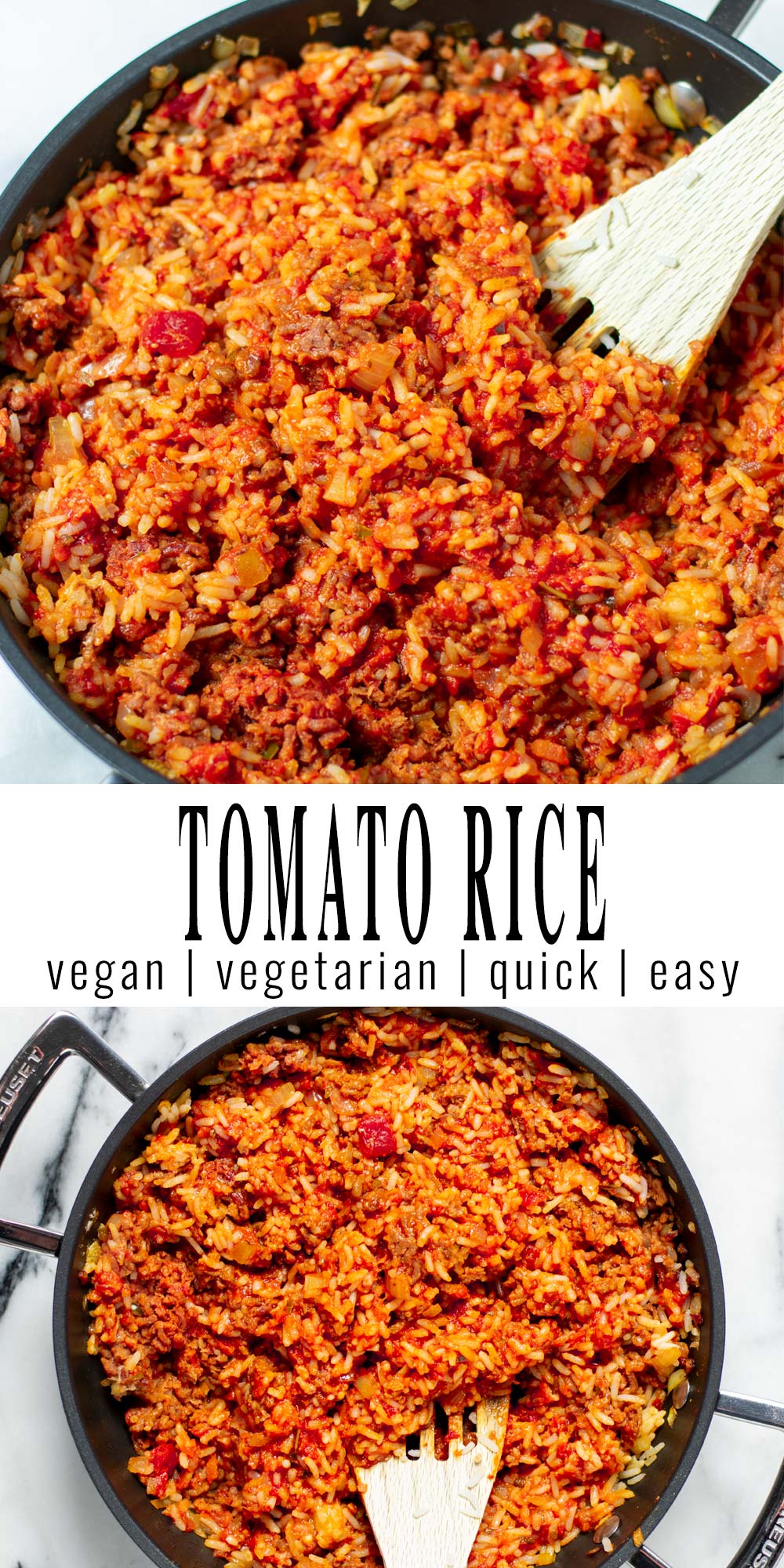 Try my Tomato Rice and let me know what you think. Tag #contentednesscooking on Instagram or share your thoughts on Facebook.
Leave a comment and a star rating below!
Enjoy, Florian.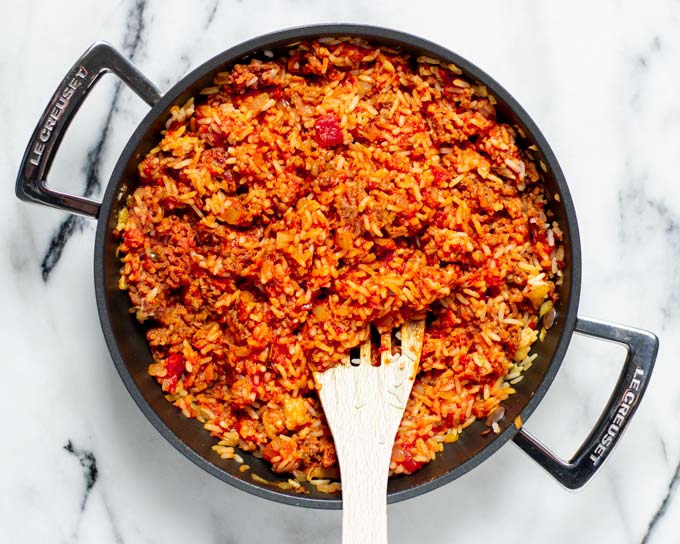 Tomato Rice
Tomato Rice comes super handy made with leftover rice and pantry staples like tomato sauce and paste. A 15 minute meal that the whole family will love.
Ingredients
2 cups cooked rice
10 oz vegan ground beef
2 Tbs dairy free butter
1 cup vegan parmesan
1 Tbs tomato paste
12 oz tomato sauce
2 cloves garlic, minced
1/3 cup onions, diced
1/2 tsp red pepper flakes
salt, pepper to taste
Instructions
Get your leftover rice ready.
Start with a skillet and heat the butter. When hot, add the minced garlic, diced onions, and the vegan ground beef.
Cook everything properly on high heat. That should take around 4 minutes.
Next mix in the tomato paste, tomato sauce, red pepper flakes, together with the rice and parmesan.
Season with a pinch of salt and pepper. Leave the skillet on medium heat for 5 minutes more on the stove.

Nutrition Information:
Yield:

4
Serving Size:

1 cup
Amount Per Serving:
Calories:

403
Total Fat:

18g
Saturated Fat:

8g
Trans Fat:

0g
Unsaturated Fat:

8g
Cholesterol:

37mg
Sodium:

1635mg
Carbohydrates:

36g
Fiber:

2g
Sugar:

5g
Protein:

28g