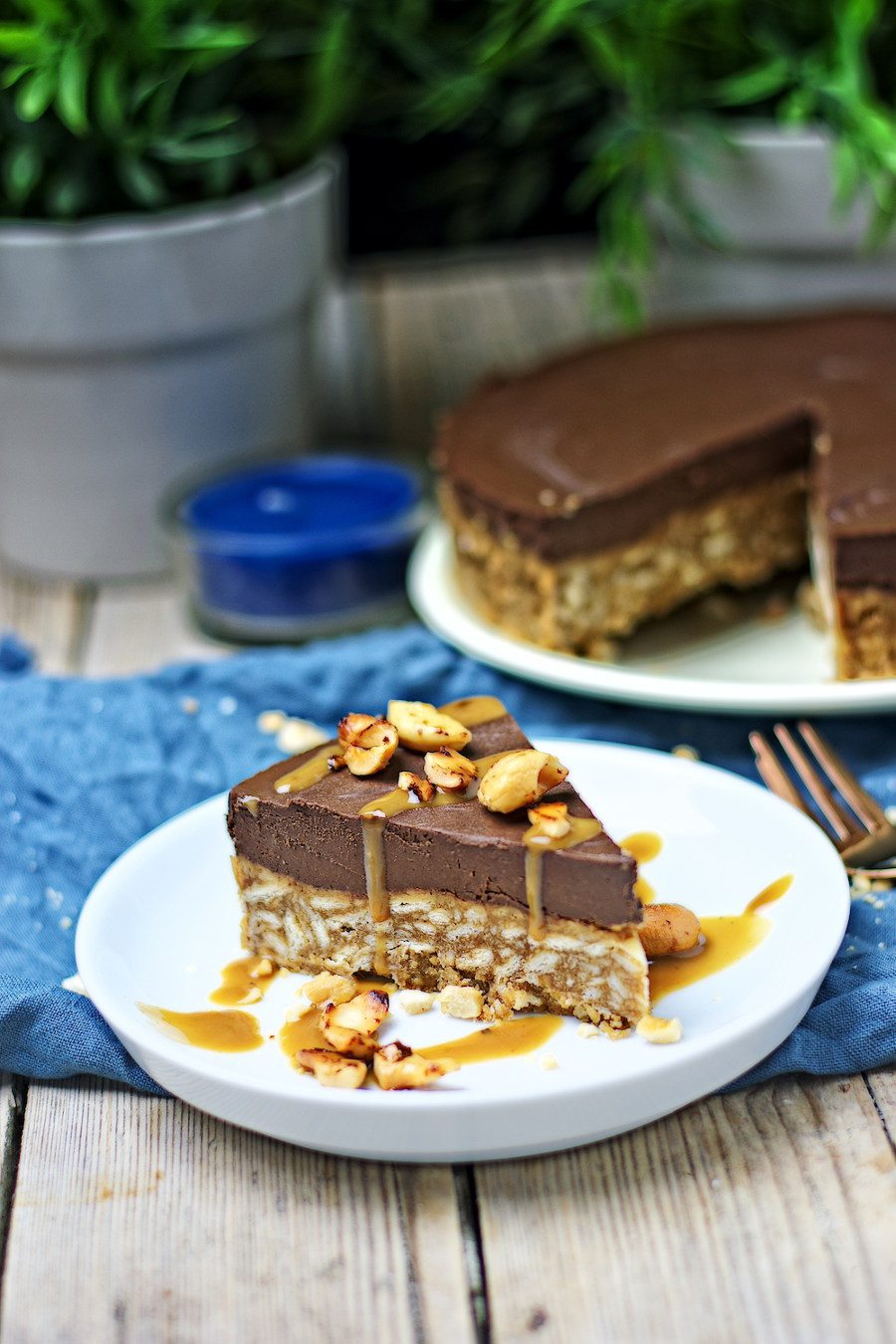 For as long as I can remember, I always loved chocolate cakes. This time I set myself the goal to make my own Vegan Chocolate Cake recipe. Even though I feel I do struggle with cake recipes (I'm not the best baker for sure), I love to try new things.
This Vegan Cake recipe was born when a friend, Mia, came a long for a visit. This girl has an incredible chocolate craving, so it had to be a chocolate cake recipe. Fine with me 🙂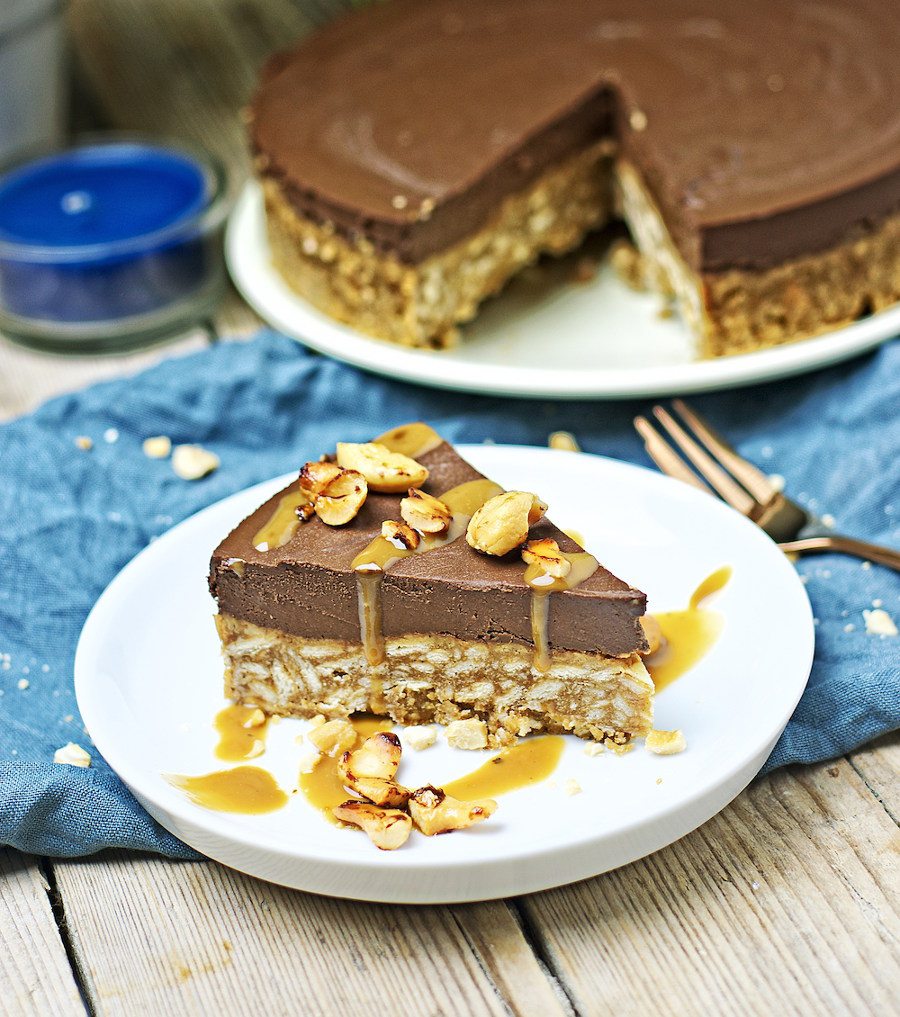 Of course I could have bought a chocolate cake, but it's not easy to find a good vegan chocolate cake. One that is not packed with preservatives and artificial flavors. Nothing bets a homemade recipe, so here is the challenge.
And to please the chocolate critic that Mia is, the cake recipe has to be rich, satisfying, decadent, filling – and she never should taste it was a vegan cake recipe, because she is not vegan.
But I love creating new things for my non-vegan friends, which they never figure out was vegan. Chocolate cake recipes are a lot available and it seems to be on every blog out there.
This Chocolate recipe which was just a try for my friend Mia turned out so much better than I expected. I simply had to share this vegan and gluten free recipe with you.
It is an easy recipe but I'm sure it will impress vegan, vegetarians and carnivores alike.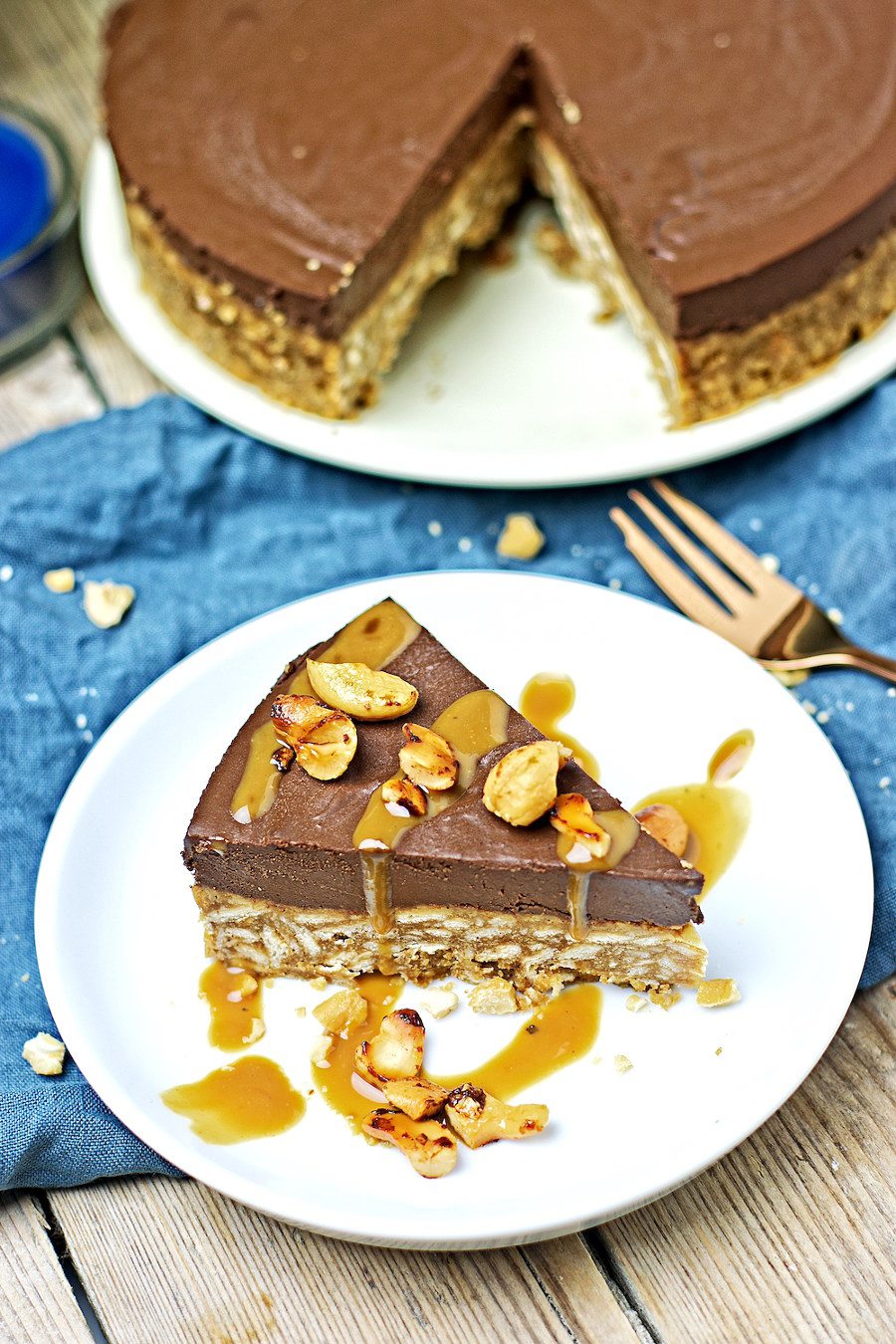 Absolutely an easy recipe: you don't have to make a traditional dough. First you make a coconut milk mixture that is pimped up a bit with cashews, coconut blossom sugar, vanilla extract, and shots of coffee.
We use this Coconut milk mixture both first for the filling and secondly for the dough, so there are no leftovers here.
Get some vegan and gluten free crackers, crumble those, mix with coconut oil and 1 cup of the coconut milk mixture and press this in the prepared spring form. Bake for around 8 minutes.
For the filling you use the remaining coconut milk mixture and heat it in a small casserole over medium heat. Add the vegan dark chocolate carefully and melt in.
Mix this with coconut blossom sugar until you get a smooth cream. Put this chocolate mixture over the baked dough and let the cake sit in the refrigerator for at least 4 hours or overnight.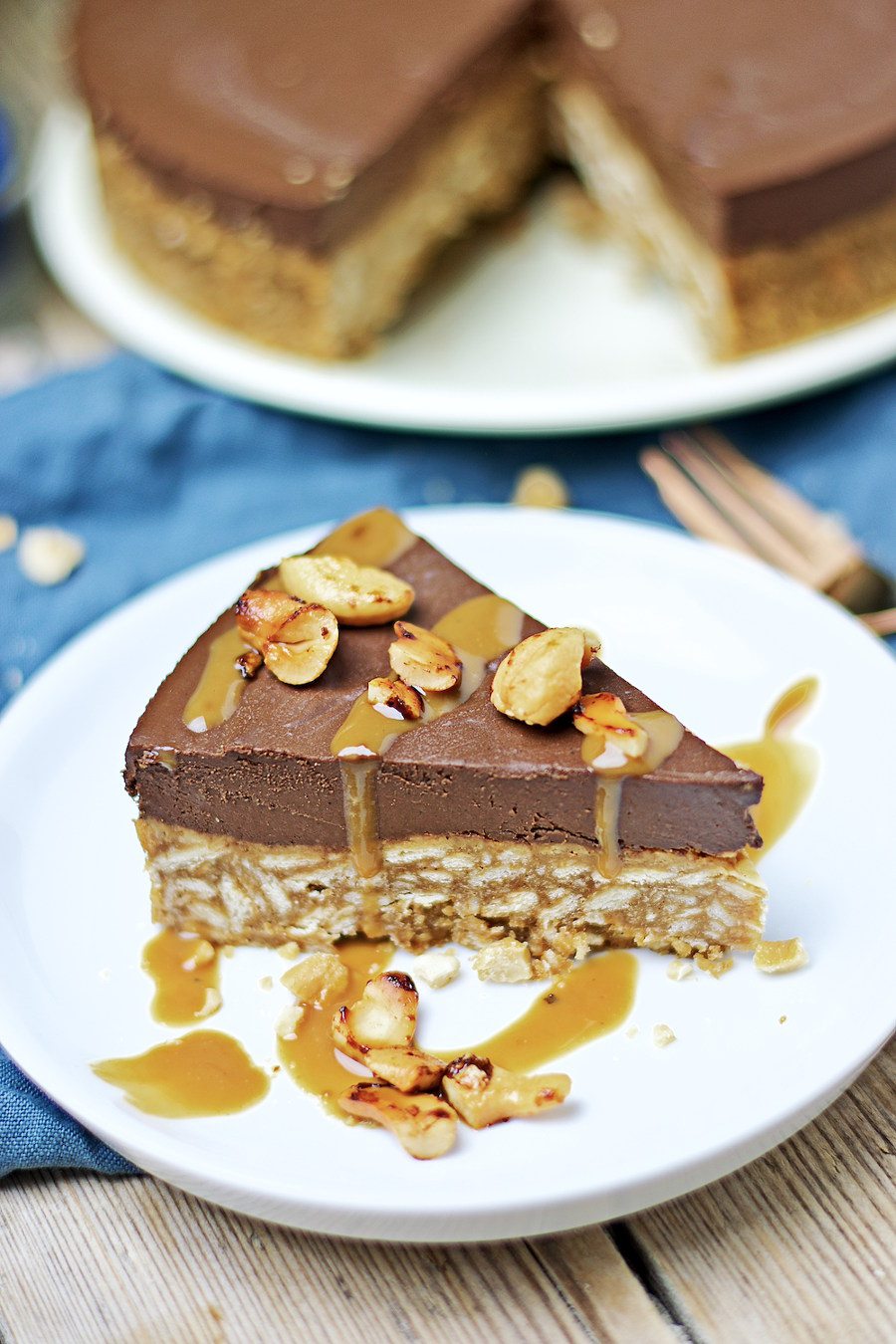 If you like the Vegan Chocolate Cake more decadent and with a extra wow effect, you should not miss out on the two optional toppings: a vegan caramel sauce and some tasty roasted cashews for topping. After chilling the cake you can prepare these.
For the Sauce heat the 1 tsp coconut oil in a small sauce pan, and mix the remaining ingredients in once it's melted. Be careful not to burn this, so make sure you stir with a whisk until all ingredients are well combined. If sauce too thick use more water.
For the nuts just heat the coconut oil in a pan, than add the cashews and the coconut blossom sugar, all done. I made both toppings for Mia and she fell in love with this cake and the toppings – so good.
Assemble all toppings on the cake to your own liking. This Vegan Chocolate Cake not only looks like a stunner. You will not be able to stop eating it until it's all gone 🙂
Print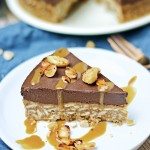 Vegan Chocolate Cake
Author:

Prep Time:

30 minutes

Cook Time:

5 minutes

Total Time:

35 minutes

Yield:

12

1

x

Category:

Dessert, Cake

Cuisine:

Vegan, Gluten Free
---
Scale
Ingredients
For the liquid mixture:
1

14 oz (

400

ml) can coconut milk

1

Tbs organic vanilla extract

1/3 cup

(

80 g

) coconut blossom sugar

3/4 cup

(

100 g

) cashew nuts, soaked for 10 minutes in hot water

2

shots good quality coffee
For the chocolate filling:
6 oz

(

180 g

) good vegan chocolate

1

Tbs coconut blossom sugar
For the dough:
8 oz

(

250 g

) vegan and gluten free crackers

1/2 cup

(

120

ml) coconut oil or vegan butter

1 cup

(

240

ml) coconut milk mixture

1/3 cup

(

80 g

) coconut blossom sugar
For the Caramel Sauce (optional):
1

Tbs coconut Blossom Sugar

1 tsp

coconut oil

1 tsp

cashew butter

1/4 cup

(

60

ml) water
For the Roasted Cashews (optional):
1 tsp

coconut oil

1

Tbs coconut blossom sugar

1/4 cup

(

30 g

) cashews roughly chopped
---
Instructions
To make the milk mixture:
Preheat oven to 390°F/200°C.
First, prepare the milk mixture by combining the coconut milk, vanilla extract, coconut blossom sugar, soaked cashew nuts, and coffee in a blender and process until smooth.
To make the dough:
Finely crush the crackers in a bowl. Add coconut oil (melted), coconut blossom sugar, and one cup of the milk mixture. Knead to a sticky dough.
Slightly grease a baking dish (I use a 7 inch (18 cm) spring form) and press the dough firmly on the bottom.
Bake the dough for 8 minutes, then set aside.
To make the filling:
In a sauce pan, melt the chocolate in the remaining milk mixture and add the coconut blossom sugar. When smooth, pour over the baked dough. Flatten it out, then set aside to cool and harden.
For the optional Caramel Sauce:
Combine all ingredients in a small sauce pan and heat.
For the optional Roasted Cashews:
Chop the cashews, mix with coconut blossom sugar and oil. Then briefly roast in the oven.
---