This vegan Beet and Spinach Tart is a baking addiction that you won't be able to resist. Absolutely stunning, combining the flavors of the vegetables with an amazing homemade vegan Parmesan. This one will become an absolute staple in your house.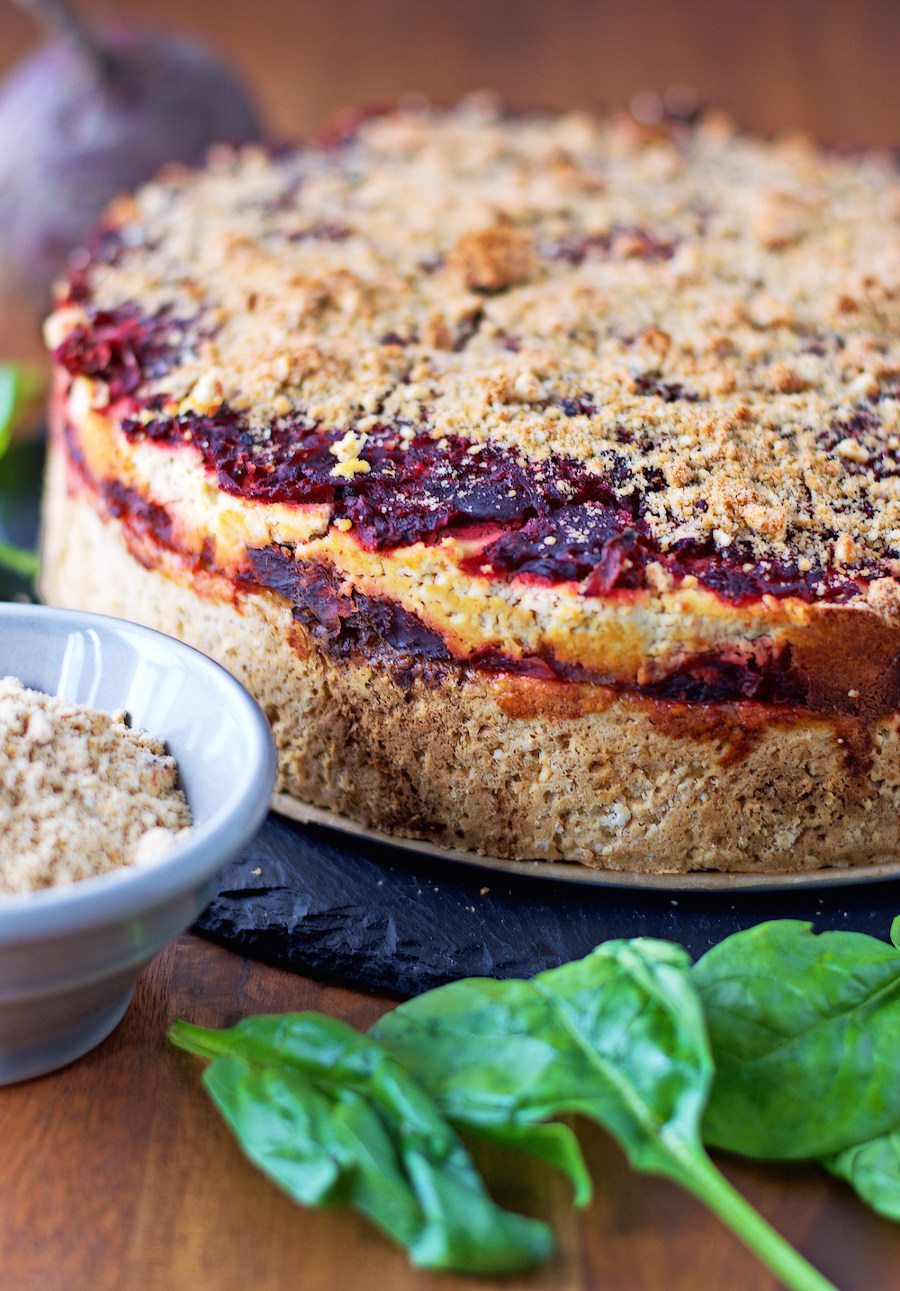 I know I have been complaining a lot about a busy time with lots to do recently. Now, there was a change of pace with some holidays here and I used the long weekend to relax a bit.
I was a bit surprised about myself that the idea of relaxing immediately sparked the desire to try my hand at cooking something challenging. Something that might take a couple of more steps than usual and something that I'm often struggling with a bit.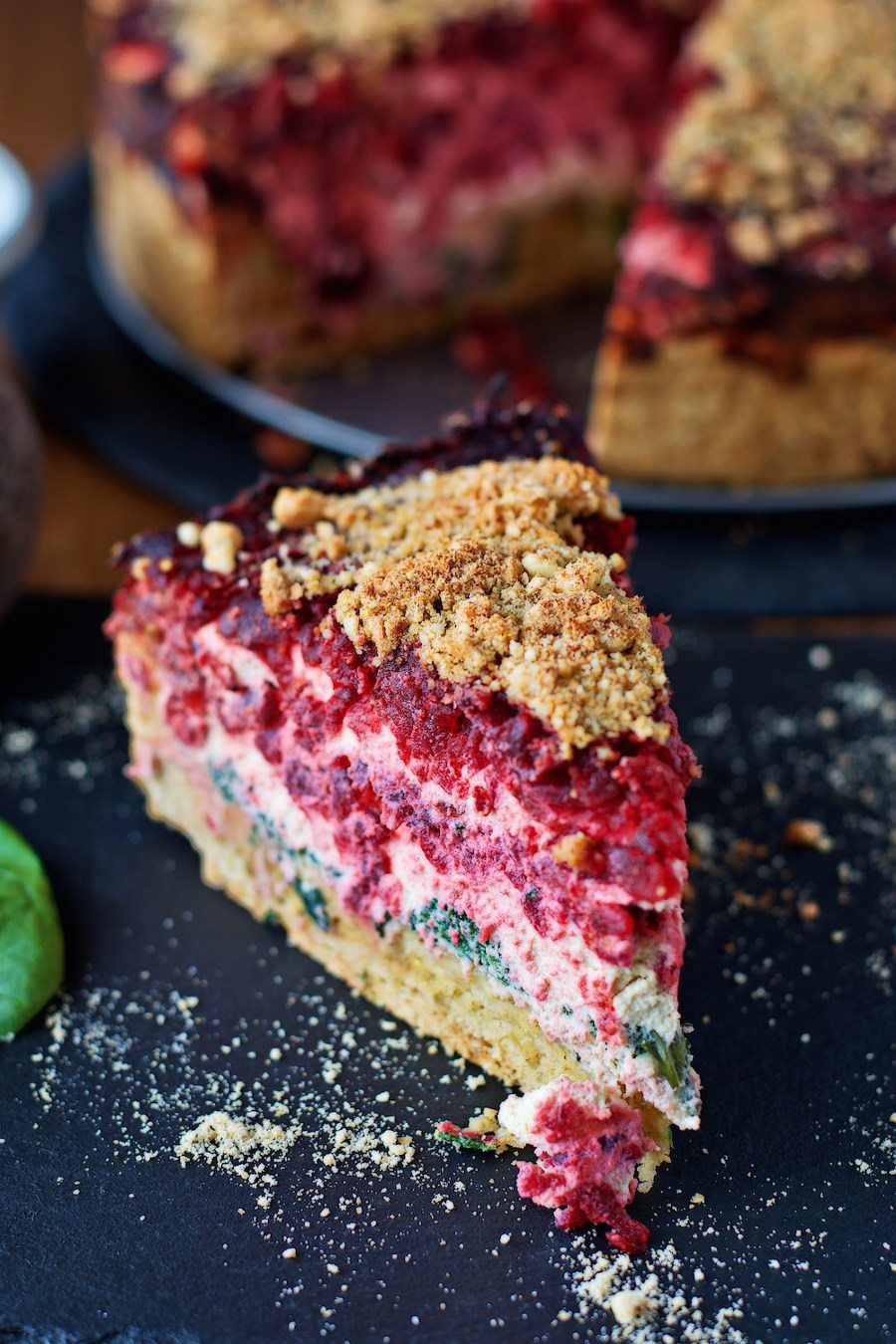 Baking. That's it. When there is one thing I'm usually not that good at, it's baking. Sure, it comes out nicely most of the time but I still feel as if it takes a lot of effort. Still lots better than what I was able to do before I started my cooking journey, as you can read on About Contentedness Cooking.
Other things just come much more naturally to me. In any case, I had bought these beautiful fresh beets and fresh spinach at the farmers' market earlier and they were just teasing me to use them.
Ok, this was the perfect opportunity to try my hands at a savory tart! It's supposed to be full, rich, and beautiful! With lots of flavors combined layer by layer. And that's how my Beet and Spinach Tart came into life.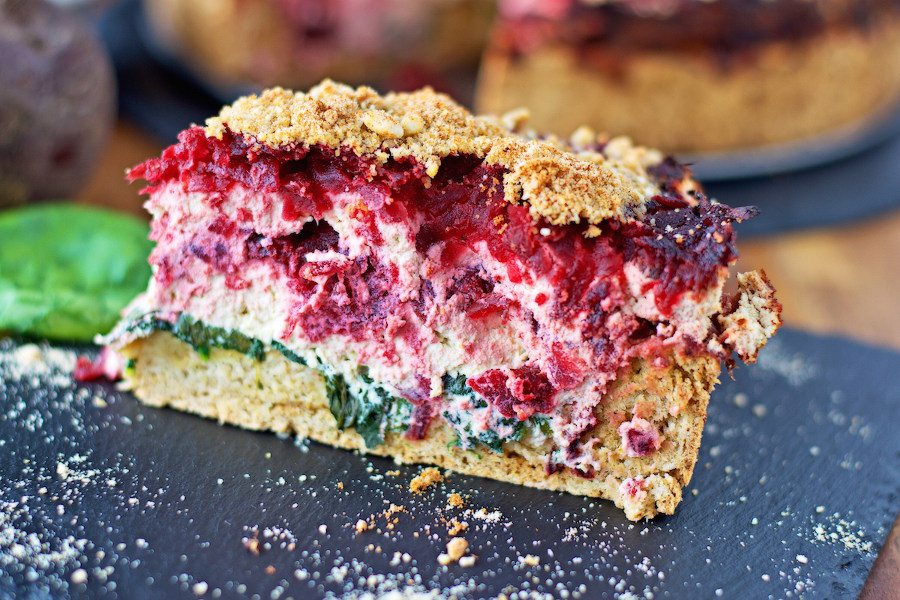 That is quite a job. So it had to be a gluten-free and vegan dough, first. This one I tackled very basic: a mix of buckwheat and oat flours, water, plant-based milk. But what about the layers? One with spinach, very briefly fried in olive oil with a bit of garlic, and one with cooked and grated beet root was a given. Both going on top of the crust. But can that be all? It seemed like something was missing.
Yeah, I needed a third layer component separating the other two. Also, that layer needed to give the tart some extra firmness once baked. Cooked beet root and spinach alone are a bit soft and so the tart might have turned out somewhat floppy. I noticed before that a tofu-based filling does exactly that after baking. Taking a good amount of tofu, adding olive oil, garlic, vinegar, tamari, and some additional spices, running it through the blender, I was good to go.
After putting down all the layers, one extra topped it off. A cashew parmesan made from cashews and nutritional yeast. After that, the blender was finally off the hook. I decided to add the cashew cheese after about half of the baking time so that it doesn't burn.

And here it is: My Beet and Spinach Tart. It tastes absolutely gorgeous and is very filling. It sustained me for a whole long weekend. Do you think it was worth the effort? Should I do more baking? 😉 Let me know on Facebook or Instagram with a tag. Cheers, Florian.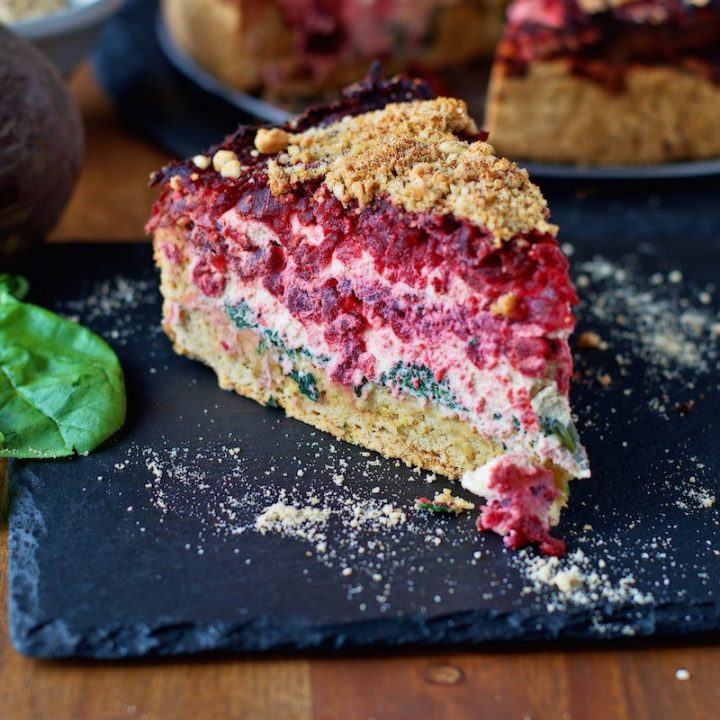 Beet and Spinach Tart
This vegan Beet and Spinach Tart is a baking addiction that you won't be able to resist. Absolutely stunning, combining the flavors of the vegetables with an amazing homemade vegan Parmesan. This one will become an absolute staple in your house.
Ingredients
For the Tofu Filling:
32 oz (900 g) tofu
9 Tbs extra virgin olive oil
4 Tbs lemon juice
3 Tbs apple cider vinegar
2 Tbs balsamic vinegar
6 cloves garlic
1 Tbs tamari
1 Tbs maple syrup
salt, pepper to taste
For the dough:
2 cups (250 g) buckwheat flour
2 cups (200 g) gluten-free oats
2 tsp aluminum-free baking powder
1 tsp baking soda
1 cup (240 ml) plant-based milk
5 Tbs coconut oil
1/3 cup (80 ml) water
salt to taste
For the cashew parmesan:
1/2 cup (65 g) cashews
2 Tbs nutritional yeast
pinch of salt (optional)
For the beet root:
10 medium sized beet roots
For the spinach:
8 oz (250 g) fresh spinach
3 garlic cloves
1 Tbs olive oil
Instructions
For the Tofu filling:
Add all ingredients to a blender and process until smooth and creamy. Store cool.
For the dough:
Grind the gluten-free oats to a flour, using a blender.
In a large bowl, first add the dry ingredients, then water. Add milk bit by bit, mix and continue until the dough has a slightly sticky consistency.
For the cashew parmesan:
Use a blender to process all ingredients to a parmesan like texture.
For the beet root:
Bring slightly salted water to a boil and cook the beets for 45-60 minutes. Carefully check with a knife if they are done. Set aside.
When cool, peel them and grate them coarsely. Use a colander to remove excess liquid.
For the spinach:
Heat olive oil in a skillet. Add the spinach and squeezed garlic. Fry for 2-3 minutes max.
For making the tart:
Preheat oven to 390°F (200° C).
Prepare a round 10 in spring form either with parchment paper or with oil. Add the prepared dough and distribute it evenly so that it covering the bottom plus at least half of the side walls. Use a fork to make some hole into the dough. Then bake for about 15 minutes. Remove from the oven.
Transfer the spinach to the spring form and cover the crust. Next add half of the tofu filling, followed by half of the beet root. Repeat.
Bake the tart for 30 minutes, then add the cashew cheese on top. Continue baking for another 20-30 minutes.
Nutrition Information:
Yield:

12
Serving Size:

1 slice
Amount Per Serving:
Calories:

349
Total Fat:

24g
Saturated Fat:

12g
Trans Fat:

0g
Unsaturated Fat:

9.4g
Cholesterol:

0mg
Sodium:

552mg
Carbohydrates:

20g
Fiber:

3.4g
Sugar:

3.1g
Protein:

15g