Two easy vegan Cucumber Salads – made in easy steps with simple ingredients.
I recently reviewed some data from my blog and stumbled upon an overview about what people had entered in the search field. And guess what, I was totally stunned by the fact that many had looked for cucumber salad recipes. Cucumber salad? Really!?! OK, you asked and you shall have! 😉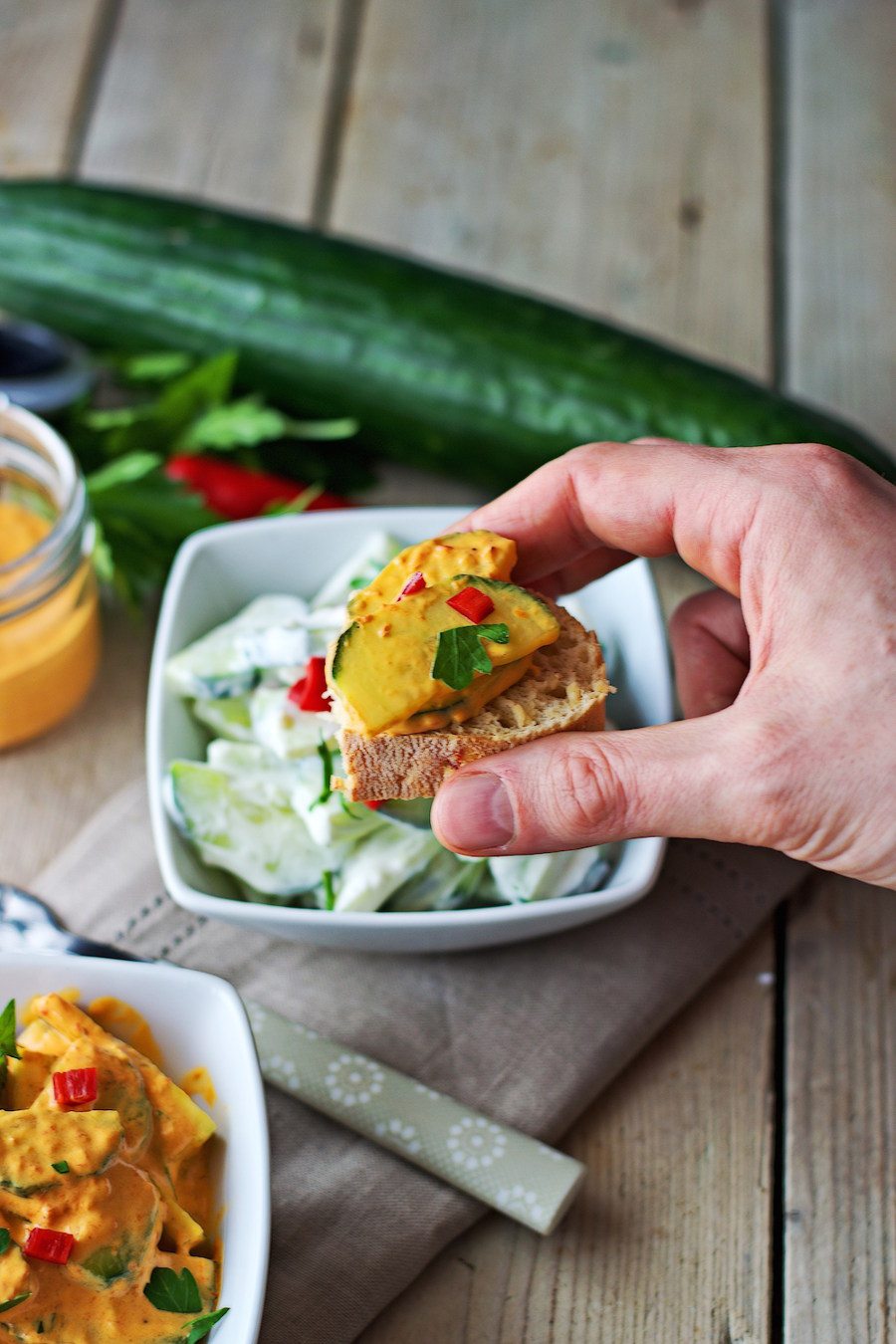 I had never given much thought to this, I have to admit. And I found making a simple cucumber salad a tad boring. So I just had to make this one that you cannot only enjoy one way but two ways! It's still a five-ingredient-only recipe and doesn't even need a single cooking plate – so it should be easy enough for everybody (another request I got ;)).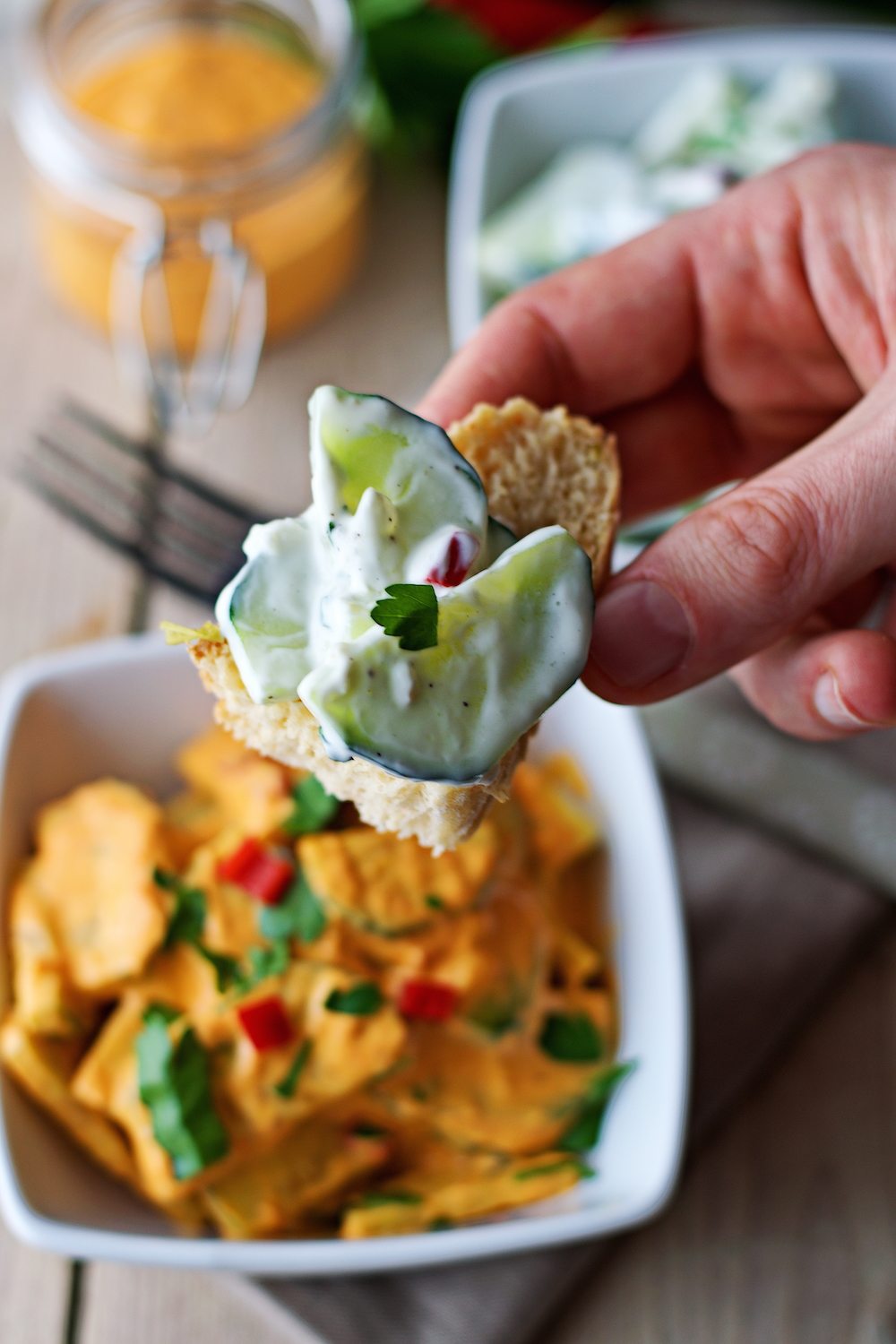 Here is all you have to do: chop your cucumbers into thin slices. One could start a page-long discussion on whether you prefer cucumbers peeled before or not – apart from the fact that they look much better with skin. I went for the middle ground and peeled finger-wide strips off only. Feel free to do whatever you prefer.
The dressing is totally straightforward: plant-based yoghurt, a bit of garlic, salt and pepper, and thinly sliced hot pepper. That's the mild version. If you want to go spicy, simply add a bit of red thai paste or any other hot paste to the dressing. I used organic Ajvar. Beautiful color and deliciously hot taste!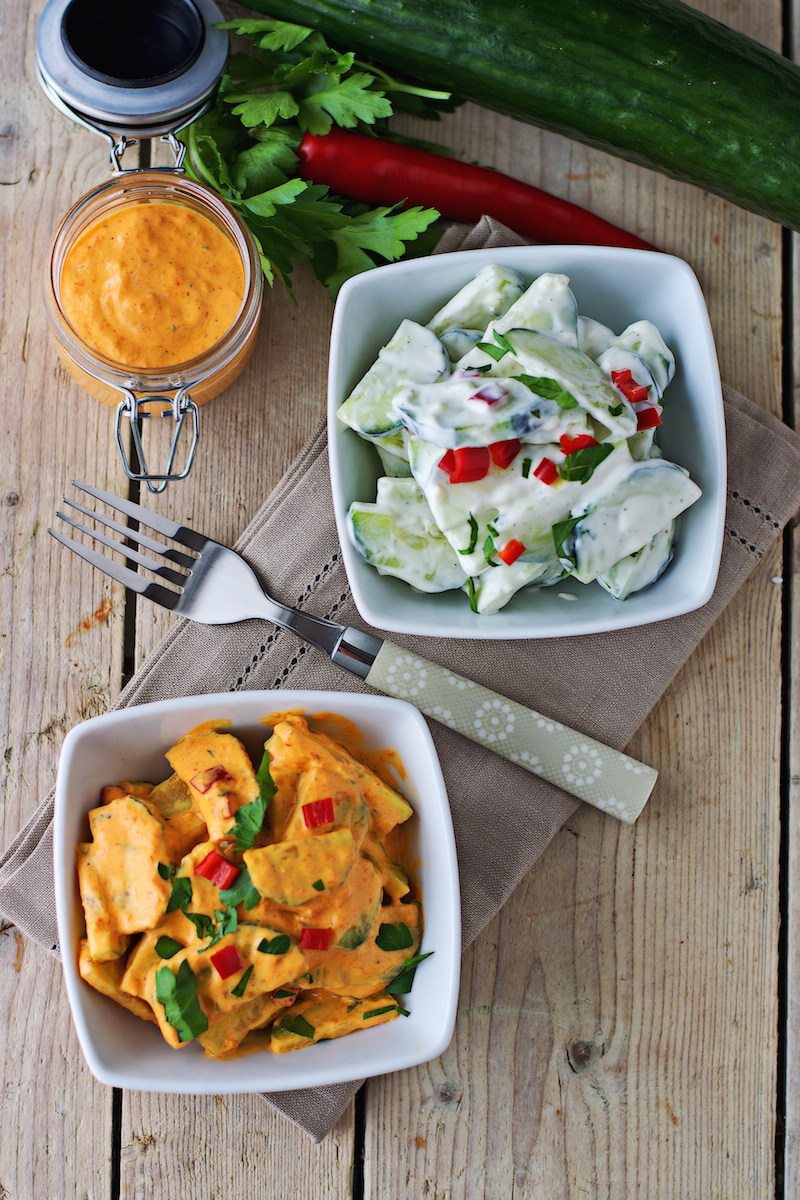 That's it. Time to enjoy this "Cucumber Salad 2 ways" on its own, with some bread, or as a side!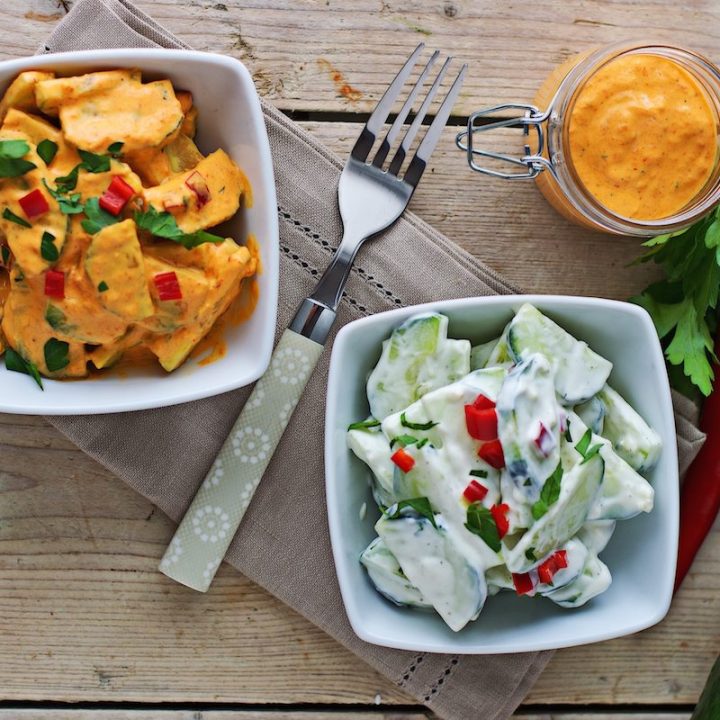 Cucumber Salad 2 ways
Two easy vegan Cucumber Salads - made in easy steps with simple ingredients.
Ingredients
1 large or 2 small cucumbers
1 hot chili
8 oz (250 g) plant-based yoghurt
1-2 cloves of garlic
salt, pepper
2 tsp thai paste or similar hot sauce/paste (for the spicy version)
Instructions
Wash the cucumbers and peel, if you like. Cut into thin slices.
In a bowl, combine the yoghurt and garlic, season with salt and pepper.
Seed the hot chili and cut dice finely. Add to the yoghurt dressing.
If you want the spicy version, simply add the thai paste or other hot paste. Play with how spicy you want it.
Add the cucumber slices to the bowl, mix well, and enjoy!
Nutrition Information:
Yield:

2
Serving Size:

1.5 cups
Amount Per Serving:
Calories:

49
Total Fat:

0.1g
Saturated Fat:

0g
Trans Fat:

0g
Unsaturated Fat:

0g
Cholesterol:

0mg
Sodium:

341mg
Carbohydrates:

11g
Fiber:

0.6g
Sugar:

0.9g
Protein:

0.8g