This Roasted Garlic Naan is an easy homemade bread that is an amazing addition to BBQs, salads, sandwiches, stews, or soups.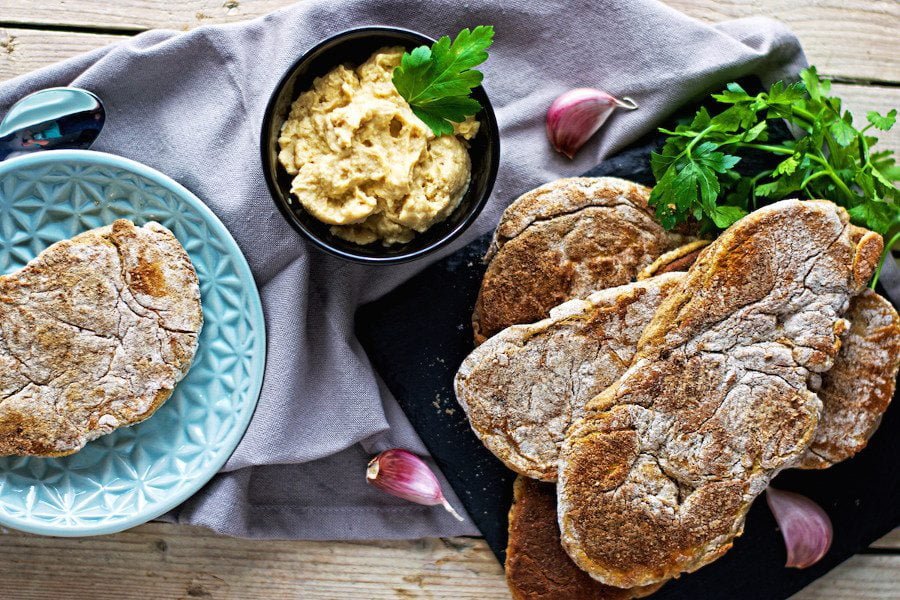 Barbecue season is coming. With sunny weather and ever longer and warmer evenings, it's an ideal time to bring out the grill and have a great time with family and friends.
We have always had very homemade BBQs: prepping veggies, making fresh salads, and sauces. One thing that has started to bug me about this, though, was the bread.
More often than not, we'd just go to the store and grab a baguette or something of the sort.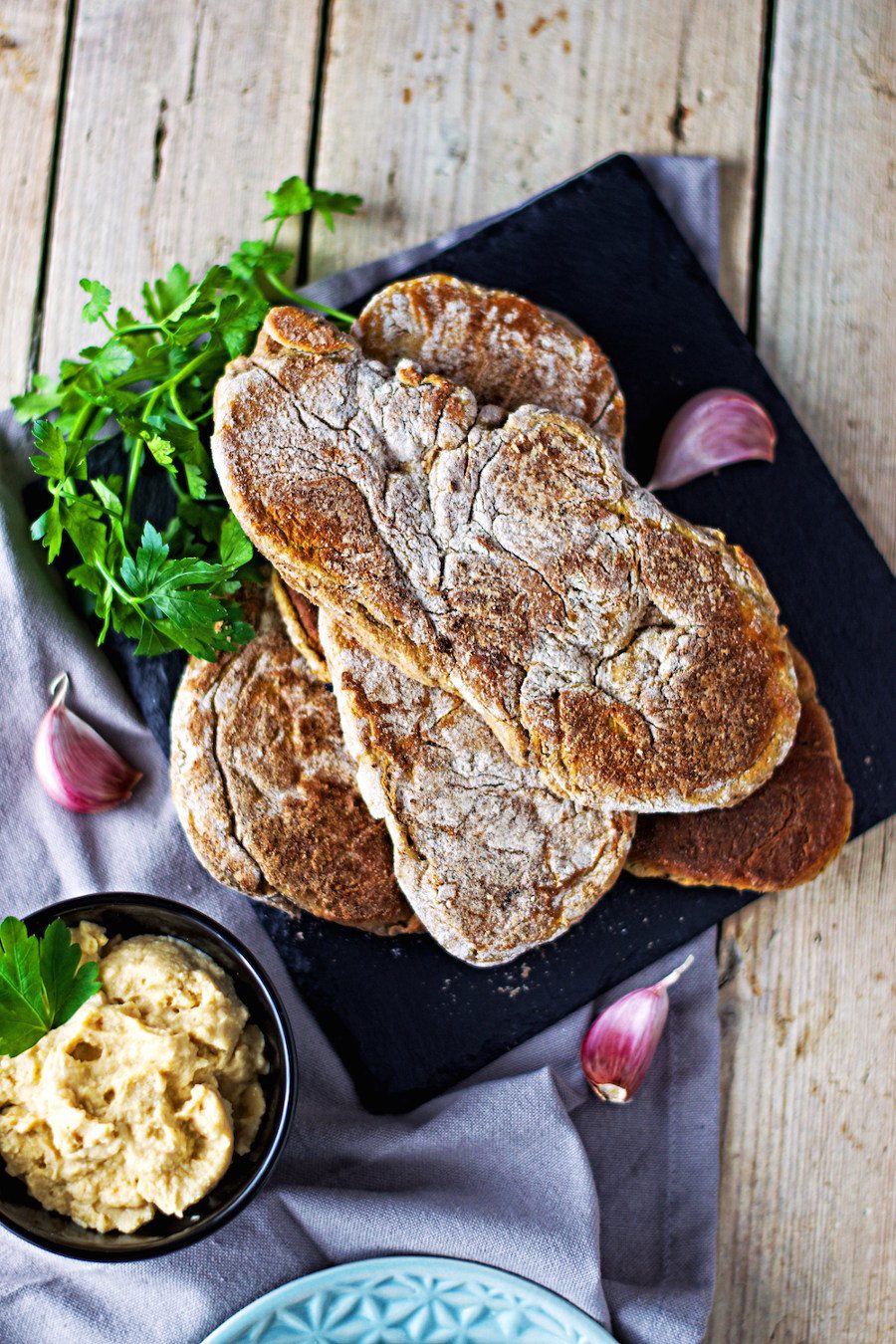 This time I really wasn't all too happy about this any more: after a while, it's all the same and also, frankly, I'm not sure what goes in there. Having heard stories about how stores and even bakeries don't use pure ingredients but things like flour pre-mixed with artificial extras and what-not, I wanted to make a homemade BBQ bread.
Something garlicky always fit my taste for these occasions and I had experimented with Naan before. It's fairly easy to prepare a dough from flour, yogurt and milk (of course, plant-based and gluten-free). This one had a more special flavor: I roasted a couple of garlic cloves in coconut oil for some minutes, then added the squeezed pulp to the dough.
After that, it's just a matter of baking the Garlic Naan in a hot pan until it gets this awesome browned color with a slightly golden touch.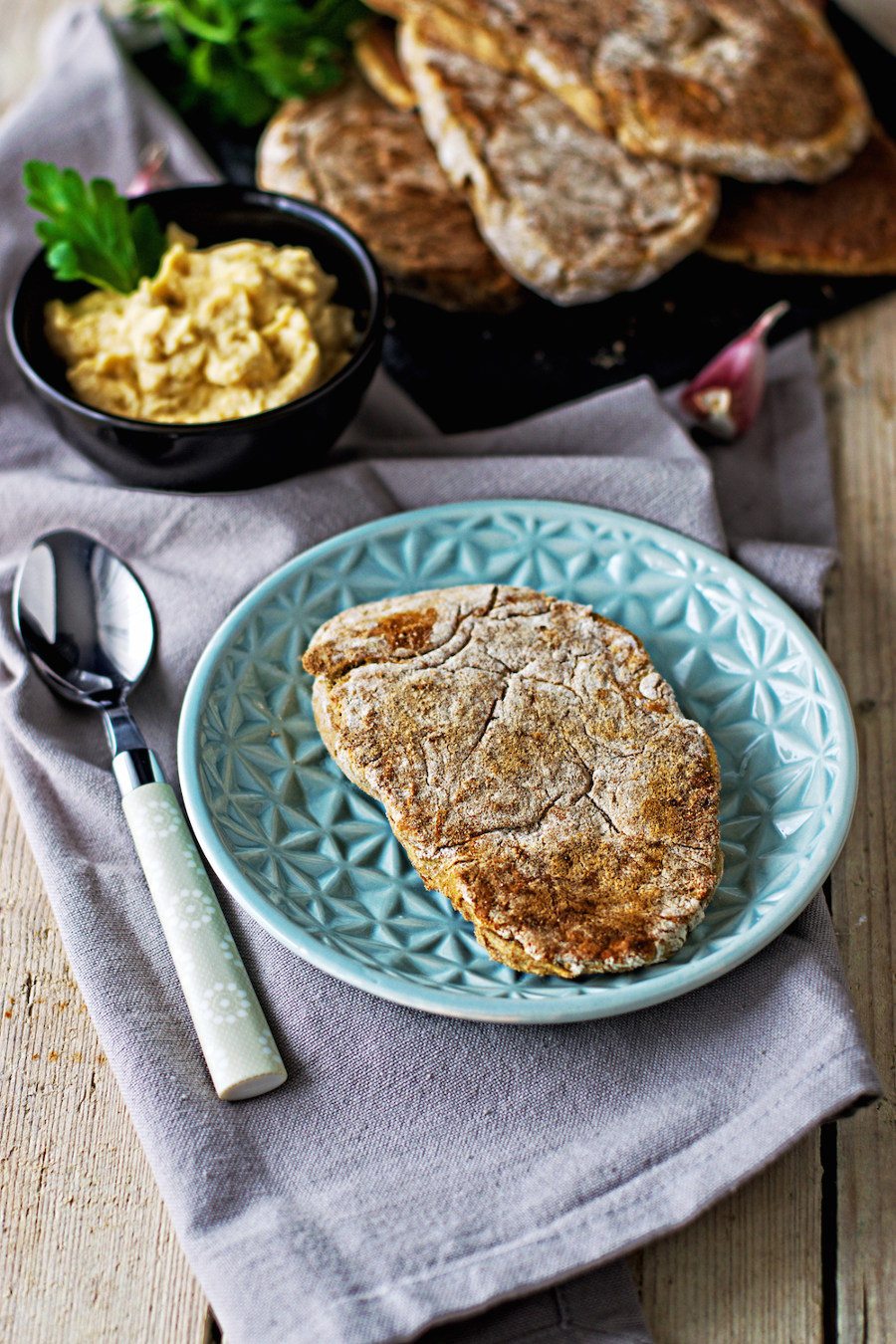 We enjoyed this Easy Roasted Garlic Naan very much with our barbecue. It's also amazing for sandwiches, with salads, or as a side to stews and soups. So many ways to enjoy it! Do not miss it!

If you enjoy a big slice, let me know. Let's talk and tell me all on Instagram and Facebook. Snap a picture. Love seeing all your creations. Florian.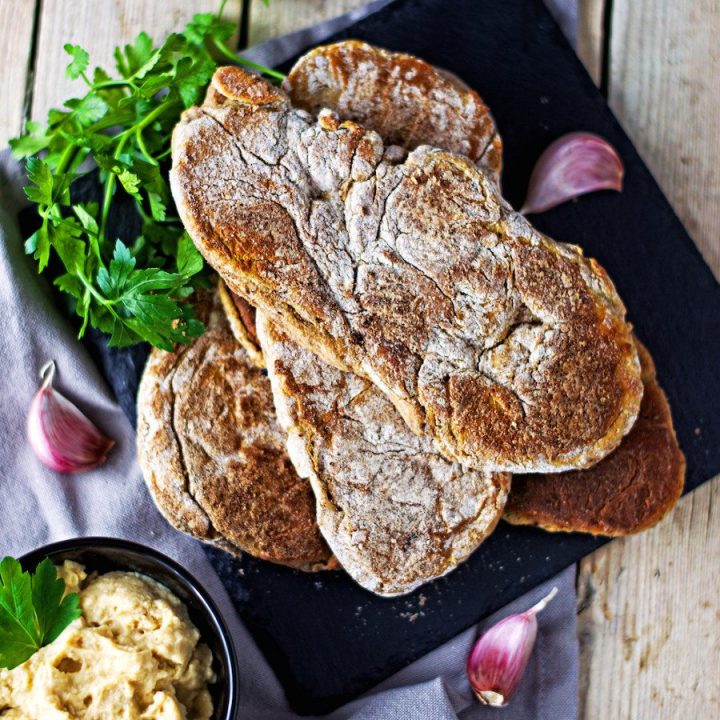 Easy Roasted Garlic Naan
This Roasted Garlic Naan is an easy homemade bread that is an amazing addition to BBQs, salads, sandwiches, stews, or soups.
Ingredients
3 cups (375 g) gluten-free flour (plus a bit more)
10 oz (300 g) plant-based yoghurt
2 Tbs baking soda
1/2 cup (120 ml) oat milk
3 cloves garlic
1 pinch salt
coconut oil for frying
Instructions
Combine the dry ingredients in a bowl.
Mix the yoghurt and milk. Add to the bowl with the dry ingredients while kneading well until you get a slightly sticky dough. Do not add all wet ingredients at once.
Cover the dough and put it in a warm place for about one hour.
Heat 1 Tbs of coconut oil in a pan. Peel the garlic and roast it in the oil for 3-4 minutes, then squeeze the garlic into the dough and mix.
Prepare the surface of your work place with extra flour. Form 8-12 (depending on the size you wish) balls out of the dough and flatten into Naan Bread shape.
Heat oil in a frying pan. Put the bread dough into the pan piece-by-piece. Flip after about two minutes. After another minute, remove from the pan. Optionally, you can sprinkle some extra coconut oil on the done bread.
Nutrition Information:
Yield:

12
Serving Size:

1 slice
Amount Per Serving:
Calories:

262
Total Fat:

5.1g
Saturated Fat:

1.3g
Trans Fat:

0g
Unsaturated Fat:

3.2g
Cholesterol:

0mg
Sodium:

419mg
Carbohydrates:

45g
Fiber:

2g
Sugar:

3.2g
Protein:

8.7g