This Best Vegan Moussaka is full of savory, wholesome ingredients. Tasty with a homemade Tempeh sauce, lots of fresh eggplant, a creamy white sauce, and a delicious topping. Easy and gluten free.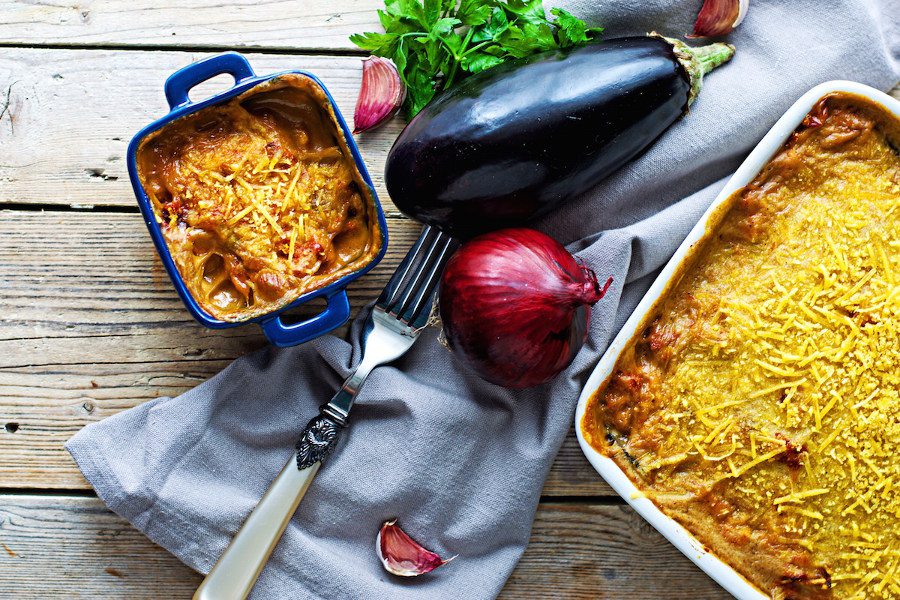 Moussaka is a casserole-style eggplant and potato-based dish, which can be found in the Mediterranean and Arabian cuisines. There are many local variants but most have common ingredients like sautéed eggplant, tomatoes, potatoes, a white sauce – and minced meat.
I didn't have Moussaka for ages. Now, that I thought it was a good idea to make it, I immediately thought of ways to make a vegan version. Some people have suggested to use minced eggplant instead of meat. However, having minced eggplant on top of a layer of sautéed eggplants seems to be a bit eggplant-heavy to me.
Tofu might be an option but I think it would either be a bit too firm or too soft in case of silken tofu.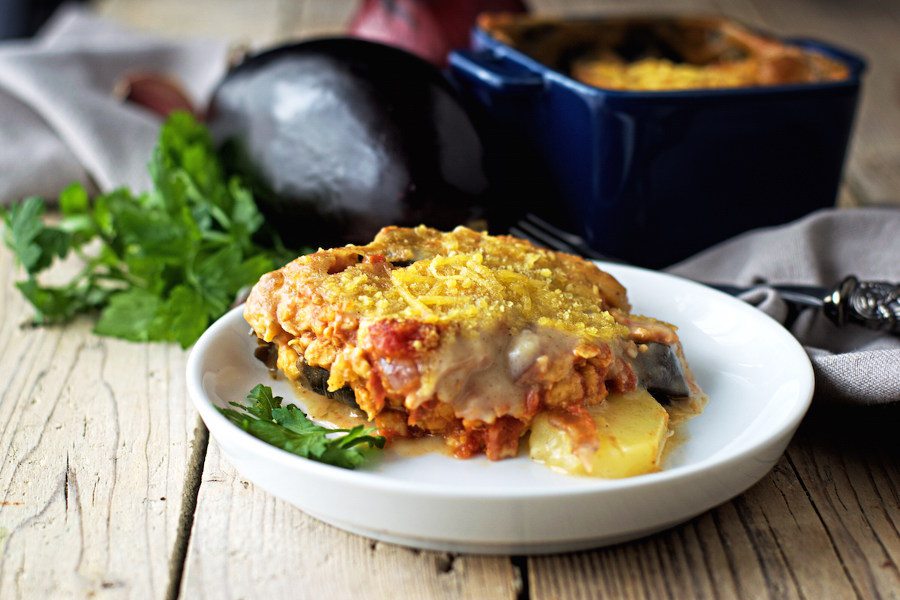 Instead, I decided to go for tempeh. Tempeh can easily be crumbled and it therefore has a definite minced-meat vibe to it. The tempeh sauce is made with tomatoes, onions, garlic, and a splash of vinegar.
It's pretty easy and quickly develops a uniquely delicious taste after a couple of minutes of simmering.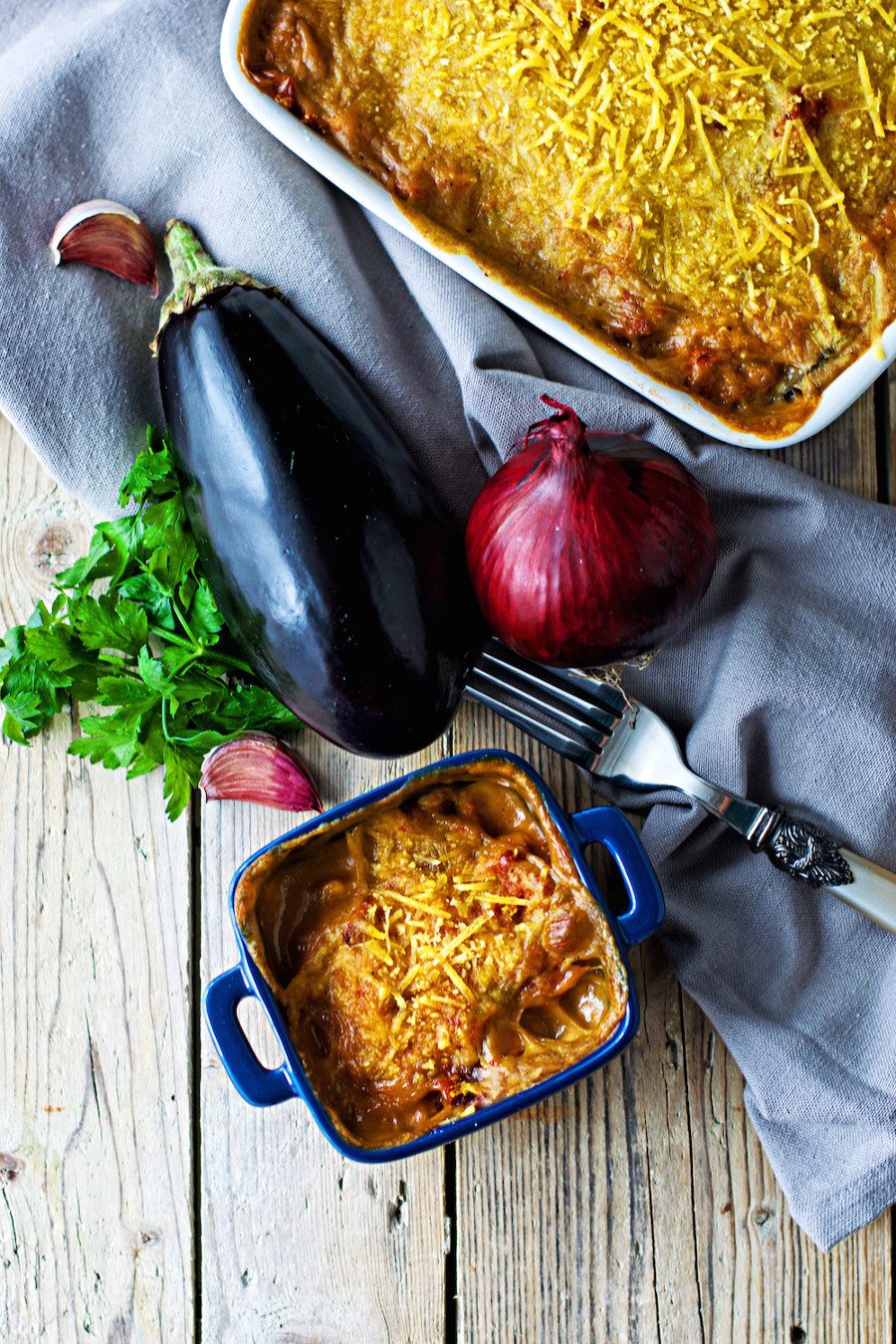 The second ingredient of the Moussaka that needs "veganization" is the Bechamel sauce. Usually made from butter, flour, and milk, it is some challenge. I used oat milk and olive oil, a gluten-free flour and spiced it with nutritional yeast and a sprinkle of nutmeg.
The rest of the preparation of my vegan Moussaka involves frying eggplant slices and precooking potatoes. And of course, layering it all in a casserole and baking it. When done, it's firm, and extremely good. I'm sure you will enjoy it!

If you give this Best Vegan Moussake a try, tag me on Facebook and Instagram. Take a picture and show me all your amazing creations. Happy cooking, Florian.
Print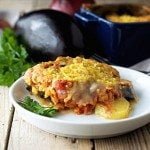 Moussaka
Author:

Prep Time:

5 minutes

Cook Time:

45 minutes

Total Time:

50 minutes

Yield:

6

Category:

Lunch, Dinner

Cuisine:

Vegan, Gluten Free
---
Ingredients
For the Tempeh Sauce:
1 14 oz (400 ml) can tomato
14 oz (400 g) tempeh
1 red onion
1/4 cup tomato paste
3 cloves garlic
1 Tbs red wine vinegar
salt, pepper to taste
For the White Sauce:
4 Tbs olive oil
1/3 cup (50 g) flour (I used gluten free)
pinch of nutmeg
4 Tbs nutritional yeast
3-4 cups almond or oat milk
For the Moussaka
2 eggplant
5 medium size potatoes
5 oz (150 g) vegan cheese
---
Instructions
For the Tempeh sauce
Peel and dice the red onion. Heat 1 Tbs of olive oil in a pan, add onions, cook for a couple of minutes until golden.
Add the crumbled tempeh, 3 cloves of garlic and cook for 2-3 minutes.
Add tomato paste and vinegar and mix well. Then combine with the tomato and season with salt and pepper.
For the White sauce:
Heat oil in a sauce pan. Slowly add flour while whisking. Add almond or oat milk bit by bit. Stir well.
Season with salt, pepper, and nutmeg.
For assembling the moussaka:
Bring salted water to a boil. Peel the potatoes, and cut in thin slices. Add to the boiling water and cook 5-10 minutes until just tender. Drain with cold water.
Cut eggplant into slices, fry golden in pan.
Pour about 1 cup of the white sauce into a casserole, then add 1/3 of the vegan cheese and the nutritional yeast. Make a layer of the potato slices, followed by eggplant and the tempeh mix. Top with the remaining bechamel sauce and finally the vegan cheese.
Bake the Moussaka at 350°F (180°C) for about 45 minutes.