My Everyday Detox Dipping Sauce is a new delicious wellness condiment that you can make from just 4 simple ingredients anytime at home. Combines the green power of avocado and citrus.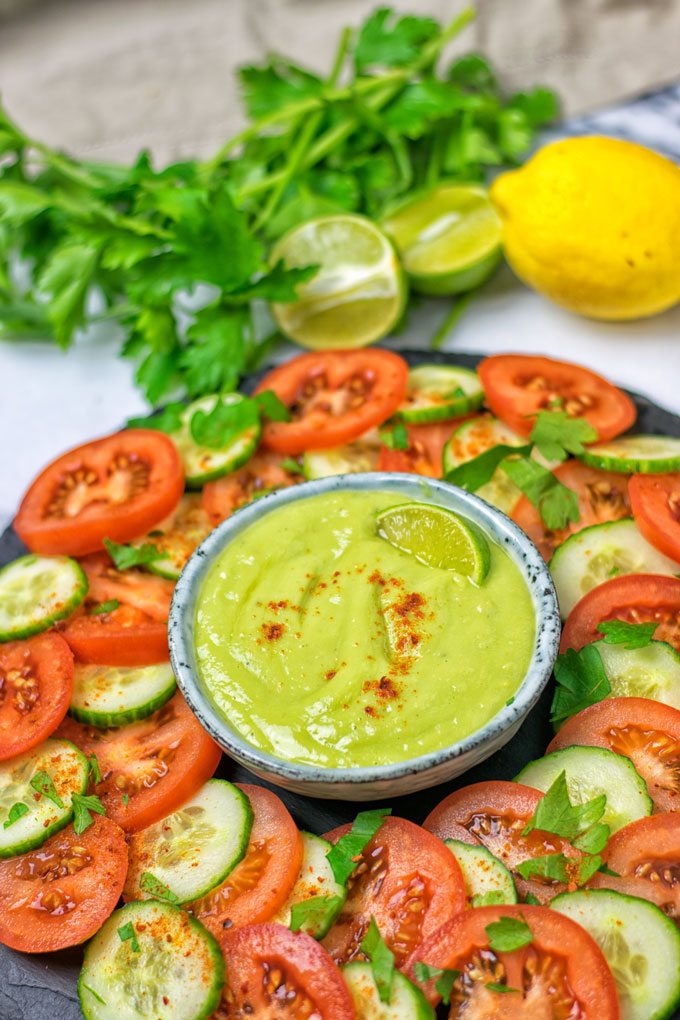 Friends, this is my second detox recipe in one week for you. After my Thai Green Curry Detox Cauliflower Rice you won't get tired here but get excited for a new everyday condiment.
I came up with the idea after the holidays of course.
I've been to Miami during holidays and enjoyed a lot of fantastic vegan food. So I was always full, the food was amazing and not only the weather.
Have you ever been to Miami? If not definitely a good place to go for vegans – and of course for all other people looking for delicious and versatile food.
What I really loved about Miami is that one can go to any restaurant and always ask for vegan options and viola you get what you want.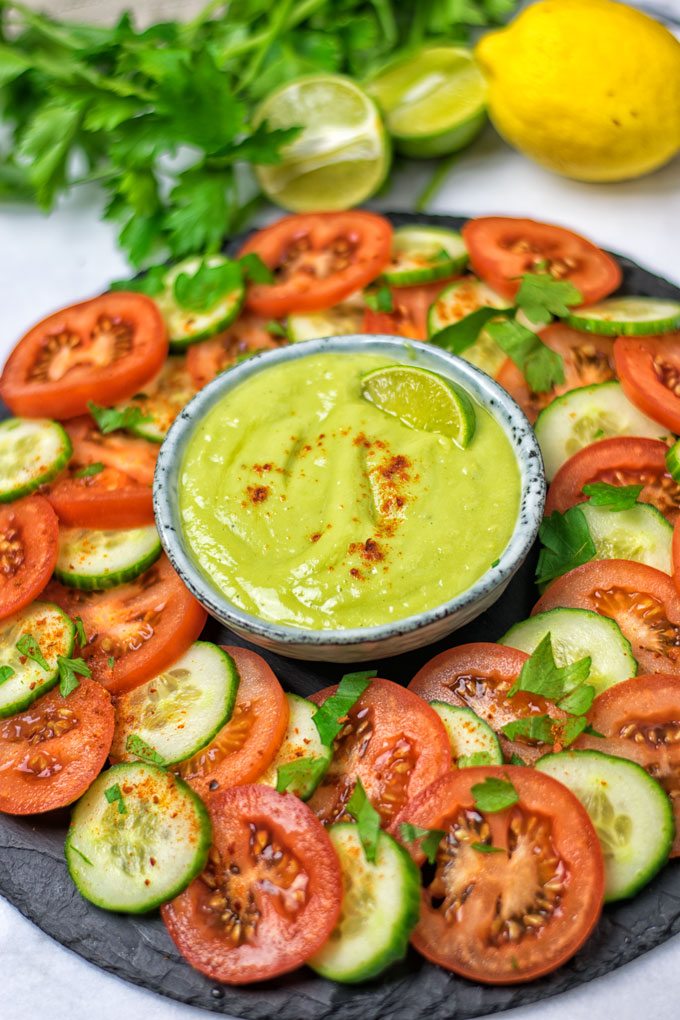 This was definitely not my last visit to the sunny Mia. Still, after I had so much amazing food, I felt the need for some lighter options. So come on board for my Everyday Detox Dipping Sauce.
The sauce is made for everyday, simple, delicious, doesn't feel like detox, healthy, oil free, creamy, fresh, green, versatile and refreshing.
Let's face it: when we think about detox it often doesn't sound comfortable because it means giving up on delicious favorites like pizza, pasta, sweets, and many more.
However, this dipping sauce does not mean giving up anything. Instead it's an everyday tasty condiment which goes well with so many things like my White Bean Meatballs Italian Style, Oven Roasted Vegetables, just plain veggies, or your favorite tortillas. Possibilities are endless and of course no dream is too big.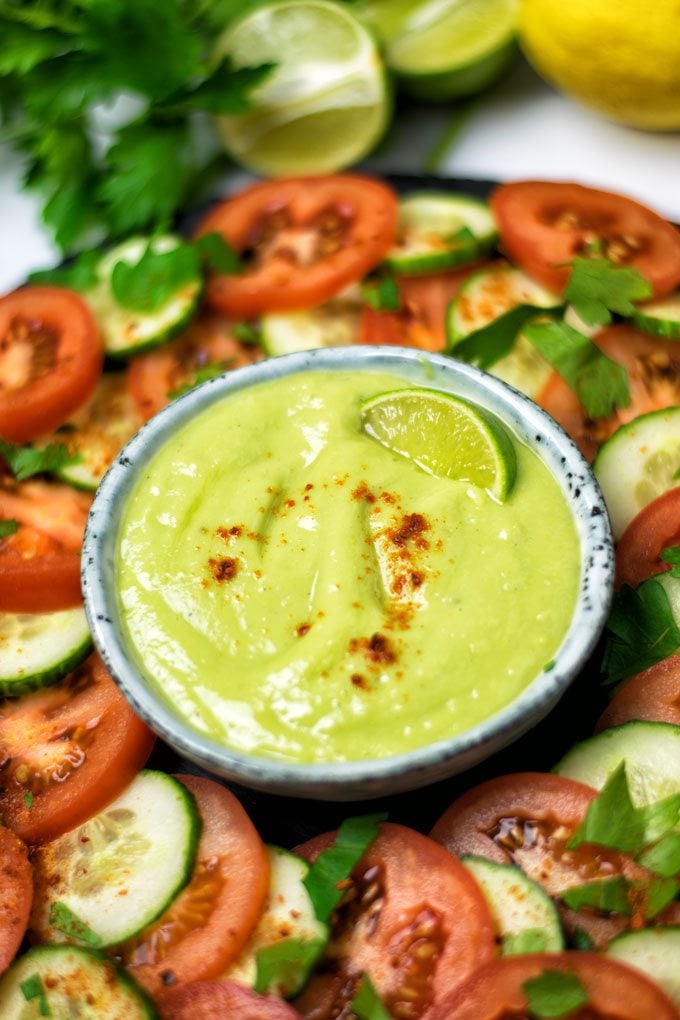 The best part of making my Everyday Detox Dipping Sauce is that the preparation is an easy game as always because you only need one easy step!
And here it is: combine all ingredients in a high speed blender, process until smooth, done.
Oh heck yes that's all, no other magic or surprise here. I'm sorry it's not complicated and full of expensive ingredients here. I'm a simple dude and this recipe shows that again.
Yes I'm all about simple and fantastic tasting food with just 6 ingredients and 5 or even less easy steps – that's the deal on Contentedness Cooking.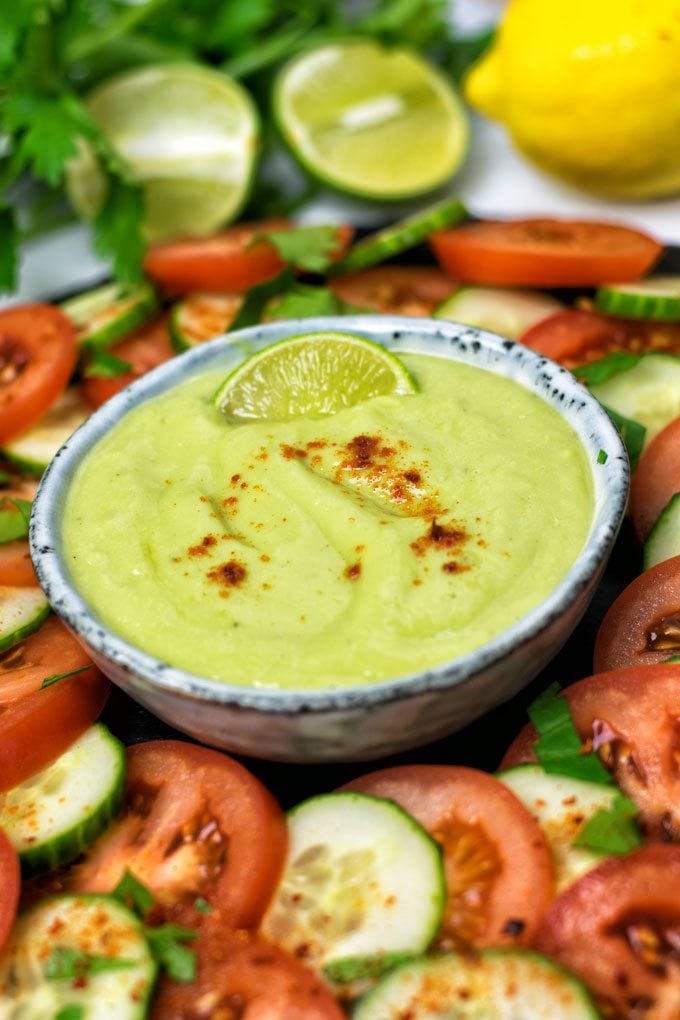 Get your antioxidant boost and start healthy with my Everyday Detox Dipping Sauce
When you first have a look at my Everyday Detox Dipping Sauce you find out that I use lime, lemon juice and zest from an organic lemon.
That means no waste! Just peel the zest from your organic lemon here. If you're a lazy kid you can of course also buy some lemon zest from an organic health store.
Please make sure it's really organic – otherwise you will find lots of preservatives and additives in your lemon zest. And that means the benefits are zero as this is a product full of chemistry and not natural.
I use all the 3 citrus flavors here, because I find it really boosts the flavor and gives you a lot more benefits for your body – not just the avocado for creaminess here.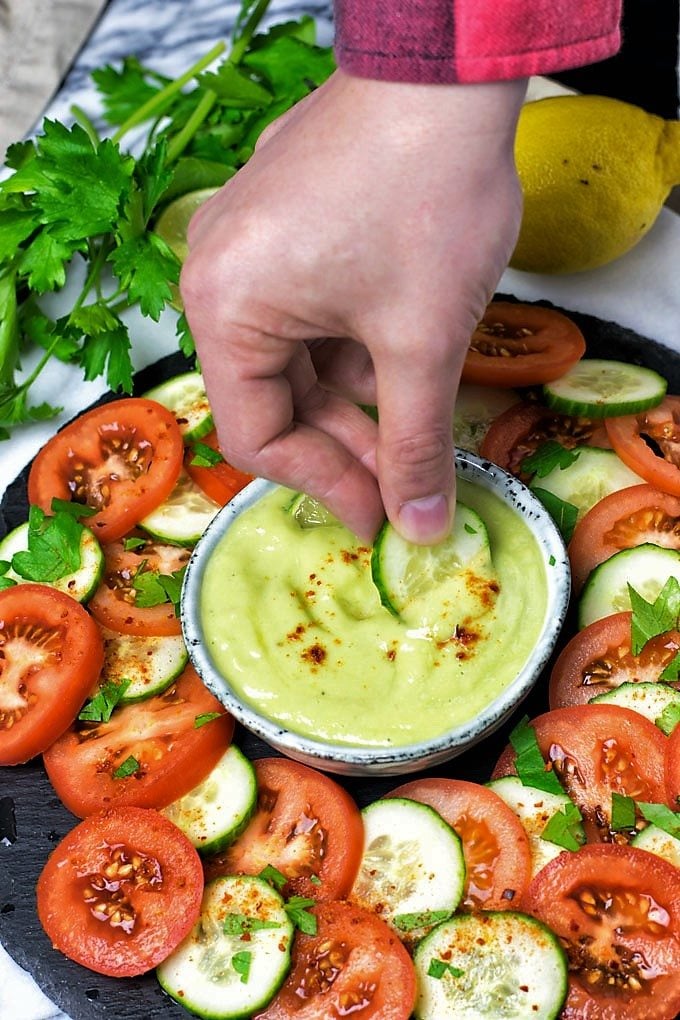 This sauce is not only for detox. It's for everyday. As I mentioned above, it goes so well with many options. By now you know it's a health star thanks to lime juice which is full of vitamin C.
That's a powerful immune booster, but that's not the whole deal here friends. Do you know my Everyday Detox Dipping Sauce contains the best natural beauty remedy?
Yes for real, if you need a peeling it will help to reduce dead skin to get the glow so dive deep and smear it on your face.
It's best beauty regime ever for you, you know exactly what's inside: no preservatives, strange ingredients that you don't want on your face and best part while you make wellness you can eat and enjoy the rest, that's beauty food from the inside out.
You see possibilities are endless and varieties are countless, so try it. Can you see the benefits now? If you need more positive vibes then read up on the wonders of lime juice in this article "The Benefits of Lime for the Face".

Friends, let's enjoy and glow together with lots of positive energy and vibes! Hello New Year.
If you try this make this, dip it, smash on your face as always let me know, tag me on Facebook or Instagram, snap a picture so I can see your glow.
Cheers and see you soon, Florian!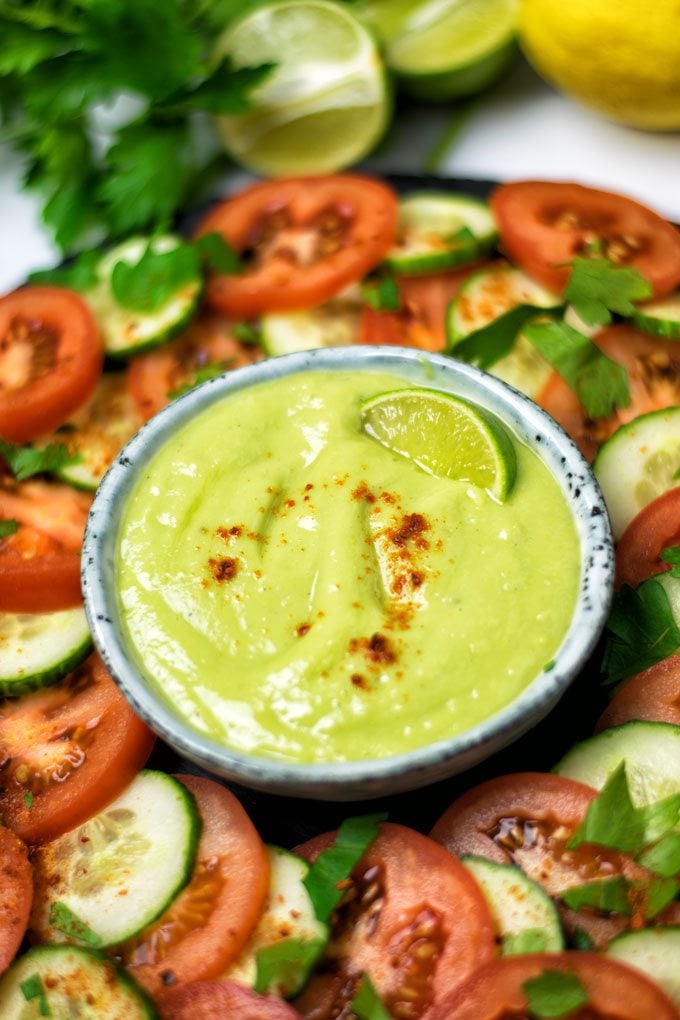 Everyday Detox Dipping Sauce
My Everyday Detox Dipping Sauce is a new delicious wellness condiment that you can make from just 4 simple ingredients anytime at home. Combines the green power of avocado and citrus.
Ingredients
1 ripe avocado
1 lime, juiced
1 organic lemon juiced + 1 Tbs zest
1-2 Tbs maple syrup (depends on the desire for sweetness. I use 1 Tbs)
salt, pepper
1/3 cup water
Instructions
Simply combine all ingredients in a blender or food processor and process until smooth.
Nutrition Information:
Yield:

8
Serving Size:

0.5 cup
Amount Per Serving:
Calories:

66
Total Fat:

0g
Saturated Fat:

0g
Trans Fat:

0g
Unsaturated Fat:

0g
Cholesterol:

0mg
Sodium:

23mg
Carbohydrates:

9.8g
Fiber:

2.4g
Sugar:

0g
Protein:

1.8g