Split Pea Soup is easy to make, warming, filling and rich in flavor. A comfort soup made with potatoes, fresh vegetables and vegan sausage. It is a winner that will be so enjoyable all year round, even for pickiest eaters.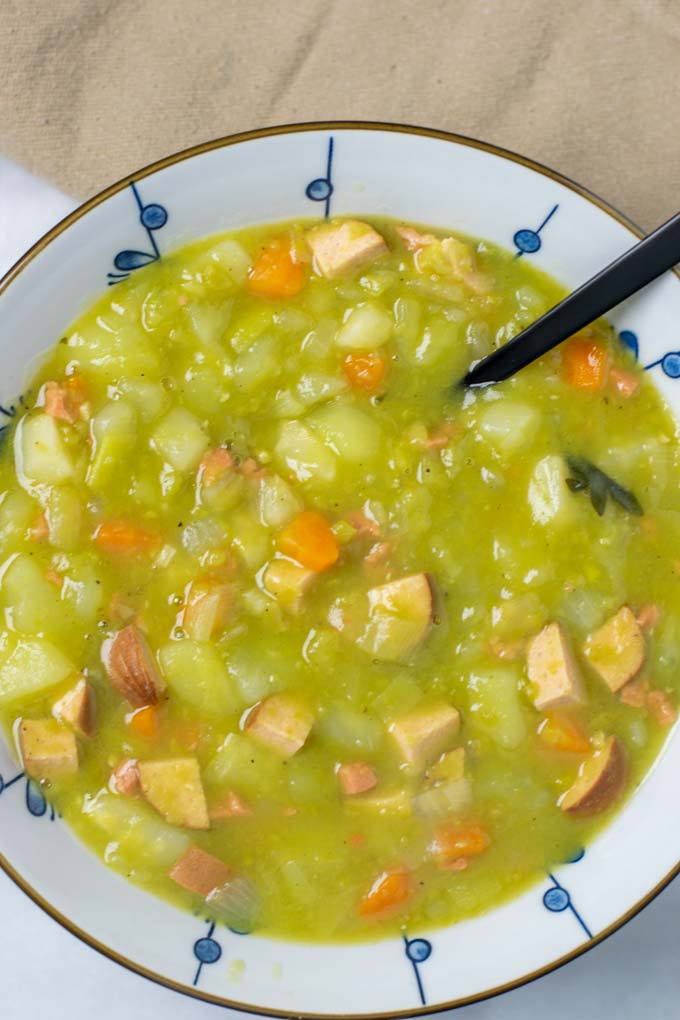 Everyone loves a big heaping spoon of soup, right?
Soup recipes like my Creamy Potato Soup, the Cheeseburger Soup, Gnocchi Soup or my Cabbage Roll Soup make everything so much better and tastier.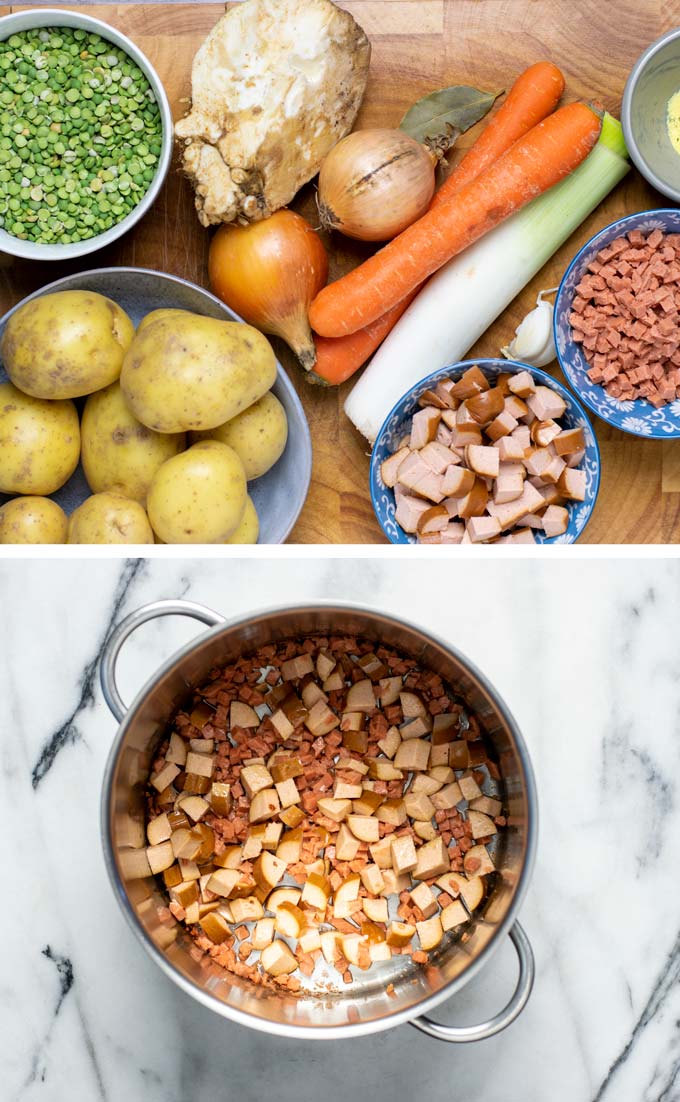 Why you want to make this Split Pea Soup
I use split peas and that is pretty handy. Unlike peas that you have to soak for a couple of hours or even better overnight, you just need to rinse them and that's is all. Of course they also taste much better than canned peas.
Vegan bacon and sausage add such a great meaty texture to the soup. When you first taste it, you know this is really delicious.
Colorful vegetables give the Split Pea Soup a bit of bite. And with step by step pictures you see everything and will be proud of the result.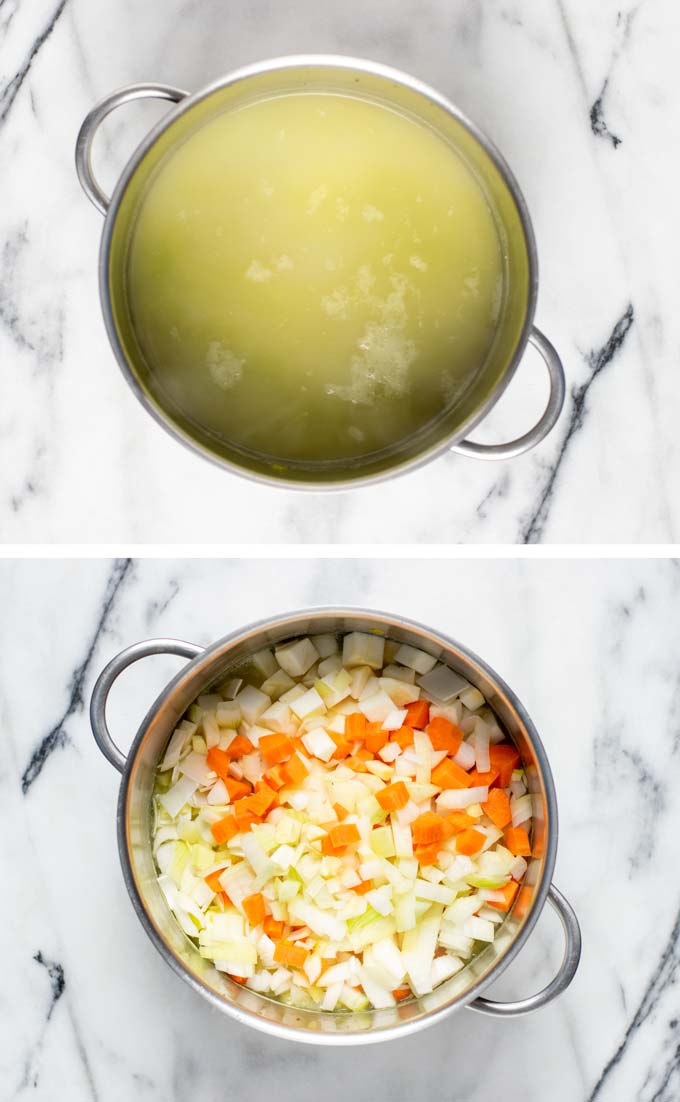 What you need for this Split Pea Soup recipe
Potatoes — I like to use waxy potatoes. These are low in starch, high in moisture and provide a great texture in soups or stews. You can use any potatoes you like of course, but know that the texture will be different.
Dried split peas are great, therefore you can directly start. You don't need to soak them. Just rinse and drain. A great timesaver.
Vegetable stock powder — all the vegetables alone add a lot of flavor. Stock powder is better to concentrate than broth so it is really a better fit.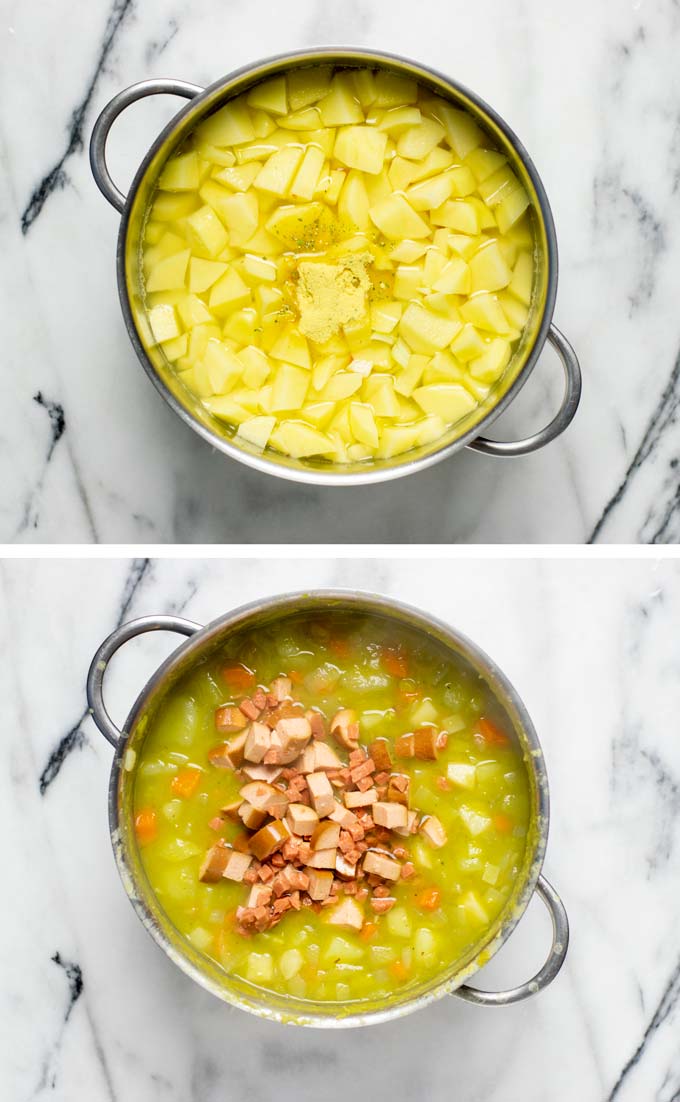 Bay leaf — adds another of bit of flavor to the Split Pea Soup. Makes it hearty and gives it a more well rounded profile.
Olive oil — you can use any vegetable oil that you have on hand, but I find olive oil adds so much amazing flavor.
Celery, carrots, onions, garlic and leeks: celery, carrots and onions are classic ingredients of any pea soup. Not so typical are garlic and leeks, but friends I tell you this really transforms everything from great to fantastic. Garlic gives so much taste and you know it makes everything more delicious and this one is no exception.
Vegan sausage and bacon — Bacon bites are often made with a great seasoning so they provide great texture and flavor. For the sausage I like to use a smoky one, because it adds so much depth to our pot. Both are so good for a meaty texture.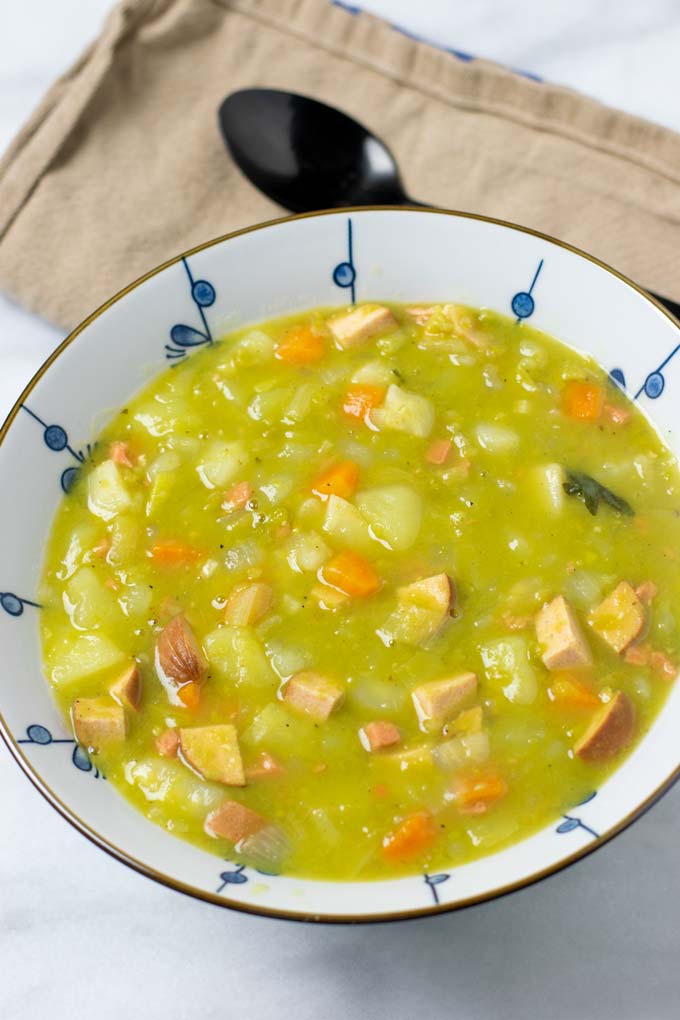 How to make Split Pea Soup
Wash, rinse and drain the split peas first, and set them aside.
On the stove, heat 2 Tbsp of olive oil, add bacon bites, and sausage. Cook them for around 2 minutes. Remove from the pot.
Add 6 cups water, the split peas and bay leaf and bring everything to a boil. Skim the rising foam with a ladle, because this doesn't taste good. Cook everything for 30 minutes on medium heat.
Now is time to add onions, carrots, garlic, leeks, celery, potatoes, stock powder, and 2 more cups of water. Cook for 20 minutes more.
Last but not least add bacon and sausage back and cook for 5 minutes more on low temperature. Remove bay leaf, season the Split Pea Soup with salt and pepper, if needed.
Leftovers and can I freeze this?
Leftovers can be stored in the fridge for around 5 days. Reheating can be on the stove or in the microwave. For freezing (yes, great for that!) let the soup cool completely, give it into a freezer friendly container and you can stick it in the freezer for around 3 months.
Also great for meal prep as you can make big quantities and freeze for later.
Tips and tricks
Remove the skimmed foam. Don't forget this and do it properly. Especially in the first minutes of boiling you will see a lot of foam from your split peas and this doesn't taste great.
Please add the water in the given instructions, because it is important later that the potatoes after adding them to the pot are fully covered. If you add all of the 8 cups water the split peas will soak up a lot of water.
What to serve:
Croutons
Bread
Sandwiches
Chips
Or to make it really fancy this is what I've tried only recently, amazing.
I topped my Split Pea Soup with French Fried Onions. Oh boy that was good.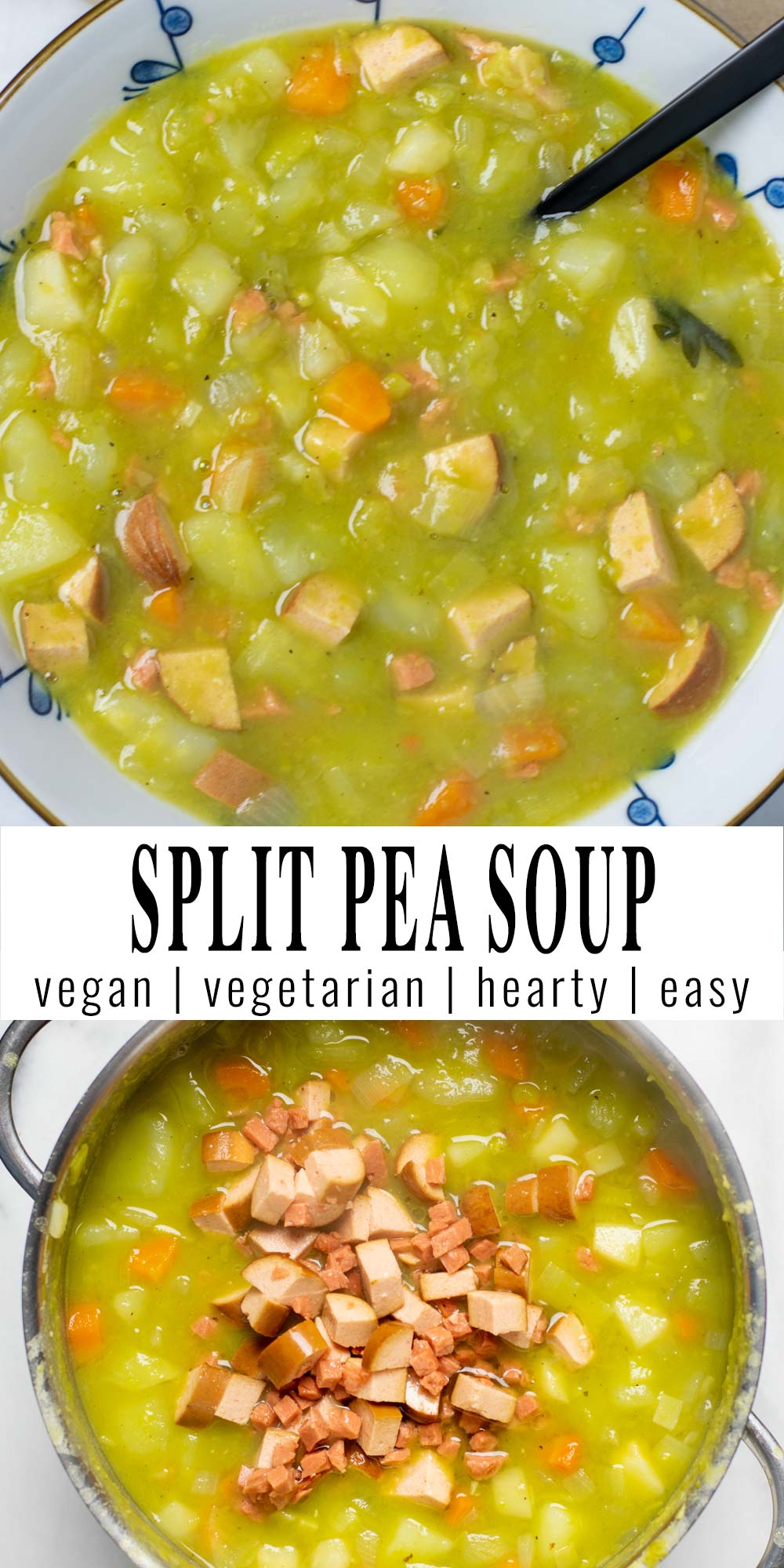 If you try this Split Pea Soup, tag and share on Instagram or Facebook.
Enjoy, Florian.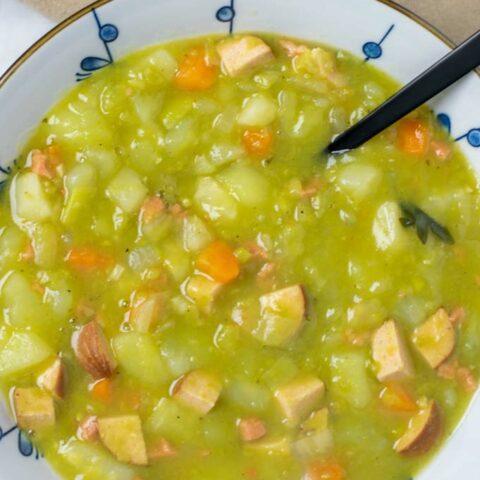 Split Pea Soup
Total Time:
1 hour
15 minutes
Split Pea Soup is easy to make, warming, filling and rich in flavor. A comfort soup made with potatoes, fresh vegetables and vegan sausage.
Ingredients
2 lbs potatoes, peeled and cubed
1.5 cups split peas, dried
1 Tbsp vegetable bouillon powder
8 cups water, divided
1 bay leaf
2 Tbsp olive oil
2 cloves garlic, chopped
1 cup onions, chopped
2 small carrots, peeled and chopped
1/2 cup vegan bacon
1 cup celery root, peeled and chopped
2 vegan sausages, chopped
1 leek, chopped
salt, pepper to taste
Instructions
Start with washing, rinsing, and draining the split peas over a colander. Set them aside for later.
Heat a casserole or stockpot on the stove. Add 2 Tbsp of olive oil on medium heat. Wait until oil is hot, then add vegan sausage and bacon bites. Fry them for 2 minutes until cooked. Remove from the pot.
Add 6 cups of water, the split peas and bay leaf to the pot. Bring to a boil, and remove foam that forms in the first minutes of cooking with a ladle. Let cook on medium heat for 30 minutes.
Now add carrots, leeks, garlic, celery, potatoes, remaining 2 cups water, stock powder and cook for 20 minutes more. Keep in mind that the water covers all of the vegetables and potatoes.
Finally return bacon bites and sausages to the pot and turn down heat to low and cook for 5 minutes more. Add a pinch of salt and pepper and serve in bowls.
Nutrition Information:
Yield:

4
Serving Size:

2 cups
Amount Per Serving:
Calories:

570
Total Fat:

21g
Saturated Fat:

6g
Trans Fat:

0g
Unsaturated Fat:

13g
Cholesterol:

31mg
Sodium:

915mg
Carbohydrates:

78g
Fiber:

14g
Sugar:

9g
Protein:

21g