This Easy Vegan Pimento Cheese recipe will blow you away. It's spicy, comforting, satisfying, cheesy, delicious, healthy – your new favorite vegan cheese to dip in!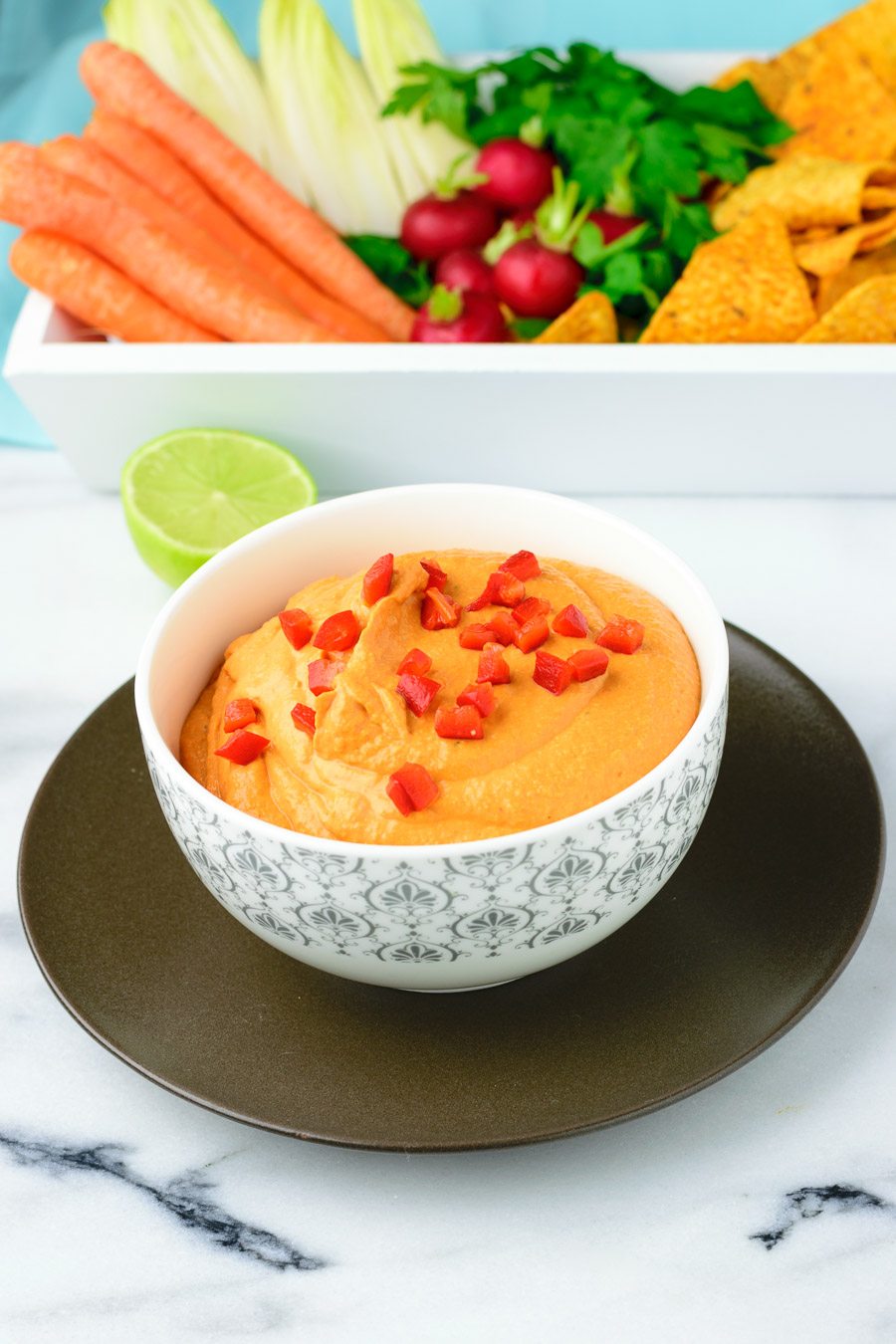 Recently, there was a small party at the home of my new buddy Sem. I was happy to realize that a potluck event is something popular here as well.
Everyone comes and brings some of their creations. Some people bring appetizers like pinwheels while others are up to bringing desserts.
I took the opportunity to try out my newest creation with my friends: my new Easy Vegan Pimento Cheese recipe. So versatile as a dip and spread – a perfect party food.
Don't you think so?
I created this recipe while I was in something like a phase of re-inventing my favorite foods in vegan style.
And I remembered that I had once tried something at a party years ago that really impressed me at the time. Pimento Cheese. To make this vegan and gluten-free was definitely a challenge for me.
The idea had been floating in my mind for some time before. Do you know what? This party was to be the day!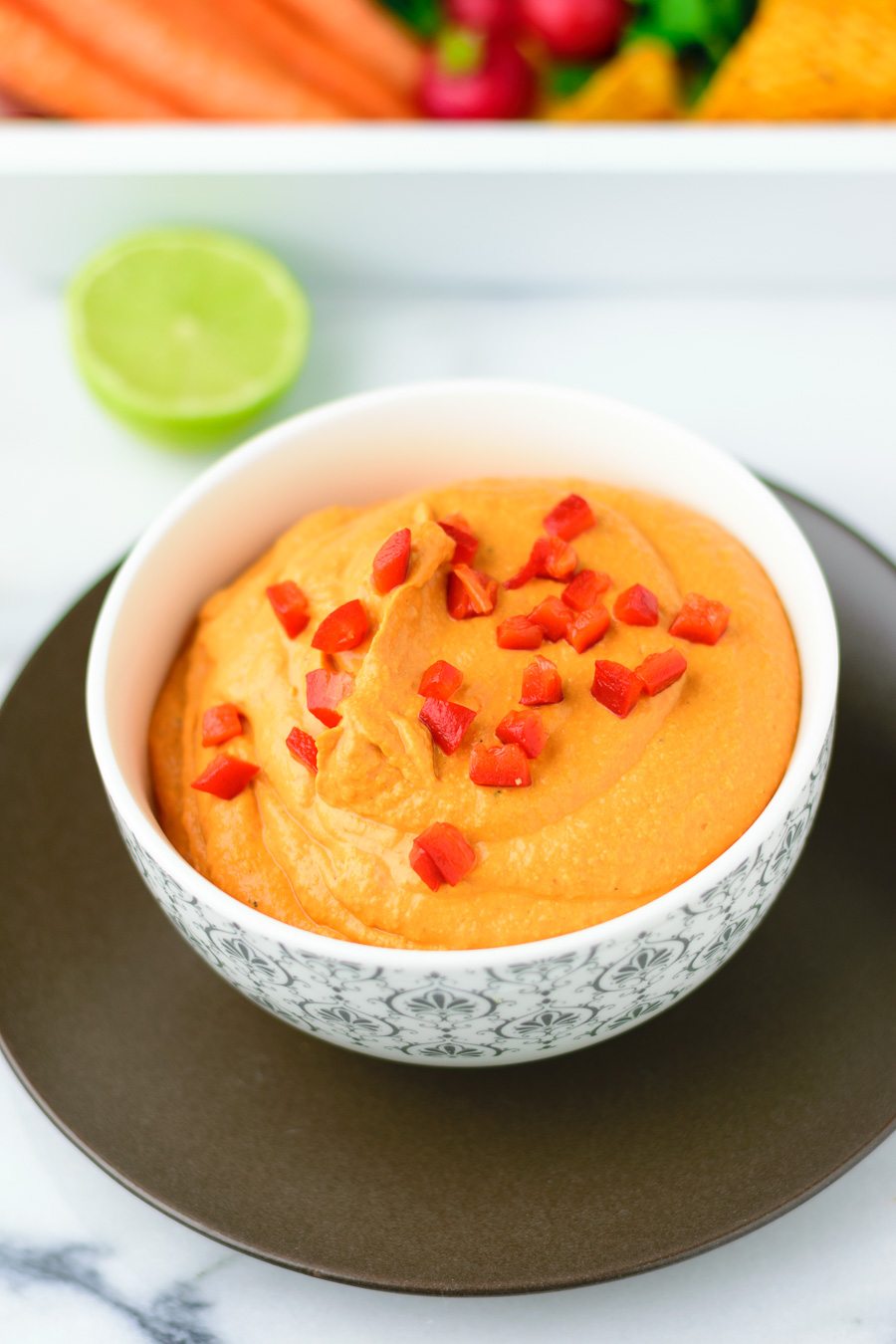 Traditionally, Pimento cheese is made from mayonnaise, cheddar and cream cheese – which is obviously not vegan, dairy free or plant based. I have to admit that the thought of having to give up cheese when I was going vegan was tough.
And when you move to a place like the Netherlands which is absolutely a land of cheese, in which people are addicted to cheese, it's not getting any easier.
What a fun situation you might think? Going to a party with a lot of cheese lover people and bring something completely unexpected. Yes, this was definitely a challenge for sure. First: I want to recreate one of my favorite recipes without sacrificing any taste.
And when I serve this no one should realize it's vegan. It should be delicious, satisfying, creamy – nothing would give away that it wasn't "real".
So I headed to Sem's house with a bowl of my Easy Vegan Pimento Cheese! It took some trial and error but in the final version, no one could taste it was vegan or gluten free.
The whole bowl was empty in no time. There were loads of appetizers and scrumptious desserts – a whole lot of variety, you got the picture. But the Vegan Pimento Cheese was the star and I got a lot of requests during this gathering about the recipe.
It shows: Serve this to your friends or family and you will be the star at any occasion. 🙂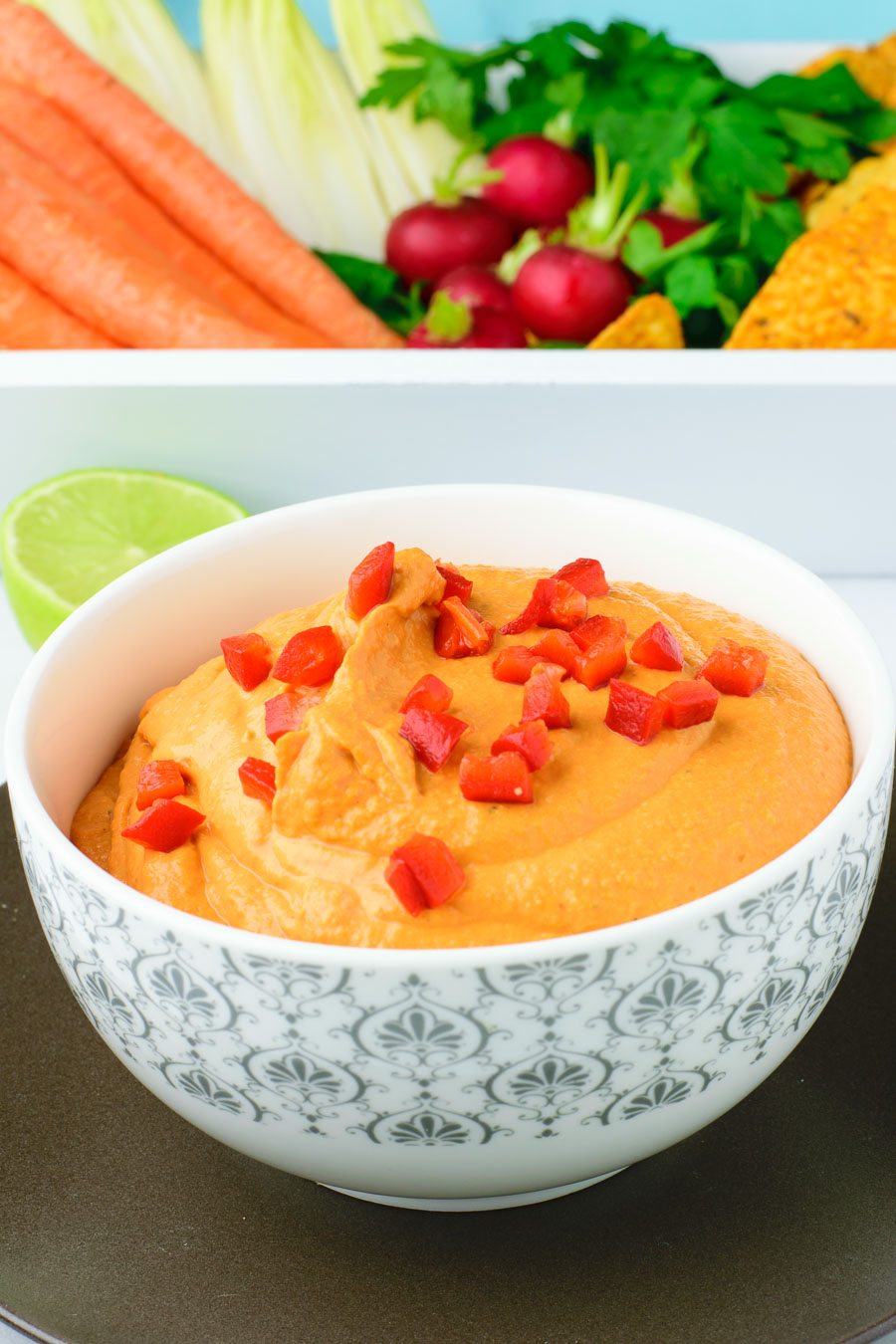 Why my Easy Vegan Pimento Cheese is a stunner!
Some time ago I came across an interesting article on One Green Planet about vegan cheese and why you don't have to miss cheese with a plant-based diet. I have not only this Easy Vegan Pimento Cheese recipe for you but also my Vegan Cheese Sauce. If you want more variety, then go and read "These 25 Vegan Cheeses Will Make You Quit Dairy Forever".
Let's have a look at the ingredients I chose for the Pimento Cheese: I went with chickpeas here, which I find provide the best texture in my recipe.
They are not too firm or too soft, somewhat fluffy – just what this recipe should be. I keep it really simple for you and just used some nutritional yeast to add a cheesy flavor. As you know Contentedness Cooking is all about healthy vegan recipes in easy steps.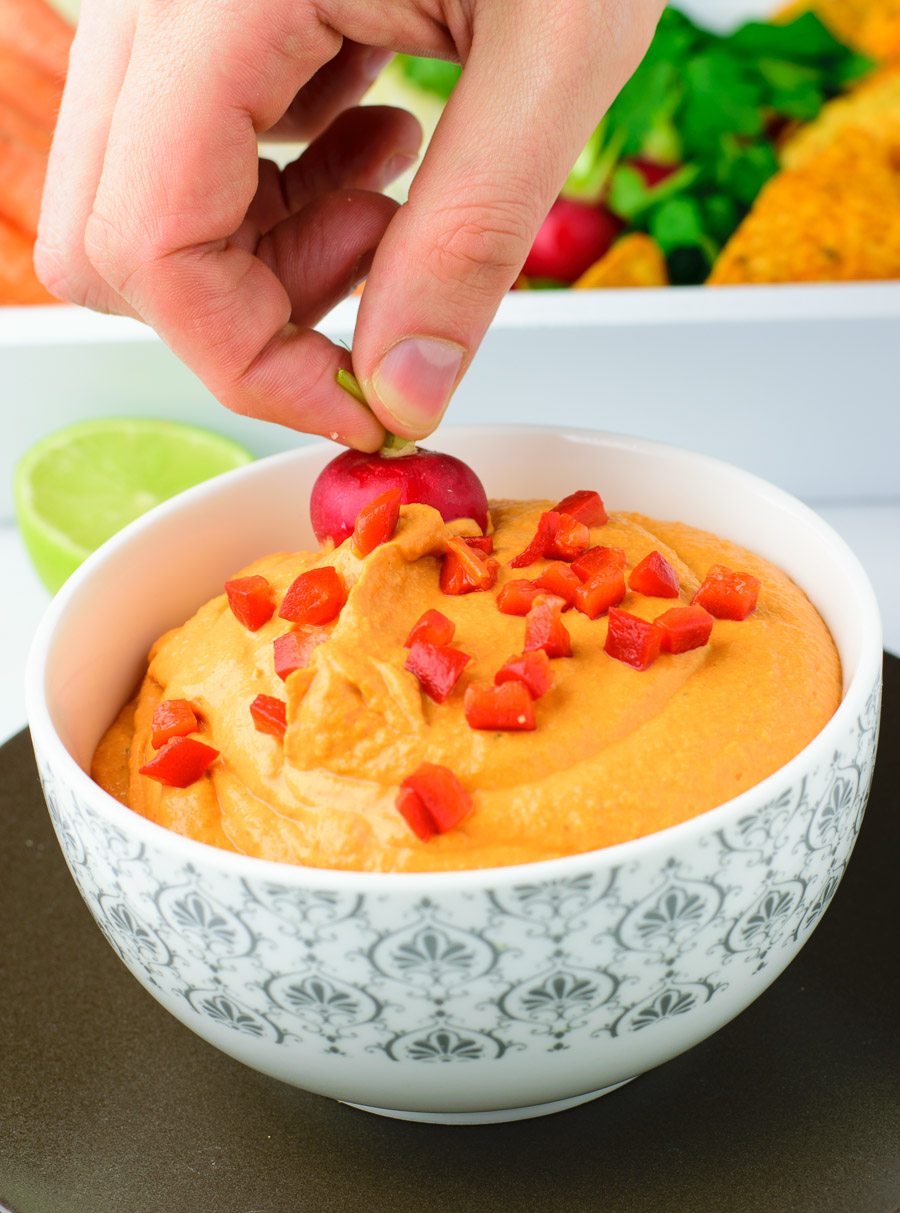 And besides the chickpeas and nutritional yeast, all it takes is 2 more ingredients: veganaise and pimentos, obviously.
All the ingredients work absolutely fantastic: the chickpeas add texture, the pimentos add spiciness, the nutritional yeast gives a cheesy flavor and the veganaise adds creaminess.
Simple, isn't it? It also means this is so much easier that the real deal and for sure healthier for you. You only need one simple step to make this, no cooking, baking or other cooking steps required.
One piece of advice: if you bring this to a party, do yourself a favor and don't make just one bowl. This was such a big hit and the bowl was empty in no time. What I learned for the next time, yes I have to double or triple the ingredients!

If you try this Easy Vegan Pimento Cheese, I hope you will snap a picture and let me know on Facebook, Pinterest, or Instagram.
I love to see everything you do.
Cheers, Florian.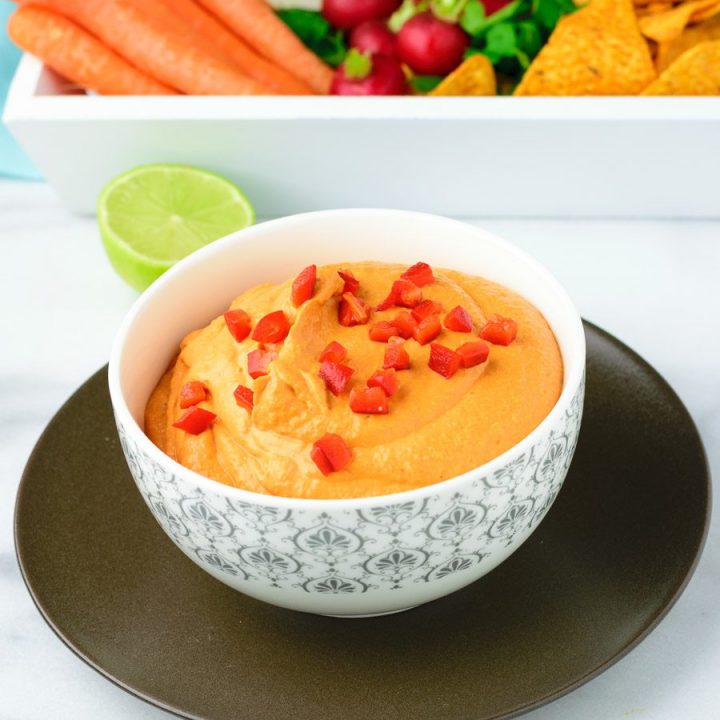 Easy Vegan Pimento Cheese
This Easy Vegan Pimento Cheese recipe will blow you away. It's spicy, comforting, satisfying, cheesy, delicious, healthy – your new favorite vegan cheese to dip in!
Ingredients
1 14 oz (400 g) can chickpeas
1/2 cup (110 ml) veganaise
1 4 oz (120 g) jar sliced pimentos
2 Tbs nutritional yeast
salt, pepper to taste
Instructions
Drain the chickpeas and pimentos. Add all ingredients to a blender or food processor and process until smooth. Garnish with some pimento dices.
Nutrition Information:
Yield:

16
Serving Size:

1 Tbsp
Amount Per Serving:
Calories:

65
Total Fat:

6.5g
Saturated Fat:

1.9g
Trans Fat:

0g
Unsaturated Fat:

3.7g
Cholesterol:

0mg
Sodium:

80mg
Carbohydrates:

0.4g
Fiber:

0g
Sugar:

0.1g
Protein:

1.7g