The recipe for a Vegan Bobotie is a mushroom rich variant of a traditional South African dish. It has a combination of hearty flavors, with hot spices and a fruity component. Only 6 ingredients and 4 easy steps.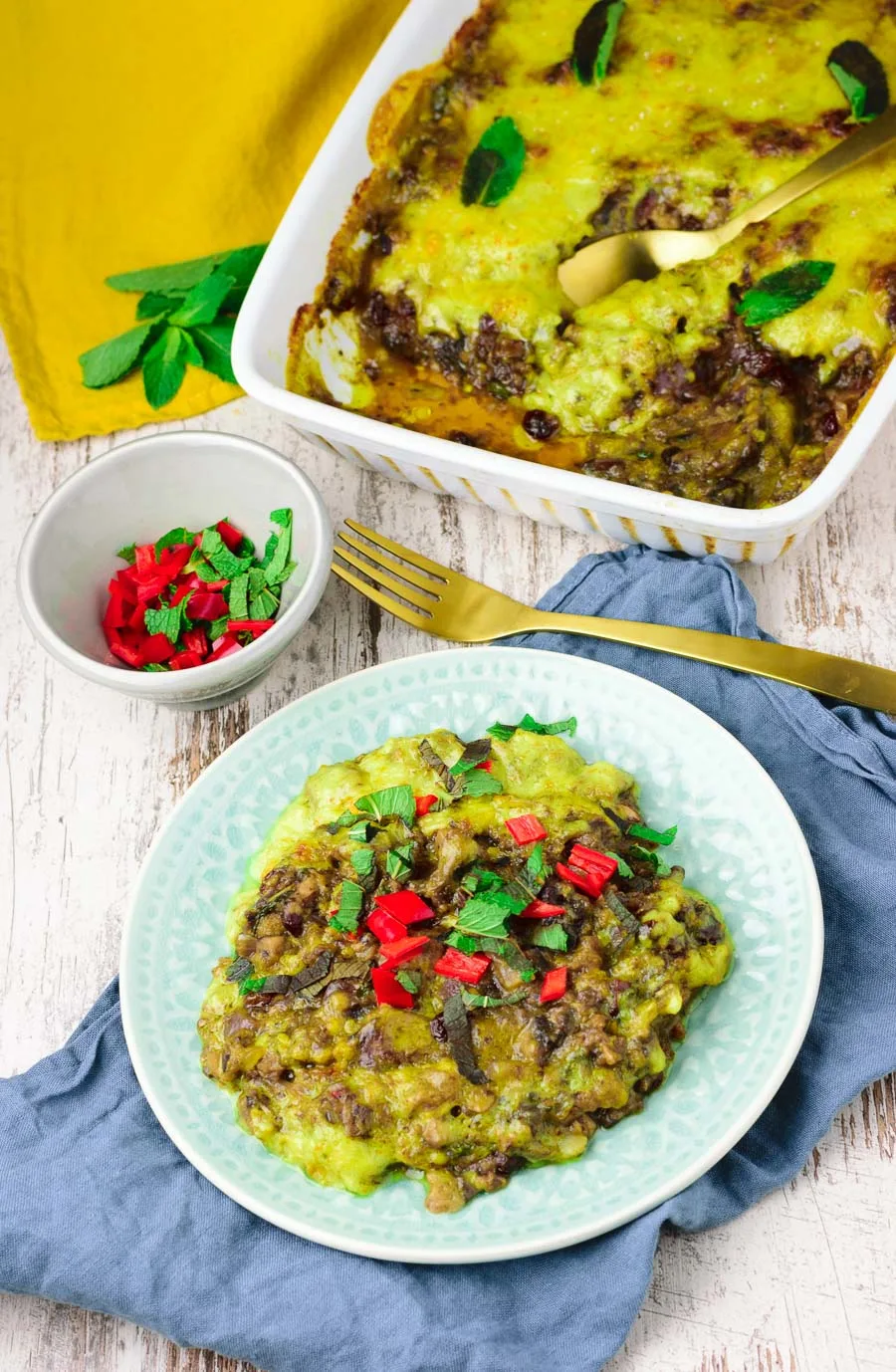 I'm sure you wouldn't have expected today's recipe for a Vegan Bobotie. Maybe you never heard about it, so guys it's time to get excited and come on board with me on this trip to South Africa.
First, I guess, you ask what Bobotie is and why/how I came up with this easy recipe and share with you all. During a recent neighborhood party, for which I had made my amazing Best Hot Quinoa Burger, I talked to one of our neighbors.
Her name is Fleur and as it turns out totally obsessed with South Africa. She had traveled there often and visited cities like Cape Town and Johannisburg as well as more rural regions.
And in doing so she fell in love with South African food. After the vegan burger we enjoyed during the evening, Fleur 'challenged' me to make a vegan version of her favorite – Bobotie.
She intends to eat healthier and more often meatless and a traditional Bobotie is essentially something of a meatloaf. Obviously, I had never heard of this dish before and didn't fully grasp what I was up to when I accepted the challenge.
It took some trail and error but eventually there was a version I was happy with. More importantly, a version that Fleur enjoyed when I invited her over. Mission accomplished. Hah, I hope you will enjoy my Vegan Bobotie as much as Fleur did!
Bobotie, as a national dish of South Africa, is traditionally a mixture of meat, fruits, and a creamy topping. I have to admit I was a bit skeptical how I would manage to capture similar flavor notes in a vegan and gluten-free version.
But I never give up and will work my butt off so that I can have a result that satisfies me – and also you. And that means not only that it is definitely delicious but also really easy to make.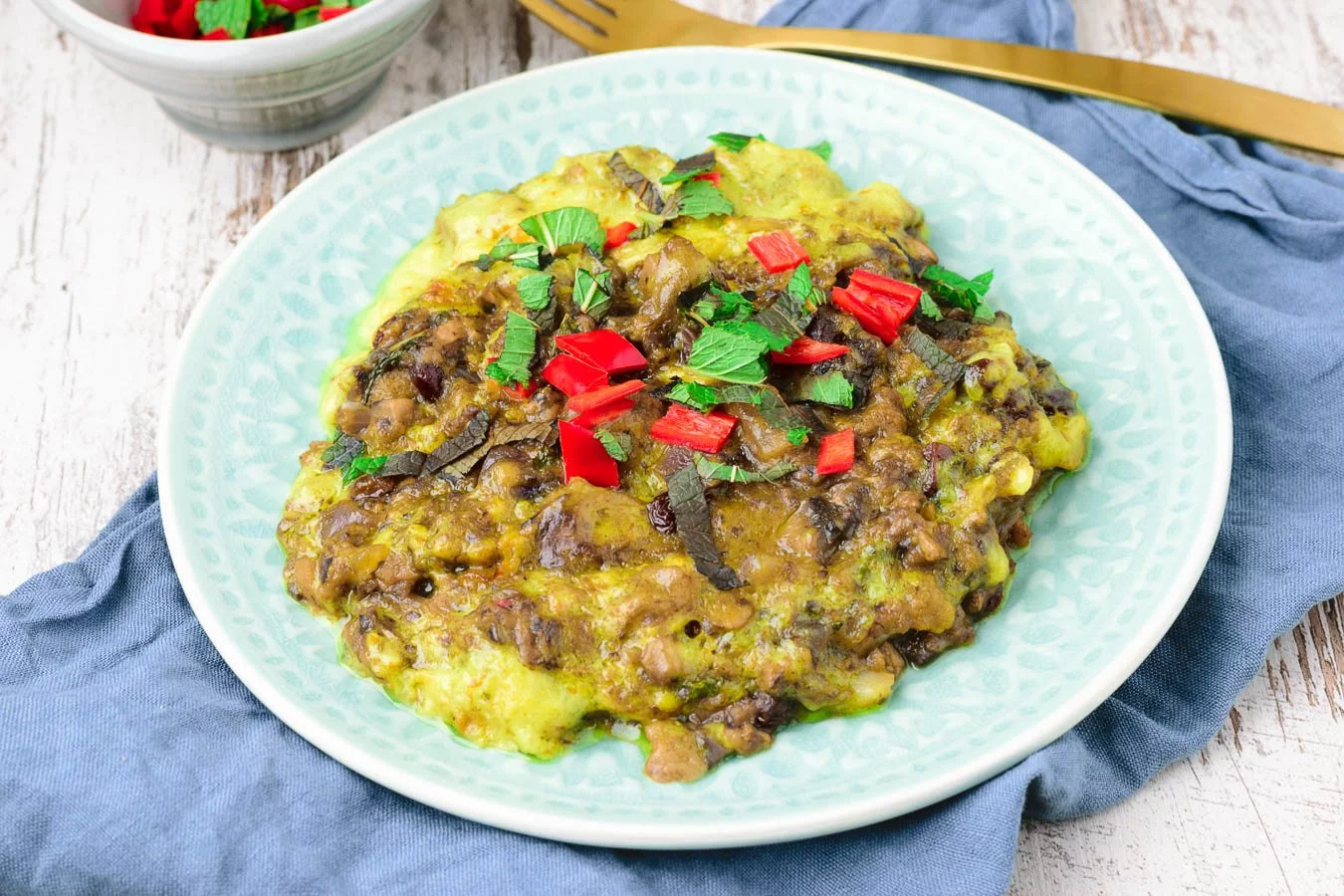 The first challenge for making a Vegan Bobotie was to find a substitute for the main ingredient. Instead of going for the obvious option of using crumpled tofu or tempeh, I aimed for something more vegetable based.
I always thought that the color and texture of finely diced and then sauteed mushroom should resemble that of minced meat quite closely and this was the ideal opportunity to give it a try.
I combined this with a spicy flavor from curry paste and some fruity components from a Mango Chutney.
To offer you a bit of variability, I give you two options for the creamy sauce that tops off the Vegan Bobotie. Either take the sauce of my Vegan Potato Casserole (minus the tahini) or choose the sauce of my Moussaka recipe and leave out the nutritional yeast.
I actually made both versions for Fleur, so I was so curious, which one was her favorite. We both agreed the sauce from the Vegan Potato Casserole is a bit creamier and richer than the sauce from the Moussaka recipe. But both are totally delicious and it's up to you which one you prefer.
Why you should give the Vegan Bobotie a try!
Not only this an easy and exciting recipe you can serve your friends and family. It is a low carb recipe and you can also benefit from an infusion of nutrients coming from the mushrooms.
Read "5 Health Benefits of Mushrooms" and find out that they provide Vitamin D and iron, are low in calories, and boost your immune system.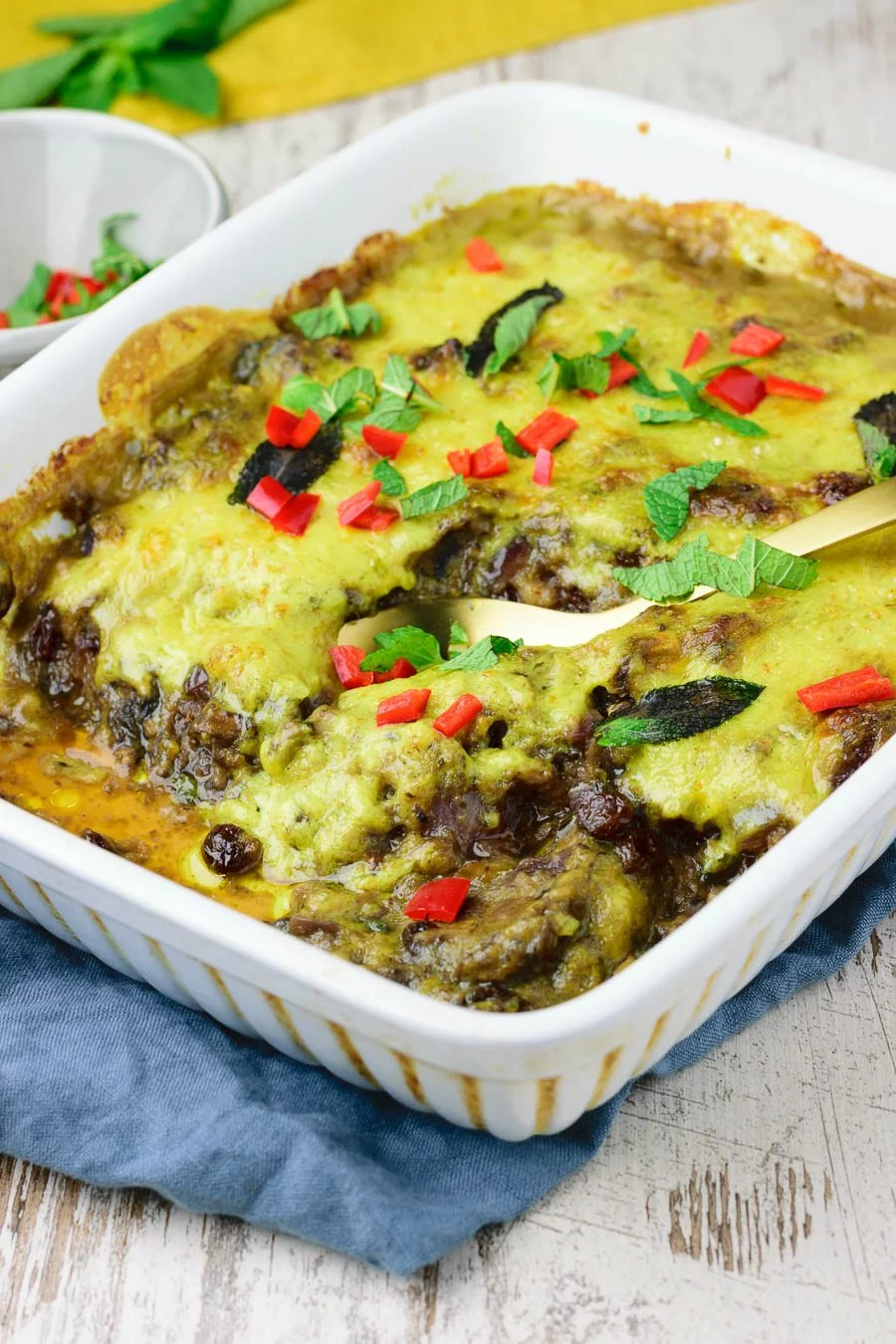 Making the Vegan Bobotie is straightforward as always.
This dish is no exception and you only need few ingredients and easy steps. Simply dice the mushrooms finely, sauté them, and mix with onion, curry paste, and some herbs. Whisk together your favorite sauce and give over the mushrooms in a casserole dish.
Bake for 30 minutes and enjoy!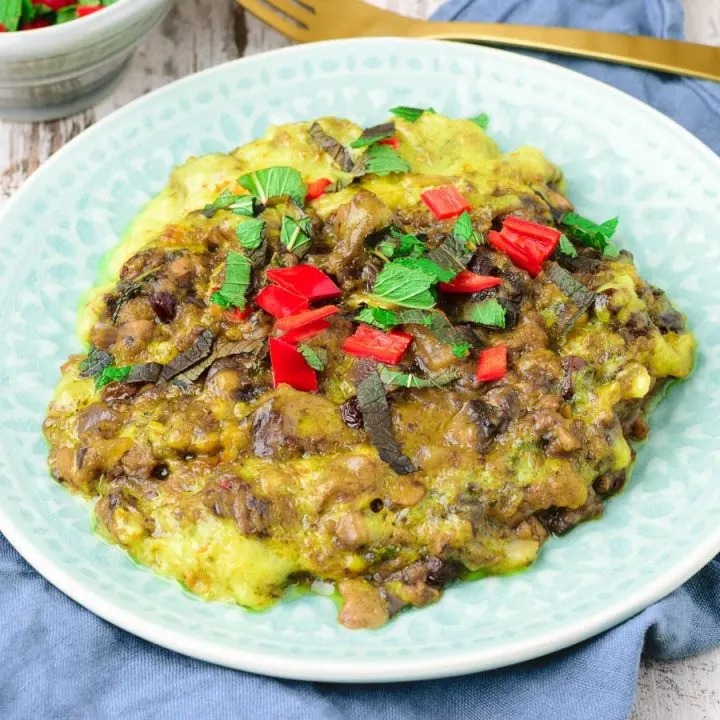 Vegan Bobotie
The recipe for a Vegan Bobotie is a mushroom rich variant of a traditional South African dish. It has a combination of hearty flavors, with hot spices and a fruity component. Only 6 ingredients and 4 easy steps.
Ingredients
1 lb (500 g) mushrooms chopped
1 onion
2 Tbs raisins
1 Tbs mango chutney (optional)
1 Tbs curry paste
fresh herbs
sauce from the Moussaka without nutritional yeast
Instructions
Preheat oven to 390°F/200°C.
Wash the mushrooms and dice them finely. Same with the onion. Sautee the mushrooms and add curry paste,Mango Chutney (optional), raisins, and herbs. Let simmer for a bit until the water from the mushrooms evaporates.
Transfer to a casserole dish and top with your choice of sauce.
Bake for 30 minutes until the sauce is golden brown.
Nutrition Information:
Yield:

8
Serving Size:

1 cup
Amount Per Serving:
Calories:

384
Total Fat:

27g
Saturated Fat:

11g
Trans Fat:

0g
Unsaturated Fat:

12g
Cholesterol:

0mg
Sodium:

161mg
Carbohydrates:

11g
Fiber:

1.6g
Sugar:

5.4g
Protein:

23g