My Vegan Potato Casserole recipe brings a fresh vegan twist to a classic. It is a full fresh vegetable bake on its own and comes with a savory oil-free sauce that is easy to make. A real highlight of the Vegan Potato Casserole is the crunch on top of it, made from macadamias and gluten free breadcrumbs.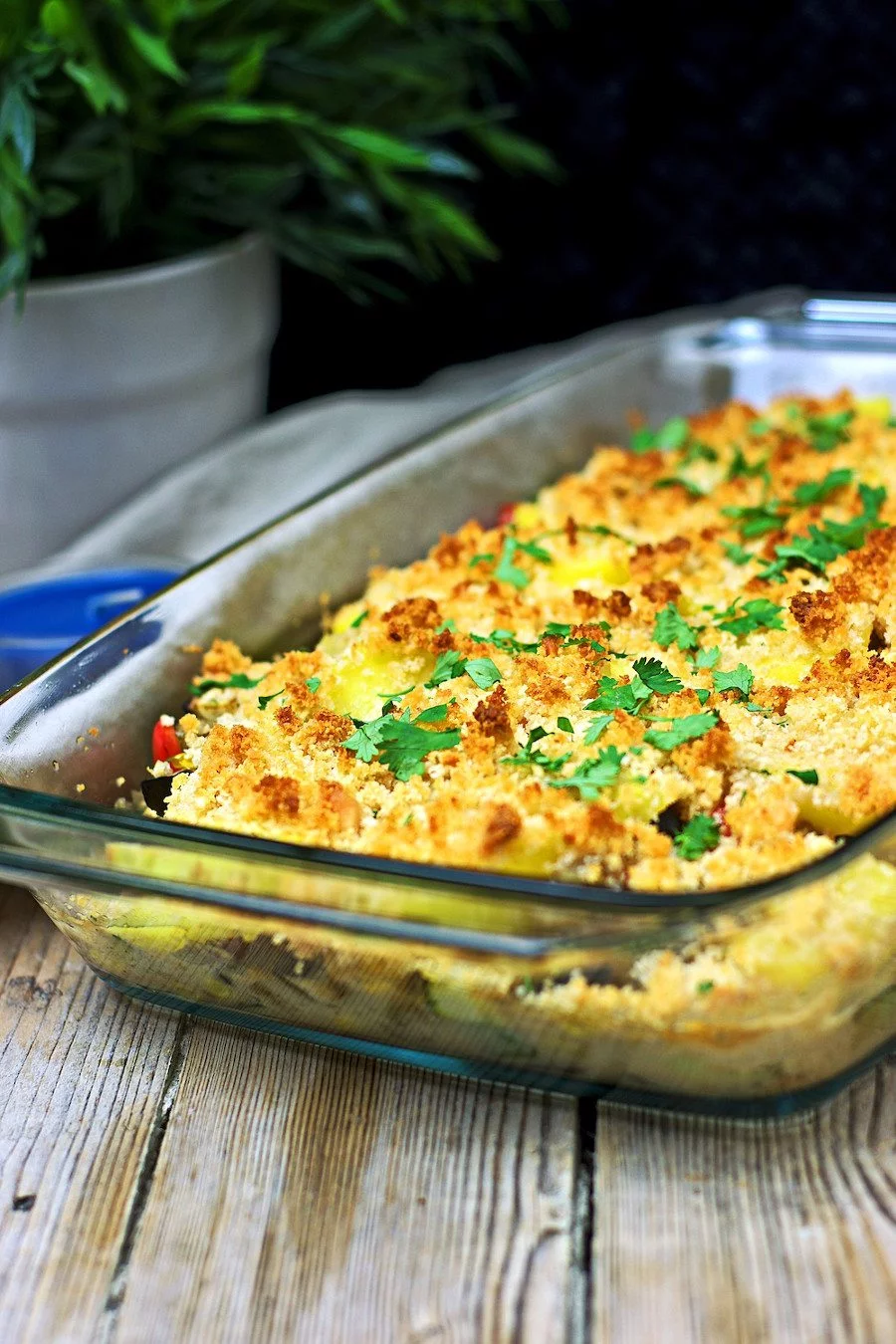 What makes a good meal? Or a better question might be, what is a good meal for a family dinner?
You know dinners of the type you will have on a holiday. Sure you want to have some festive touch to it most of the times but is that really what counts?
When I was kid, I often observed my parents or grandparents getting awfully stressed out over holiday food. The impression I got was that unless it took half the day to prepare, the dinner was not adequate for the occasion. Case in point: Christmas dinners.
Now, really? Is it necessary to spend hours in the kitchen to prepare a meal that is being devoured within minutes?
Don't get me wrong, I love cooking and good food. But I don't see why it can't be good and take much less effort at the same time.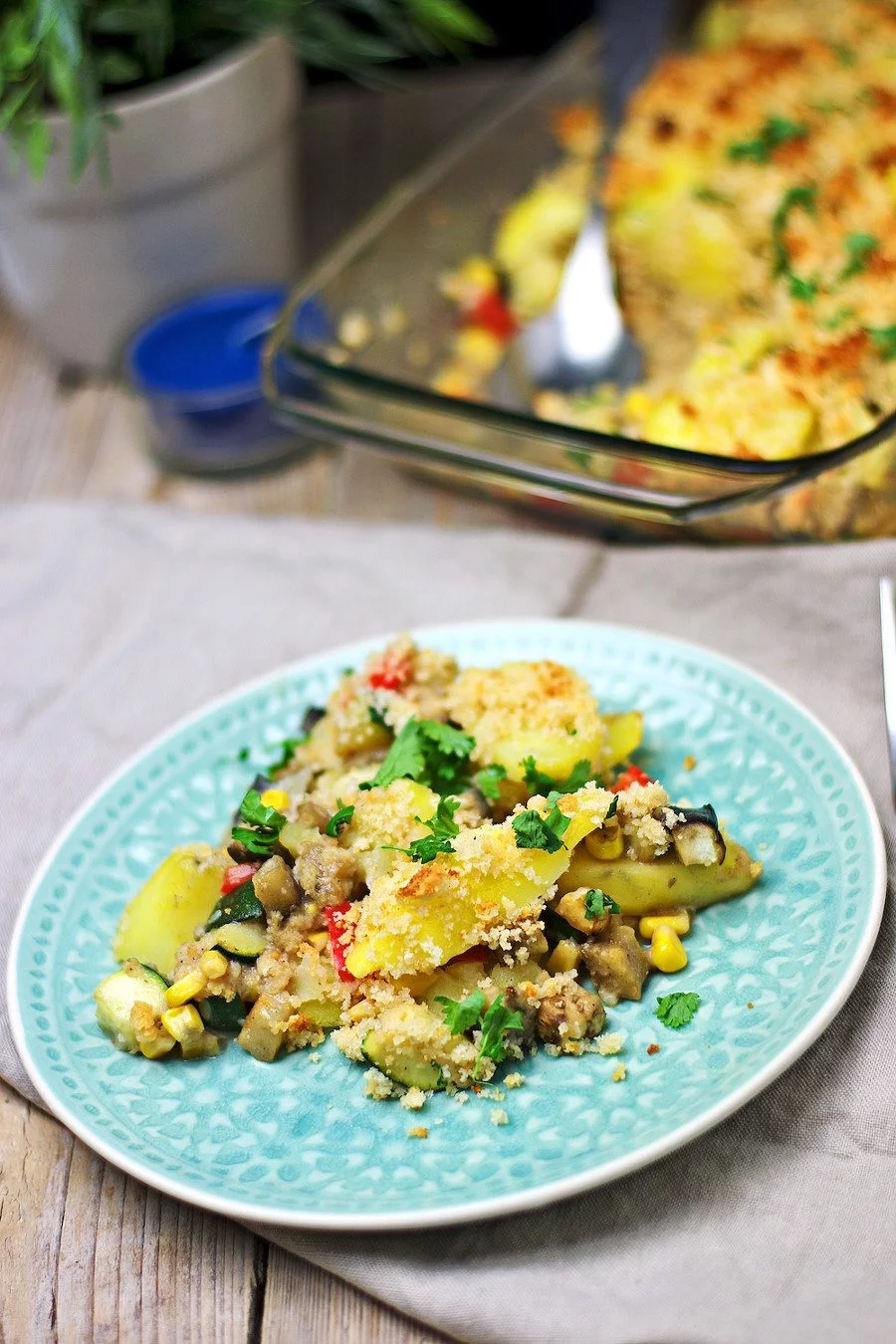 One of the types of dishes that always worked well were casseroles. You can prepare them in advance and done right are incredibly delicious and fit to the occasion.
Potato casseroles seem to be favorites and anticipating that some event will come up sooner rather than later, I began thinking about making an awesome Vegan Potato Casserole.
Vegan Versions of Classical Recipes
In some ways, I have been trying to 'veganize' several classical dishes, like my Vegan Shepherd's Pie, Vegan Hoppin' John, or Vegan Blueberry Cobbler. (If you haven't checked those out, now is the time!)
And for this casserole, two things needed to be taken care of: first the sauce, second the crust.
I've recently experimented with making a Vegan Cheese Sauce recipe and considered simply using this. But that seemed a bit too… well, cheesy. It's better suited to making Mac'n'Cheese I think.
So I created a new easy sauce based on coconut milk, tahini, and potato starch instead of the more traditional flour. A bit of organic vegetable broth gives the sauce the desired consistency.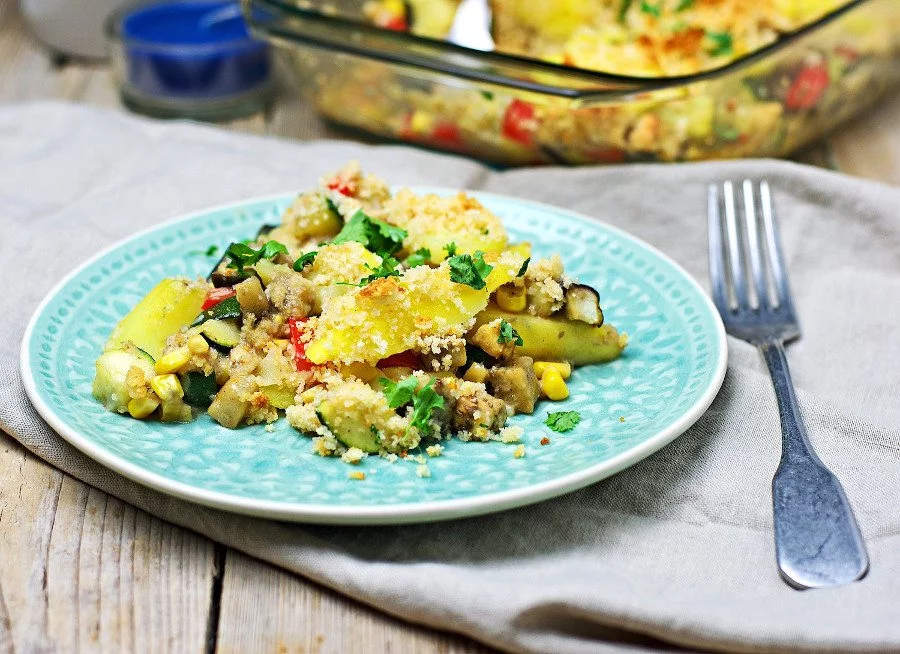 Health Benefits of the Vegan Potato Casserole
But now for the crust. Something that would be a good substitute for the traditional baked cheese. Sure I could just have grabbed some of the vegan cheeses. But I wanted something more inspiring.
Something with a little crunch and punch. And because I am a nut lover, why not mix some nuts in there?
Which nut should I choose? I was lucky to stumble across this article by Food Matters about "10 Fascinating Health Benefits of Macadamias", some of my most favorite nuts.
Good for your heart, reducing the risks of cancer, strengthening of bones and much more – that's a deal.
I combined Macadamia nuts and gluten free breadcrumbs in a blender and processed them until I got a sort of crumble. That would become the crust of my Vegan Potato Casserole.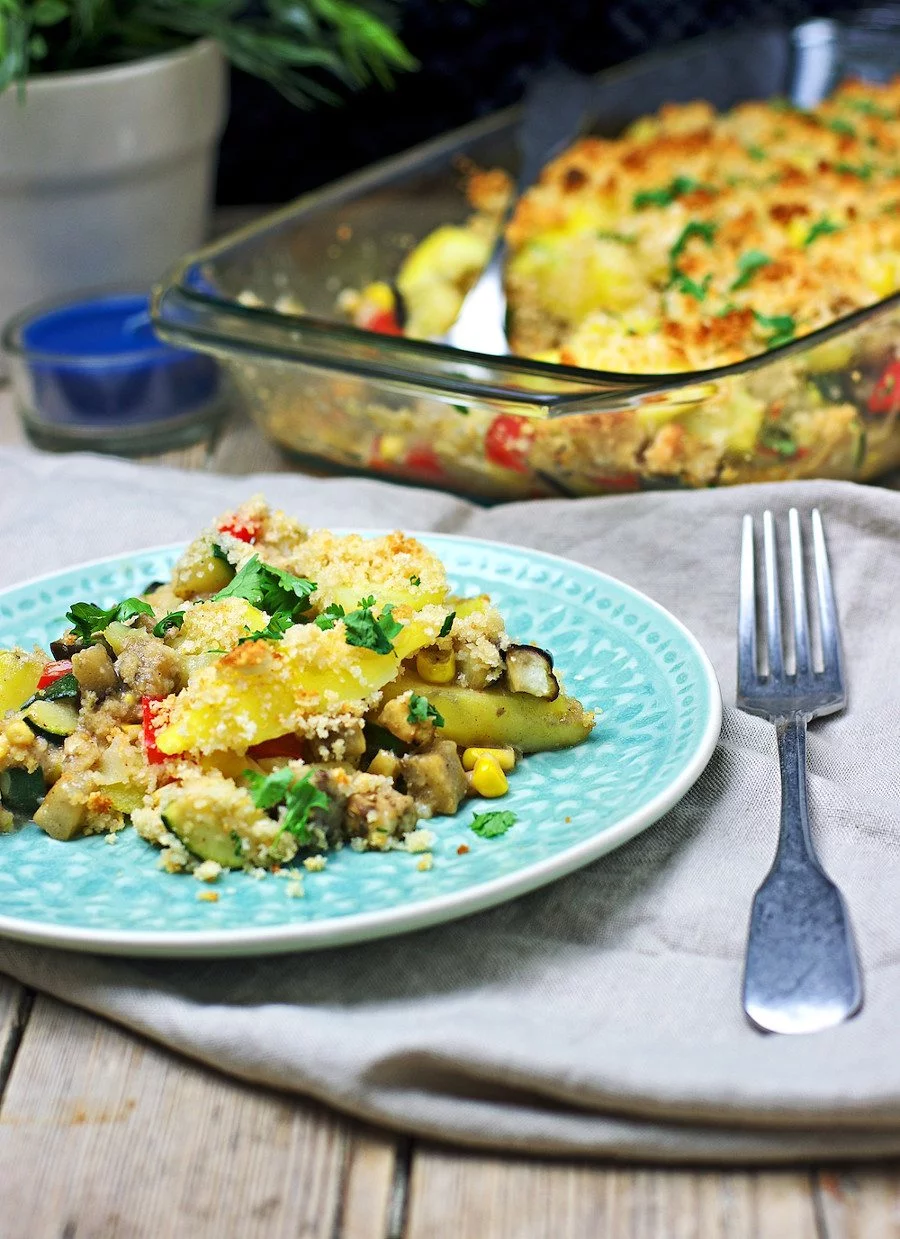 How to Make a Vegan Potato Casserole
When I made this casserole, I decided to pre-cook the potatoes and pre-roast the vegetables (bell pepper, zucchini, eggplant). I think that is not strictly necessary, if you don't want to do that.
I'd then suggest to make the sauce a bit more liquid and double the baking time. But then you should better slice the potatoes very thin. I didn't mind the extra steps because they are super easy.
I made layers of vegetables and potatoes, and after filling in the sauce topped it off with the Macadamia Crunch.

The Vegan Potato Casserole then bakes for about 20 minutes until the top gets golden-brown.
Then it's high time to enjoy this meal.
It can go perfectly on it's own or as a side dish. So easily done and almost no hassle. I'm all into this, are you too?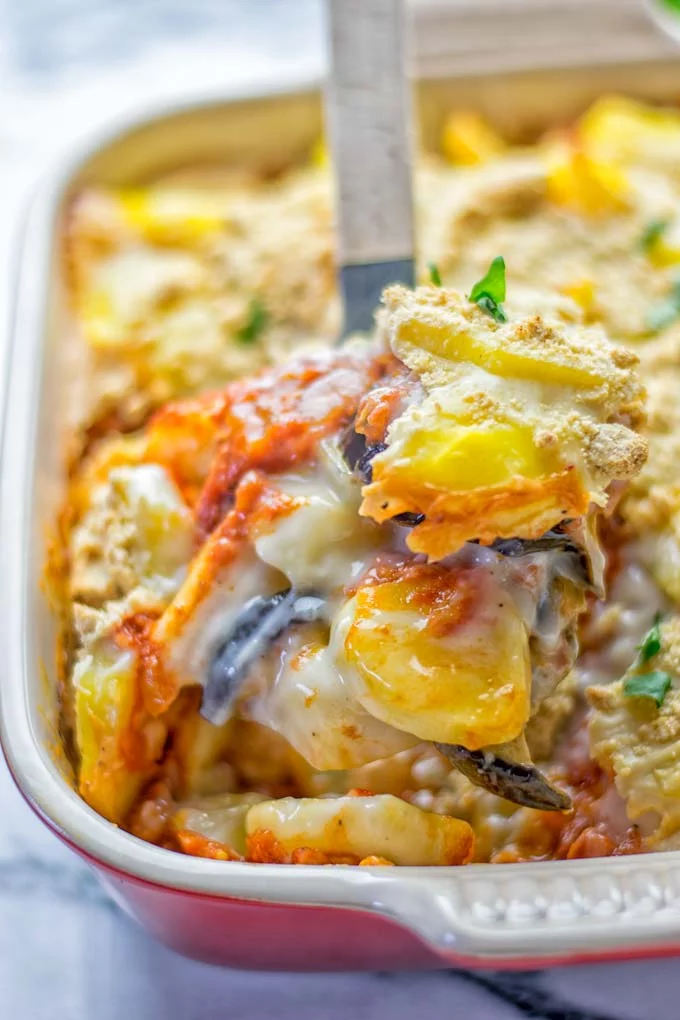 More Vegan Potato Casserole Recipes
There are way more ways to give a vegan potato casserole even more exciting twists. Just check it out using the search bar.
I will give you many more easy and delicious ides there. How would you like an Eggplant Parmesan Potato Casserole like in the picture above?
Or maybe a bit more exotic? Then try the Moroccan Chickpea Lentil Potato Casserole you can see below.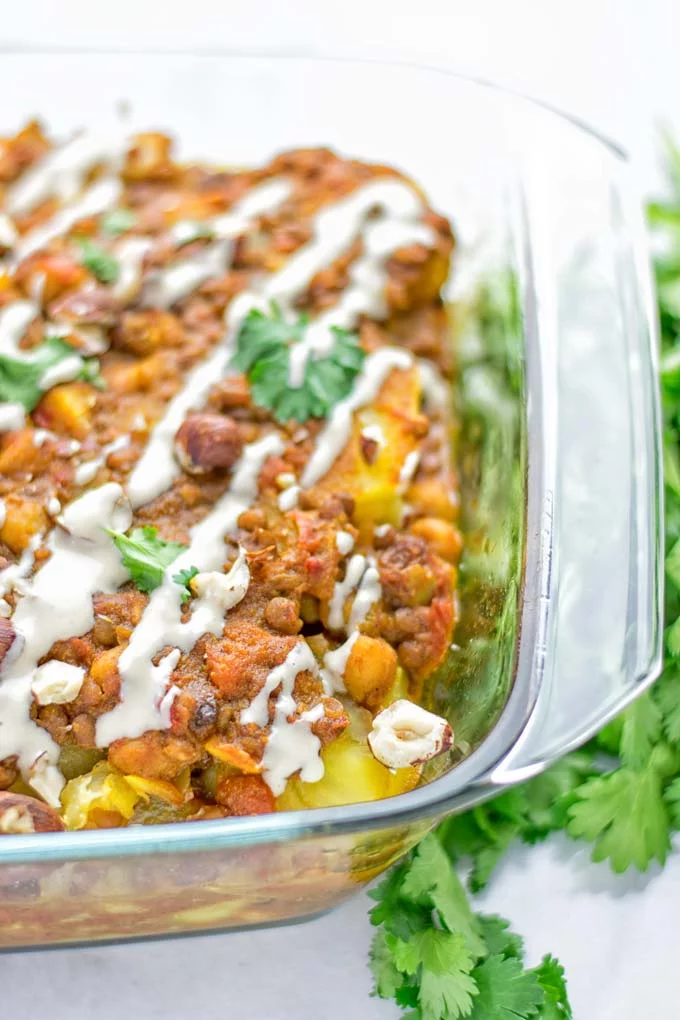 Let me know down in the comments section, on Facebook, Instagram, or Pinterest.
Love to hear from you!
Cheers, Florian.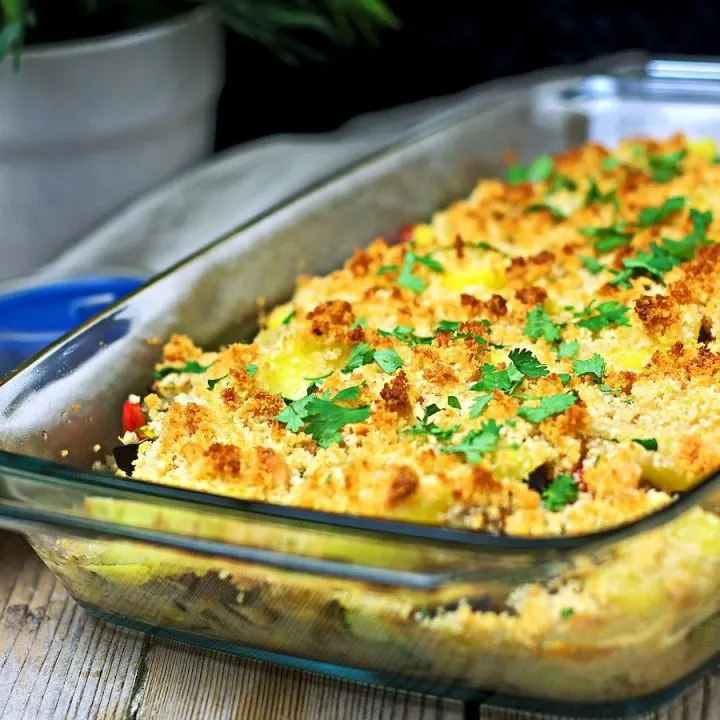 Vegan Potato Casserole
My Vegan Potato Casserole recipe brings a fresh vegan twist to a classic. It is a full fresh vegetable bake on its own and comes with a savory oil-free sauce that is easy to make. A real highlight of the Vegan Potato Casserole is the Crunch on top of it, made from macadamias and gluten free breadcrumbs.
Ingredients
2 lbs (1 kg) potatoes
1 bell pepper
1 cup (175 g) fresh corn
1 zucchini
1 eggplant
For the Sauce:
2 tsp tahini
7 oz (200 ml) coconut milk
1 cup organic vegetable broth
1 tsp potato starch
1 clove garlic
For the Crunchy Macadamia Topping:
1 cup gf breadcrumbs
3/4 cup (100 g) macadamias
Instructions
Preheat oven to 390°F/200°C. Peel and cook the potatoes for 10-15 minutes. You only want them just about to be soft. Drain and let cool, then cut into slices.
Wash and cut the vegetables into slices. Line a baking sheet with parchment paper and distribute the slices. Season with a little salt and pepper and pre-roast the veggie in the oven for 10 minutes.
In the meantime, prepare the sauce. Heat coconut milk in a sauce pan, add 2 tsp tahini. Bring slowly to a boil. Prepare the potato starch with a bit of water (see manufacturer's instructions) and carefully whisk into the boiling sauce. The sauce should now being to set. If it gets too firm, add vegetable broth until you get the desired consistency. Season with pressed garlic, salt and pepper.
To prepare the Crunchy Macadamia Topping, place bread crumbs and macadamias in a food processor and blend until a crumble forms.
Assemble the potato casserole. Begin with half the vegetables, then half the potatoes. Add about half of the sauce and repeat. Finally top with the Crunchy Macadamia mix. Bake for another 15-20 minutes until the top browns.
Nutrition Information:
Yield:

6
Serving Size:

1 cup
Amount Per Serving:
Calories:

523
Total Fat:

21g
Saturated Fat:

11g
Trans Fat:

0g
Unsaturated Fat:

6g
Cholesterol:

0mg
Sodium:

342mg
Carbohydrates:

42g
Fiber:

3g
Sugar:

3.7g
Protein:

15g