Part of a perfect healthy diet is the chance to prepare food in advance. Be it to take it with you for work, or to have something ready for your family when they return from school or work. For all those among us I cannot recommend Ginny McMeans' new "The Make Ahead Vegan Cookbook" strongly enough. It features 125 freezer-friendly recipes that will make it easy for everyone to add more plant-based food into their diet. As a special for my readers, I'm happy to show you one of my favorite recipes out of Ginny's book: "Garlic Hummus Stuffed Mini Cups". Be sure not to miss this.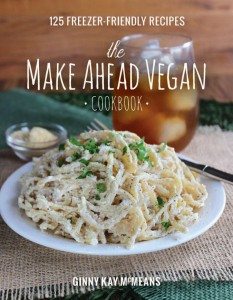 For those of you who do not know Ginny Kay McMeans: Ginny is the mastermind behind Vegan in the Freezer and you people should definitely check out her amazing blog where she shares healthy and delicious vegan food that can be prepared ahead of time and be frozen.
Now Ginny has published "The Make Ahead Vegan Cookbook" and I had the lucky chance to get an early look into the book. My opinion in just a few words? Go and get it! (Check this Amazon link) There are 125 amazing vegan recipes in the book and I love that they are so down to earth. Classic comfort foods, hearty and so satisfying. I truly believe that anyone interested in a plant-based diet will find so much inspiration to keep their freezer stocked with awesome dishes. From party snacks to breakfast, from soups to sauces, from hearty dinners to sweet treats – you can find them all in the book. How about some "Classic Breakfast Burritos"? Or a "White Bean Chili"? Maybe you prefer a serving of "Pizza Sandwiches" followed by "Chocolate Fudge Ice Cream Pops"? All-American comfort food at its best.
Aside from this awesome mix of beautiful recipes themselves, Ginny McMeans also gives a lot of additional information about freezing food. What should one freeze and what not? If so, how? Recommendations for containers can be found together with great resources about food preparation and storage times. It is really great that the reader gets not only general background information about these topics but also specific instructions for each recipe regarding storing, freezing, and also reheating of the dishes.
Those of you who are not new to Contentedness Cooking know that I love Hummus. So of course I was super excited when I found a recipe for "Garlic Hummus Stuffed Mini Cups" in "The Make Ahead Vegan Cookbook". Already the thought of that made me drool and I am very happy that I can share this stunning recipe with you guys here. The Whole Wheat Pastry Dough is not only super-easy to make but also extremely versatile – you can use it for many more dishes than only this one. And the finished cups are just the perfect party food. I only have one admission to make: they did not survive long enough to go into the freezer 😉
And here is a free giveaway of the book:
[tasty-recipe id="8855″]