Hot cheese dip fresh from the oven is cheesy, rich, and always delicious. Everything comes together fast from vegan cheddar, cream cheese and a cashew mixture. Serve with bread, chips, vegetables and more. You know immediately it will be a keeper and family favorite.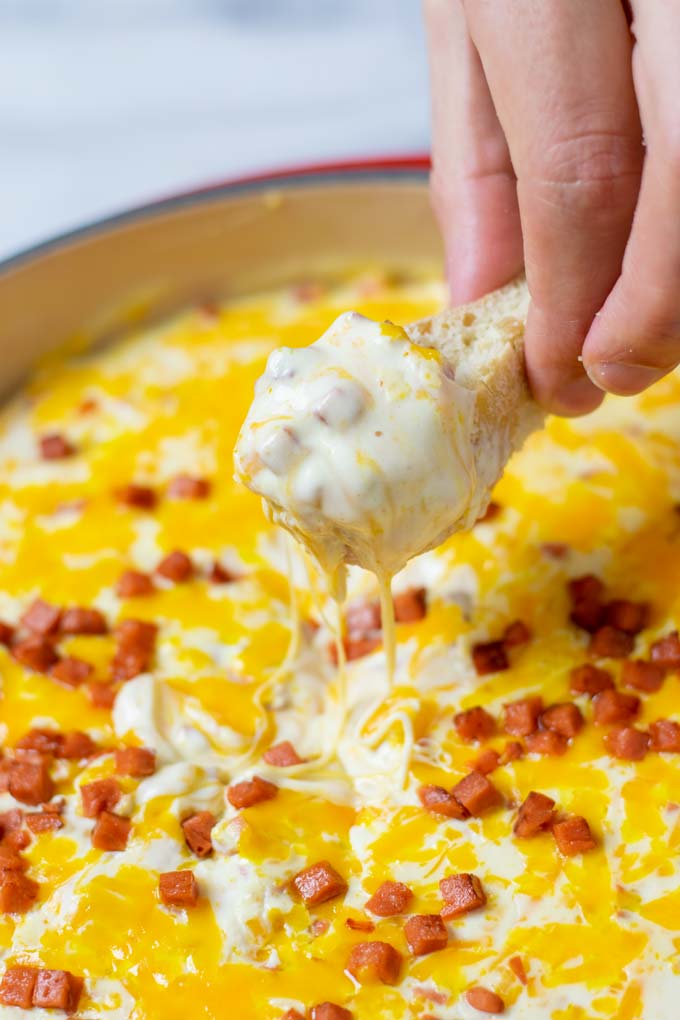 Reasons to make this Hot Cheese Dip
Preparation is as simple as it get: you mix everything together, transfer to a casserole dish and bake. The result just delicious, cheesy and super rich.
When you take the dip out of the oven, the result is so versatile: The Hot Cheese Dip is a great for gameday, holidays, lunch, dinner or appetizer. See you can put this dip to so many great uses, yum.
You can easily make a double or triple batch for a bigger casserole. Great for feeding a big crowd.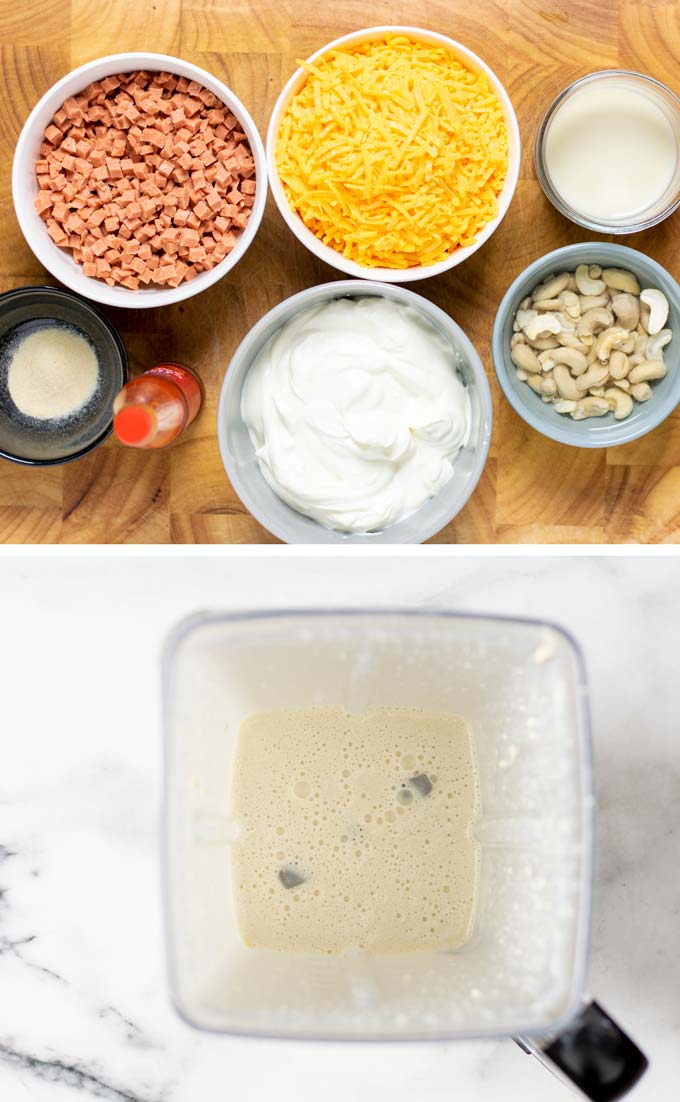 What to serve with Hot Cheese Dip
Of course you can serve it with tortilla chips but it is also delicious with:
Vegetables like: carrots, broccoli, cauliflower, cucumbers, olives, or celery
Pretzels
Potato chips
Crackers
Popcorn
Baguette
Pita bread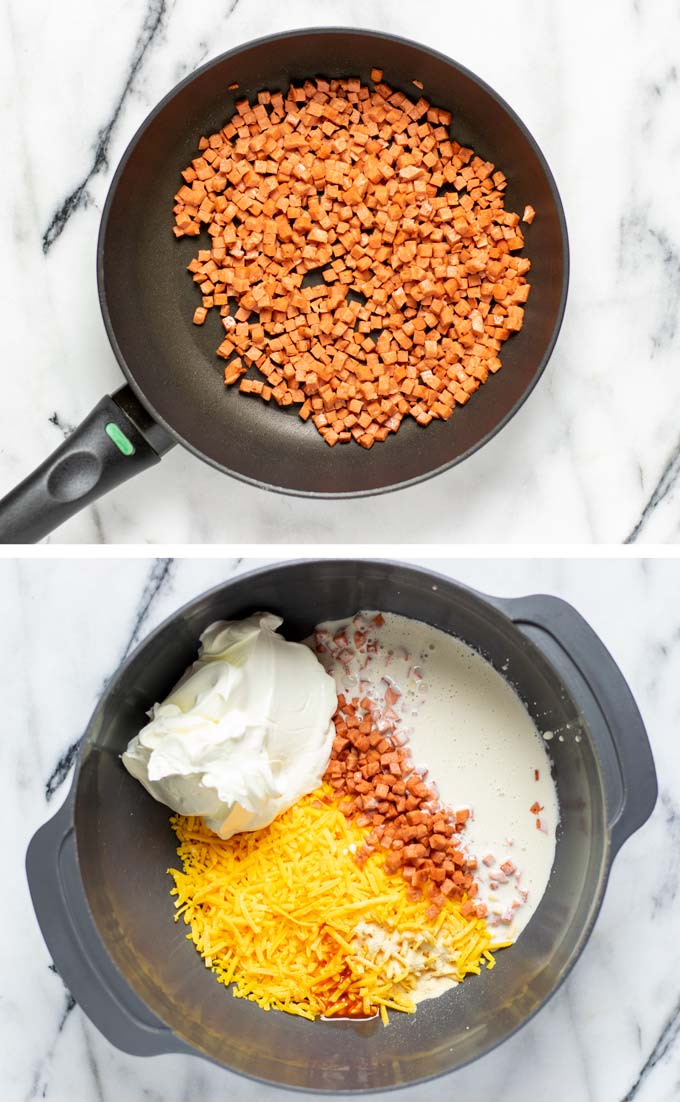 What you need for this Hot Cheese Dip recipe
Olive oil and vegan bacon: I cook my bacon bites in olive oil, because this adds extra rich and savory flavor to them. You can use any oil, but I find olive oil so hearty and amazing.
Garlic and onion powder: I keep it super simple and use powder. I find garlic and onion powder to be a perfect blend as they add flavor to the dip.
Dairy-free cream cheese: needed for creaminess. Provide substance and body.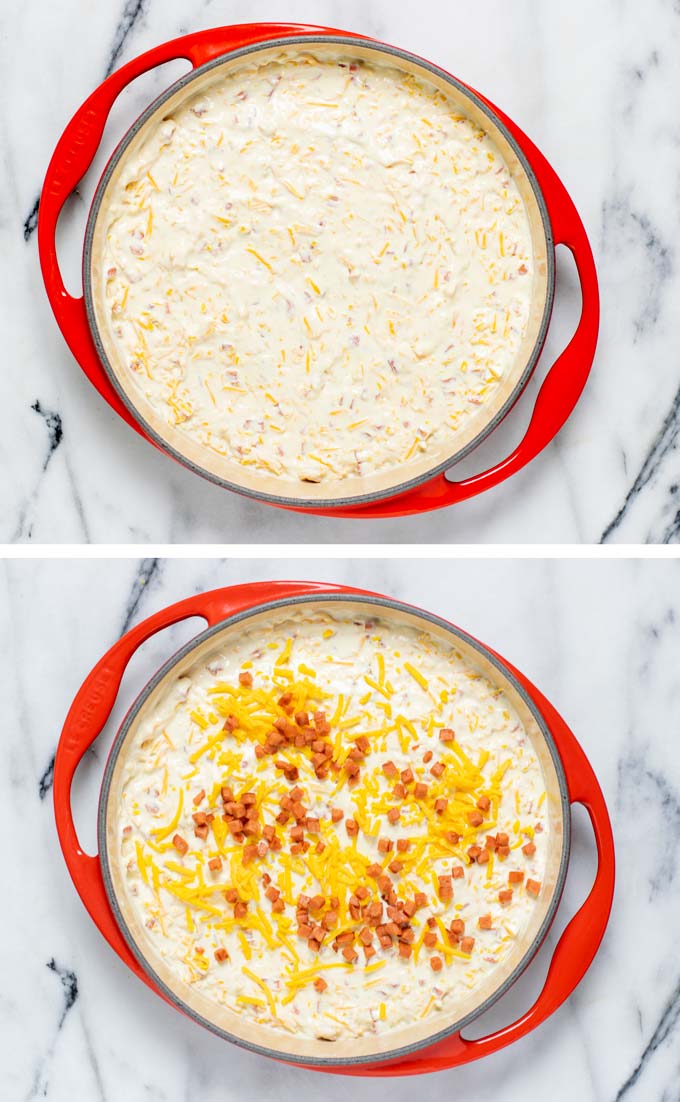 Vegan cheddar: provides lots of cheesy and amazing goodness in this dip. It adds so much delicious and hearty flavor. That will lead to such a fantastic result that you will come back to often.
Cashews and dairy free milk: Before blending the cashews, I soak them in hot water. This what makes everything so intensively creamy. Mixed with milk they make a wonderful substitute for heavy cream.
Hot sauce: I like a little kick so I add hot sauce to it. If you don't like it, you can leave it out and the Hot Cheese Dip will still be really delicious. Similarly, if you prefer it more spicy, you can add a touch more.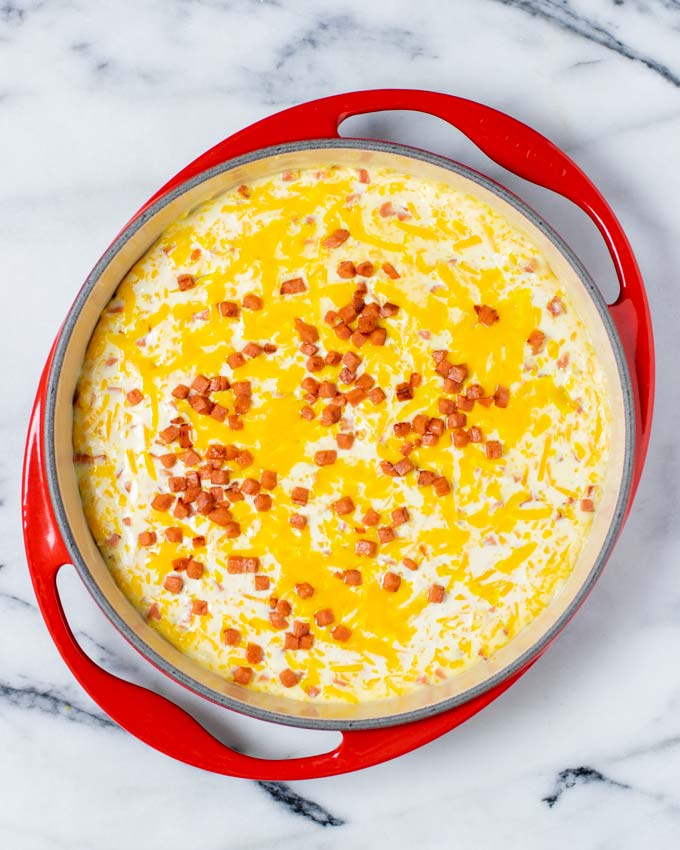 How to make Hot Cheese Dip
Preheat oven up to 410°F and set a 10 inch round casserole aside.
Soak the cashews in hot water for around 10 minutes, then drain them. Combine with almond milk in a blender and process until smooth.
Heat olive oil in a small skillet and fry bacon bites for 2 minutes.
In a large bowl combine bacon bites (reserve 1/4 cup), cream cheese, hot sauce, cashew cream, and a pinch of salt and pepper. Reserve 1/4 cup of the cheddar and add the rest to the bowl. Mix and transfer all to your casserole dish, then sprinkle with reserved cheese and bacon.
Bake the Hot Cheese Dip for 15 minutes until cheese is melted on top, and enjoy hot.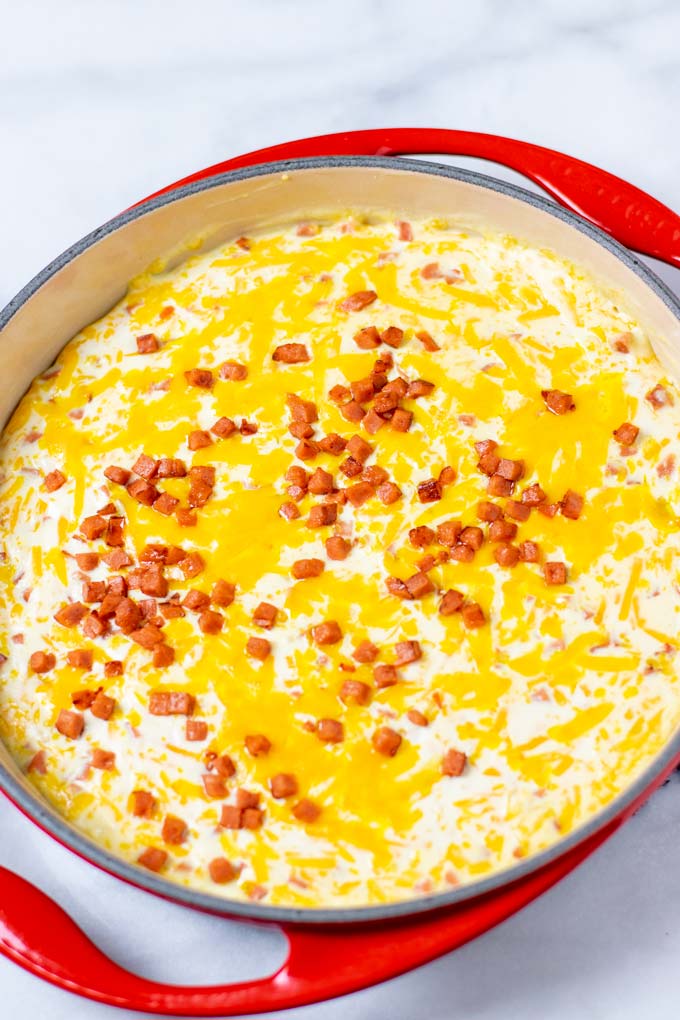 Tips and tricks
Leftovers can be stored in the fridge for 4 days.
If you want to add more to the Hot Cheese Dip, you can use olives, tomatoes, jalapenos, corn, for example.
It tastes even great over rice, pasta or potatoes. Great also as pizza topping, for sandwiches or wraps as well.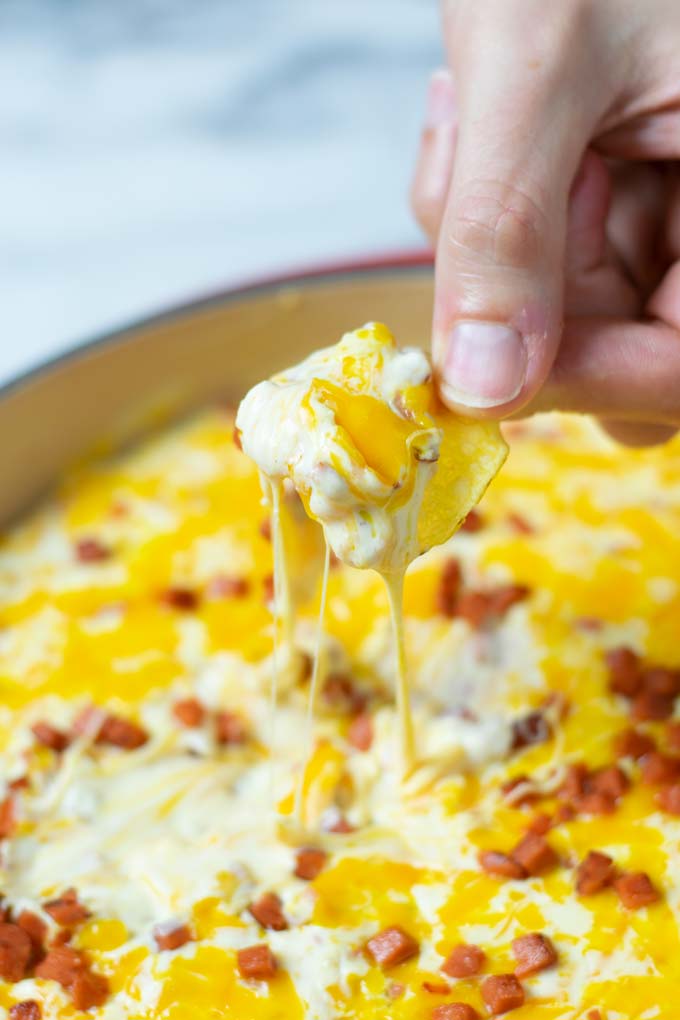 Other Party Dips to try
With my Fiesta Ranch Dip you can count on the classic ranch flavors that you love and know. Here is the amazing twist: I add fresh tomatoes, corn and scallions to the dip so you really have an amazing and great fiesta for all your tastebuds, yum.
Cowboy Caviar is a really colorful and versatile dip that is always a winner. I don't meet anyone that didn't like it.
If you are looking for the ultimate dip for chips the Potato Chip Dip is it.
Everyone love the cheesy, spicy flavors when the Rotel Dip comes piping hot from the pan, yes. Similar to this Hot Cheese Dip.
Crack Dip is a great dip to bring to any occasions. I would say if you like ranch chances are high you will fall in love with this dip again.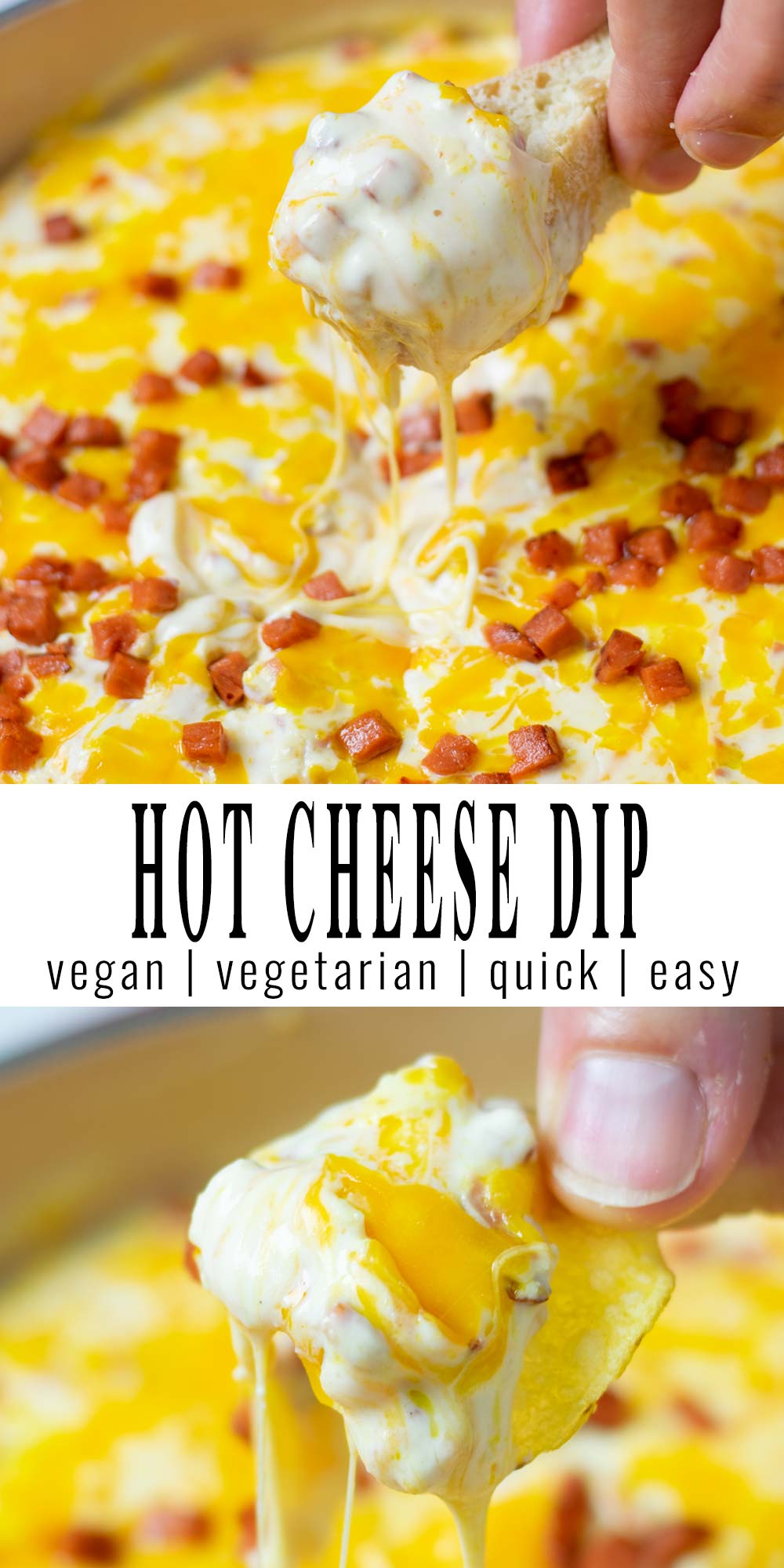 Show me your remakes of this Hot Cheese Dip with a tag on Instagram or Facebook as always.
Enjoy, Florian.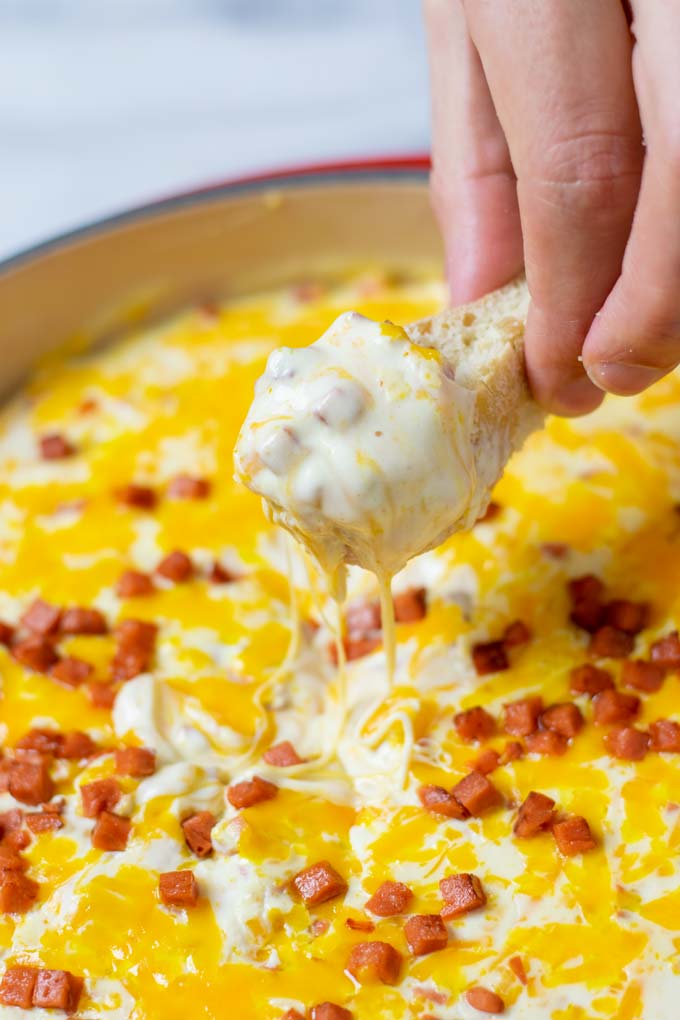 Hot Cheese Dip
Hot cheese dip fresh from the oven is cheesy, rich, and always delicious. Everything comes together fast from vegan cheddar, cream cheese and a cashew mixture. Serve with bread, chips, vegetables and more.
Ingredients
7 oz vegan bacon
14 oz dairy-free cream cheese
1 Tbsp olive oil
1/3 cup cashews
3/4 cup almond milk
1 tsp garlic powder
10 oz vegan cheddar, shredded
1/2 tsp onion powder
1 dash hot sauce
salt, pepper to taste
Instructions
Set a casserole dish ready and preheat your oven to 410°F.
Blend the soaked cashews with milk in a blender into a smooth cream.
Fry bacon bites with olive oil in a skillet for 2 minutes.
In a bowl combine bacon bites (except for 1/4 cup), cream cheese, the cheddar (reserve 1/4 cup as well), hot sauce, blended cashews, garlic, and onion powder.
Transfer everything to your casserole, garnish with remaining cheese and bacon, bake for 15 minutes.

Nutrition Information:
Yield:

20
Serving Size:

4 Tbsp
Amount Per Serving:
Calories:

126
Total Fat:

10g
Saturated Fat:

4g
Trans Fat:

0g
Unsaturated Fat:

5g
Cholesterol:

24mg
Sodium:

304mg
Carbohydrates:

2g
Fiber:

0g
Sugar:

0g
Protein:

7g