Chorizo Pasta is super flavorful, made from pantry staples, budget friendly and seriously amazing. A 20 minute meal which is great for quick weeknight dinners and can feed a large crowd in no time.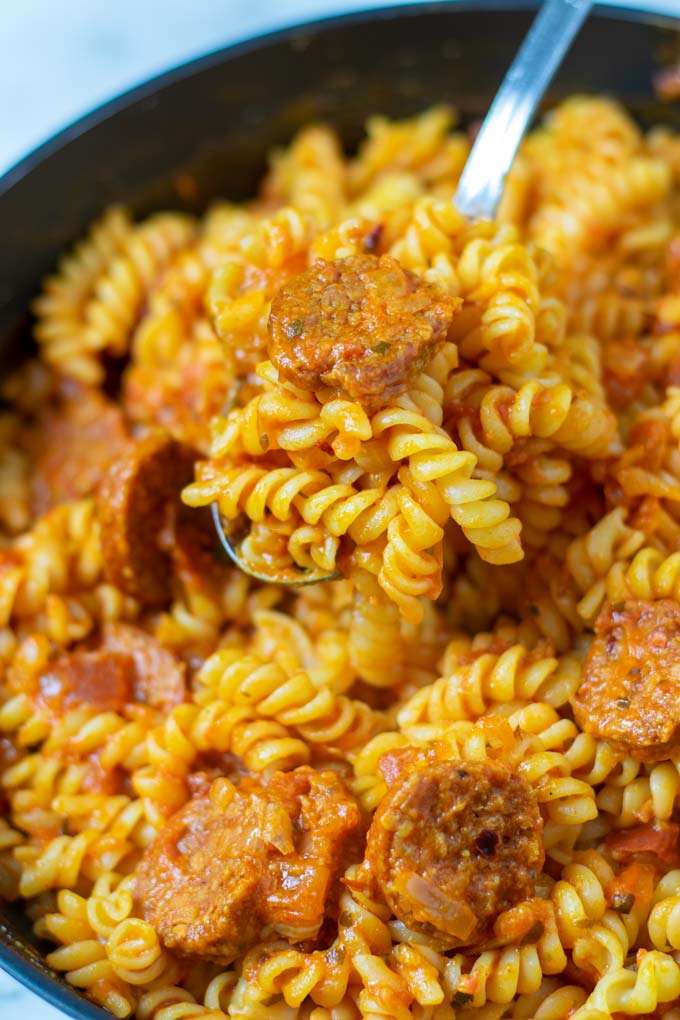 If there is one thing that I always come back to it's pasta. Pasta always tastes great, is versatile and goes well with almost everything.
Real talk people, I've never met a pasta that I don't enjoy. Among my favorites are fantastic pasta recipes like the Cheeseburger Pasta, my Zucchini Pasta, the classic Pasta Al Forno and the Lemon Pasta.
I'm ready and craving something with a spicy, yet flavorful kick in it. Are you with me?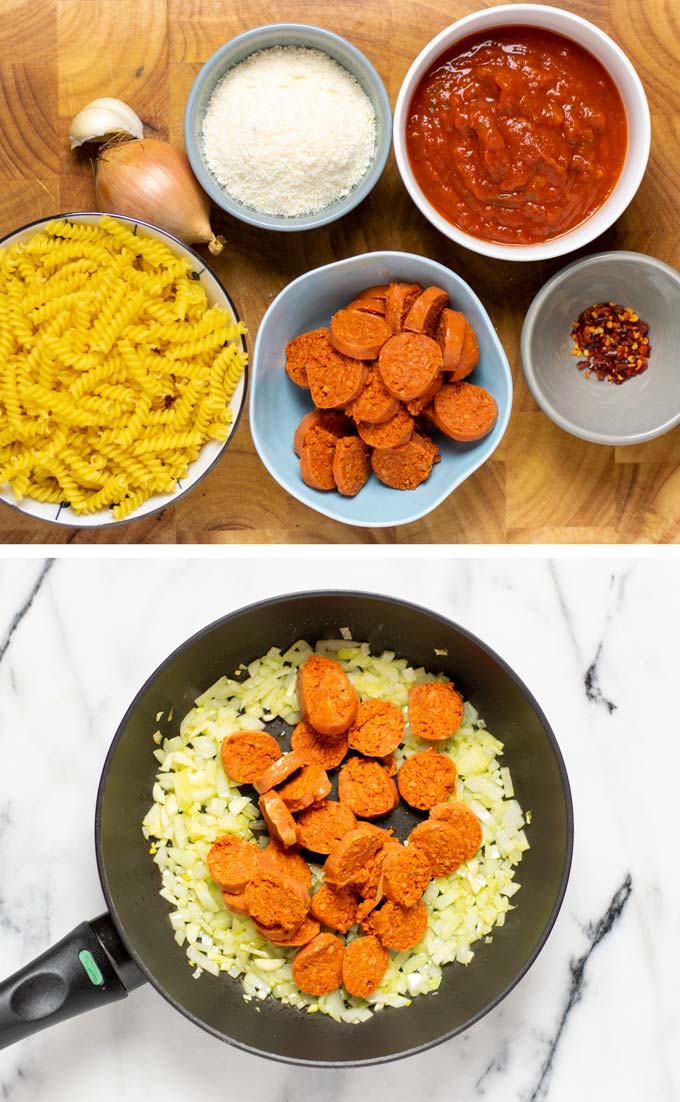 Why this Chorizo Pasta is a winner
Making this is so easy: The sauce comes straight out from the jar. Use your favorite tomato sauce that you always use and be amazed how delicious everything becomes.
You can make a big batch and have the Chorizo Pasta in portions during the week or if you need feed a large crowd. It is a very customizable pasta recipe.
You can use any pasta that you like, as you can see I serve this with fusilli.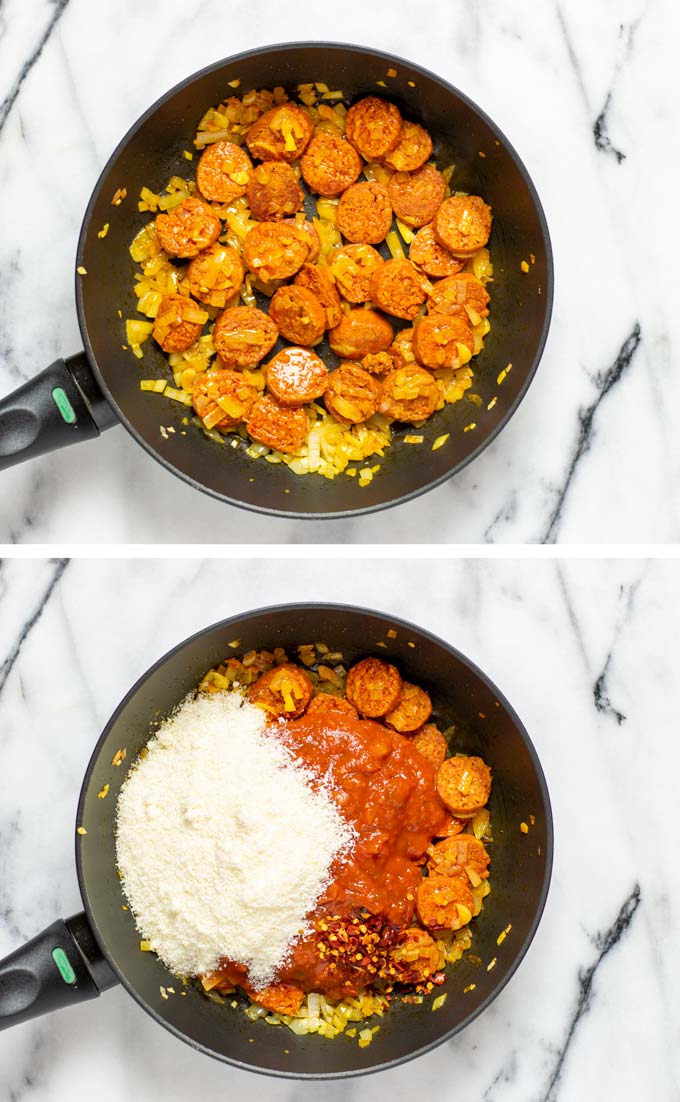 Here is what you need for this Chorizo Pasta recipe
Besides the tomato sauce I already mentioned, you will need the following:
Pasta is obviously the star of the show. Fusilli is one of my favorites, because it holds the sauce amazingly. You have a lot of tasty sauce in each and every bite. Spaghetti or bowtie pasta are also great as well. But honestly, you can take almost any pasta, even rigatoni.
Vegan chorizo: tastes just amazing as it includes spicy flavors in it. It is what really makes this sauce not only meaty and hearty, but spicy in a wonderful way.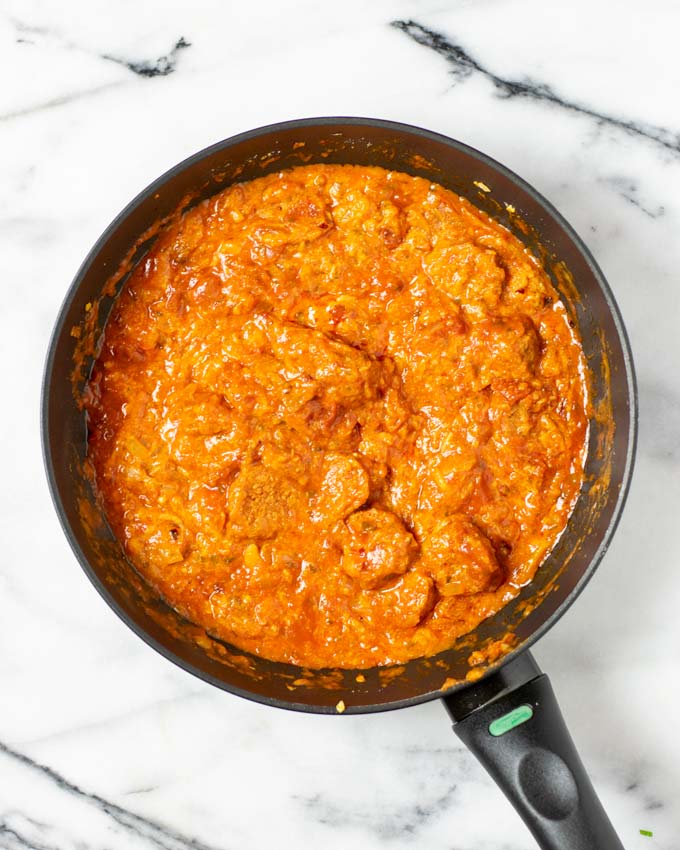 Olive oil, garlic and onions: these are the ingredients that build up so much flavor. Smells amazing in your kitchen, while cooking some onions and garlic. You can never have enough flavor.
Red pepper flakes: I find it compliments the other ingredients so well. Don't think it will be too much heat. I'm using really just a little bit, so it won't be too spicy.
Dairy free parmesan: a great ingredient of the Chorizo Pasta which scales down the heat a bit. Makes everything so cheesy and comforting.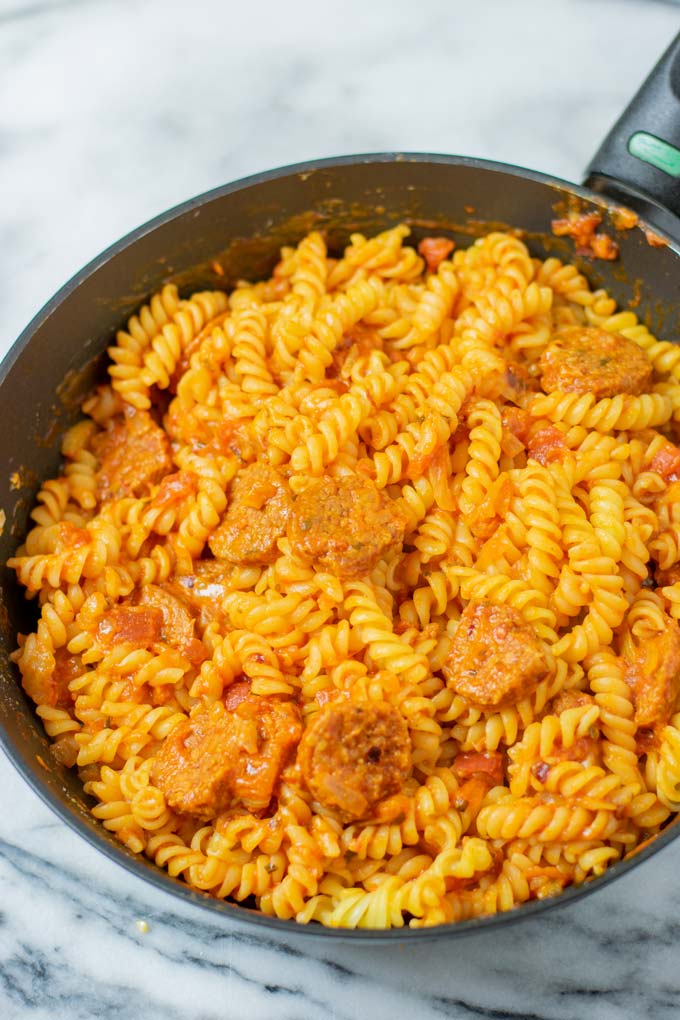 How to make Chorizo Pasta
Cook your pasta in salt water according to the package directions.
While the pasta is cooking, heat olive oil in a skillet. Add garlic and diced onions and cook them for 2 minutes. Add the sliced chorizo and cook for 2 minutes more.
Next mix in the tomato sauce, red pepper flakes together with the parmesan. Finally cook for 5 minutes more in medium heat.
Serve over the drained pasta or mix with it already.
Leftovers are great for 4 days in the fridge. Keep in mind to store the Chorizo Pasta properly in a container or wrap in some aluminum foil.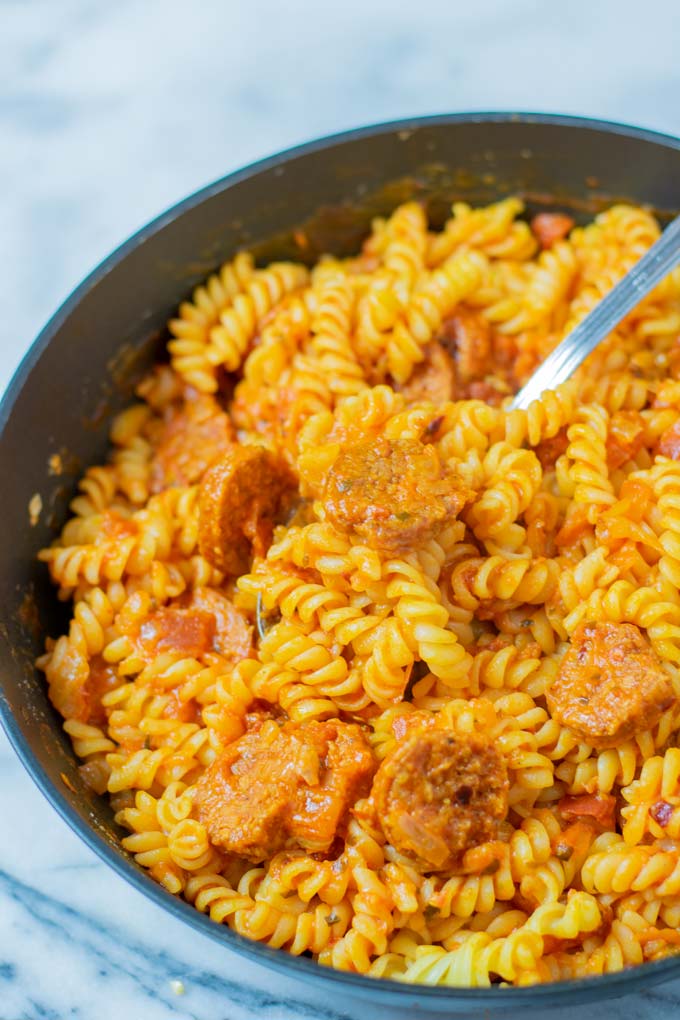 Other recipes to try
My Sweet Potato Curry is an amazing curry which is made with sweet potatoes for a great texture. Seriously sweet potatoes and coconut milk makes this curry what it truly is: entirely delicious.
Mujadara — rice, lentils and onions are the basic ingredients for this satisfying and delicious dish. The secret is to caramelize your onions and you know what I'm talking about.
Greek Lemon Potatoes — lemon juice, olive oil and of course potatoes are the key to this unforgettable amazing potato recipe.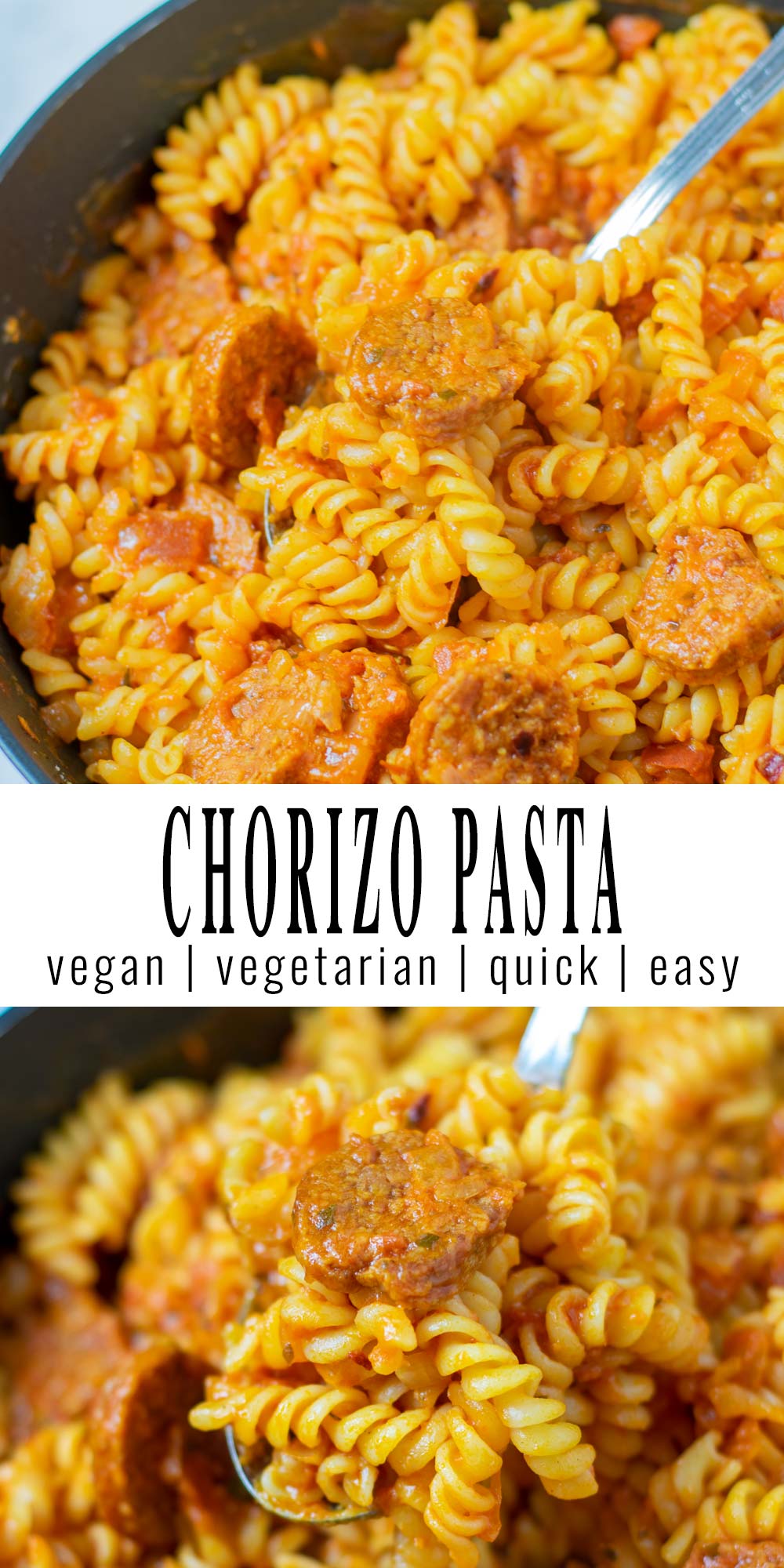 Try this Chorizo Pasta and wow all your family and of course yourself.
Tag me on Instagram or Facebook.
Enjoy, Florian.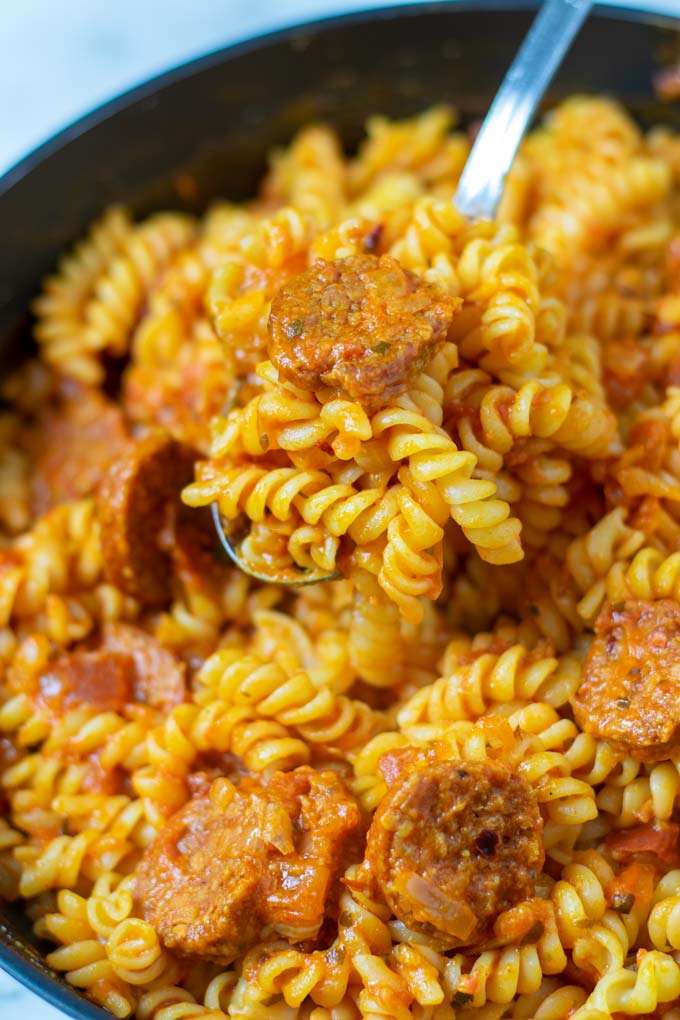 Chorizo Pasta
Chorizo Pasta is super flavorful, made from pantry staples, budget friendly and seriously amazing. A 20 minute meal which is great for quick weeknight dinners and can feed a large crowd in no time.
Ingredients
8 oz fusilli (use gf, if you prefer)
14 oz tomato sauce
2 vegan chorizo, chopped
1/3 cup onions, diced
2 cloves garlic, minced
1 Tbsp olive oil
1/2 cup vegan parmesan
1 tsp red pepper flakes
salt, pepper to taste
Instructions
Cook pasta according to package directions.
While the pasta is cooking, give olive oil to a pan and heat it up. Add the diced onions and minced garlic and fry them for 2 minutes, then add the sliced chorizo. Cook for 2 minutes more.
Next mix in the tomato sauce, parmesan, and red pepper flakes leave the sauce on the stove for 5 minutes more.
Serve with pasta,and enjoy.

Nutrition Information:
Yield:

2
Serving Size:

2 cups
Amount Per Serving:
Calories:

551
Total Fat:

27g
Saturated Fat:

9g
Trans Fat:

0g
Unsaturated Fat:

15g
Cholesterol:

46mg
Sodium:

2111mg
Carbohydrates:

56g
Fiber:

6g
Sugar:

10g
Protein:

24g