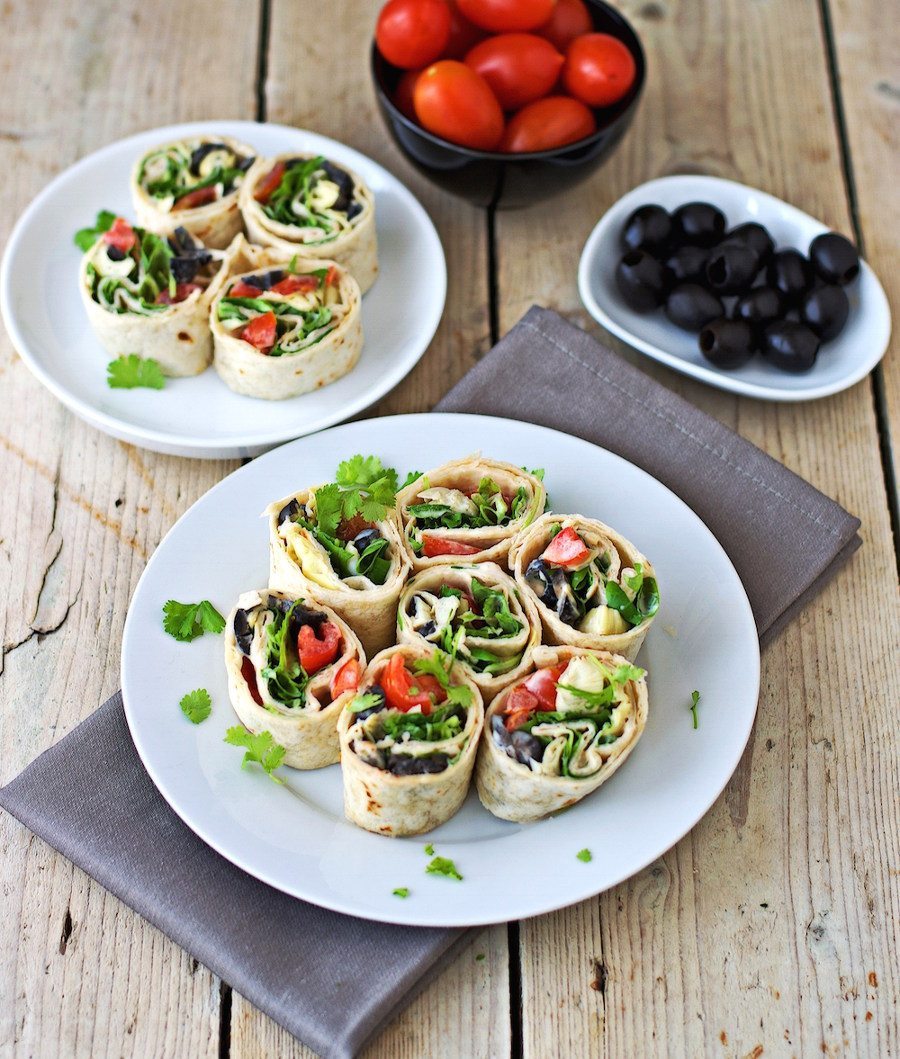 Friends, I'm still here! Yeah, I managed to get through the move in one piece. I'm right now sitting in a furnished apartment that will be my home for – hopefully – two months until the permanent home that is still under construction is finished. Keep your fingers crossed that there will be no delays!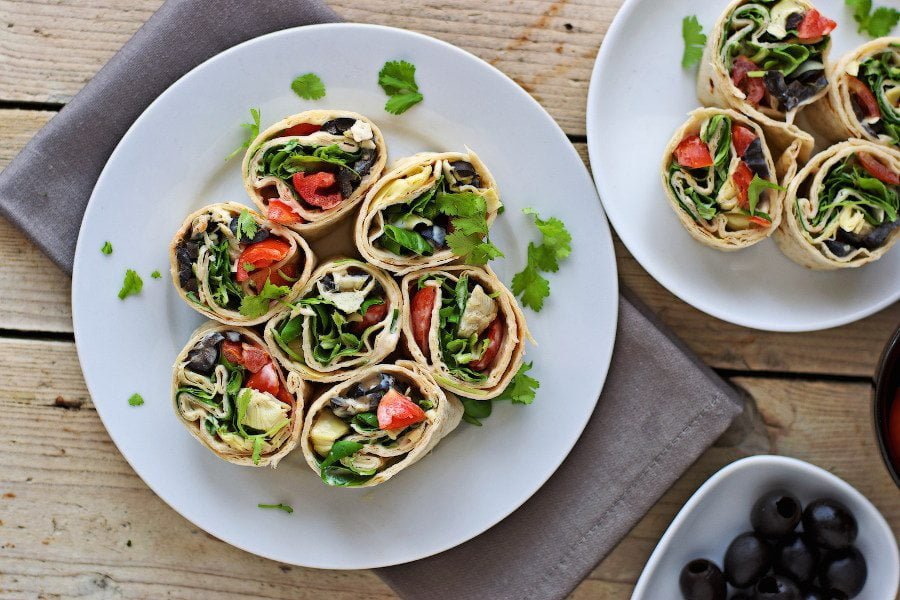 The place itself is quite ok – a bit small but bright and at a quiet street. The atmosphere is pretty relaxed and the people seem friendly so far. It's a good start. Would be better even if the hot water was running for longer than one minute and the drain in the kitchen sink wasn't blocked…
Anyways, in spite of this little drama, I still made a quick recipe for you – even before unpacking all my things that didn't go into storage: Mediterranean Pinwheels. I just made a quick visit to the nearest supermarket (which had a surprisingly good selection, need to explore it more) and bought some cherry tomatoes, olives, artichokes, and lettuce. Some tahini as well as tortillas.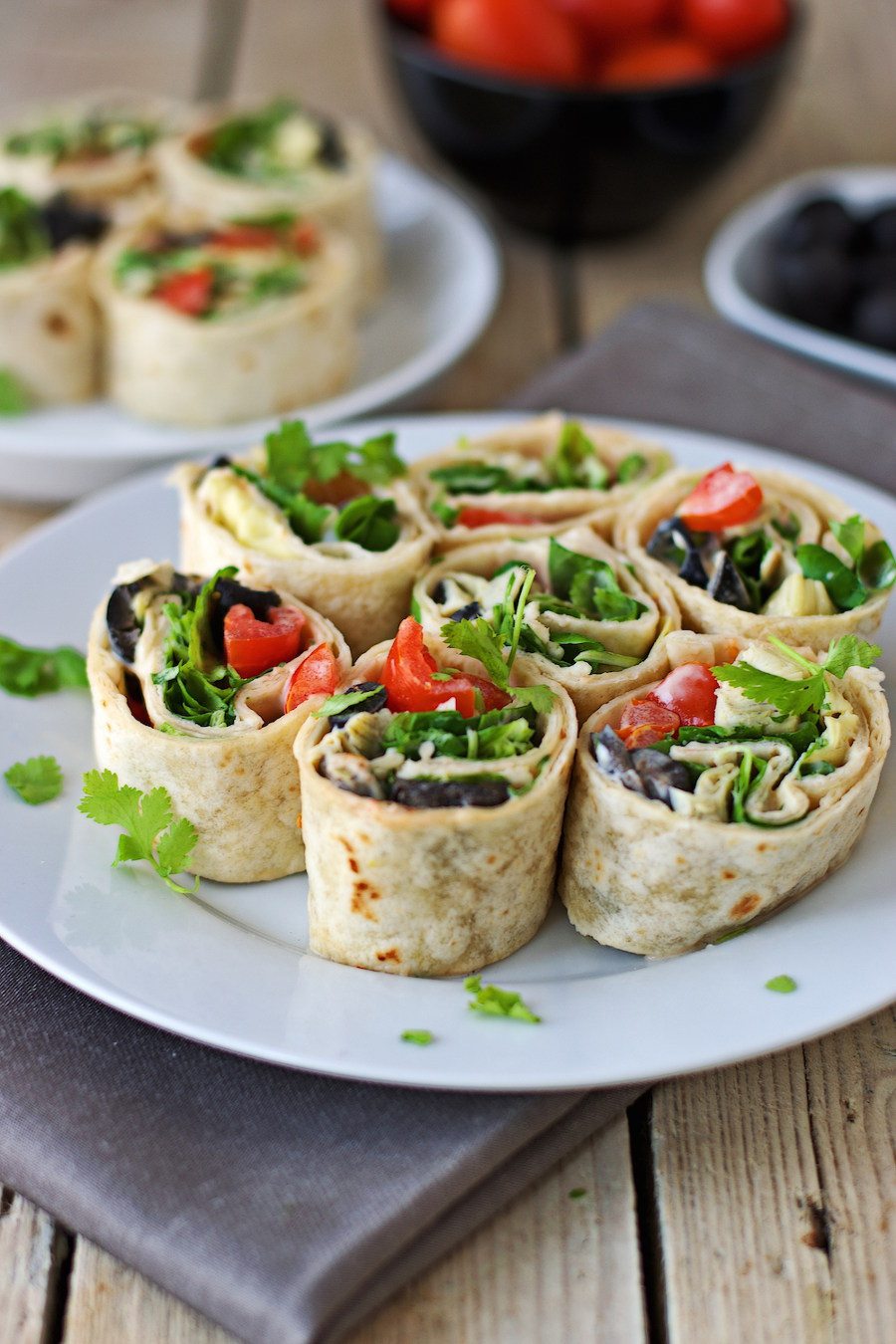 First, I whisked together a tahini sauce (yeah, you know I LOVE it) with some white vinegar and lemon juice. Adding some water to make it smoother, and garlic, salt, and pepper for taste – done. That's all one needs to prepare for the pinwheels, except for cutting the vegetables. I spread a spoonful of the tahini sauce on one tortilla, distributed the veggies and a handful of lettuce on top. Rolling it tightly and cutting the roll into slices finishes the Mediterranean Pinwheels. So simple and beautiful. And now, I can start unpacking. 😉
Print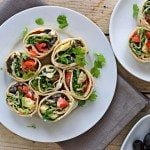 Mediterranean Pinwheels
Author:

Contentedness Cooking

Prep Time:

5 minutes

Cook Time:

1 minute

Total Time:

6 minutes

Yield:

16

Category:

Appetizer, Lunch, Dinner

Cuisine:

Vegan, Gluten Free
---
Ingredients
For the Tahini sauce:
3 Tbs Tahini Paste
3 Tbs Lemon juice
4 Tbs white vinegar
1/2 cup (120 ml) water
1 glove garlic
salt pepper to taste
For the pinwheels:
olives
cherry tomatoes
artichokes in a jar
lettuce
tortillas, gluten-free
---
Instructions
For the Tahini sauce:
Whisk together all ingredients in a small bowl until the sauce is creamy.
To assemble the pinwheels:
Cut the tomatoes, artichokes, and olives into slices.
Spread about one Tbs of the Tahini sauce on one tortilla. Add the vegetables and top with a handful of salad.
Tightly roll the tortillas and cut into pinwheels.