Amazingly satisfying Salted Caramel Brownies with Maple Pecans. An easy recipe for delicious gluten free brownies which happen to be vegan as well.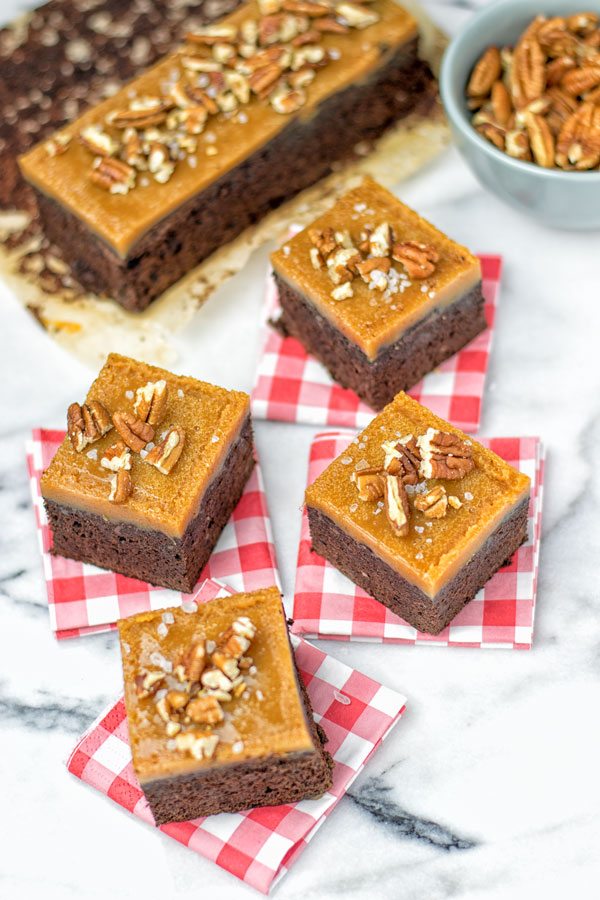 I feel like a baker recently. While I had a bit of experience with baking sweet indulgences, my mind craved the idea of a new brownie.
I wanted to add something to the list like my Vegan Buckeye Brownies or the Cheesecake Brownies with Caramel Apples.
I mean you can't beat a brownie. Who does not love these?
Oh man, but these Salted Caramel Brownies are out of this world. Seriously one rich gluten free brownie recipe is topped with a super easy and insanely good homemade caramel.
But that's not the whole selling point, we're going to garnish these babies with maple pecans, and sprinkle some flaky sea salt on it.
Good deal, right? I think so and know you'll all be loving this Salted Caramel Brownies with Maple Pecans.
They are extremely mouthwatering, delectable, elegant, a modern addiction, impressive, shareable, if you want, rich and seriously a must make for all caramel, chocolate and pecan lovers.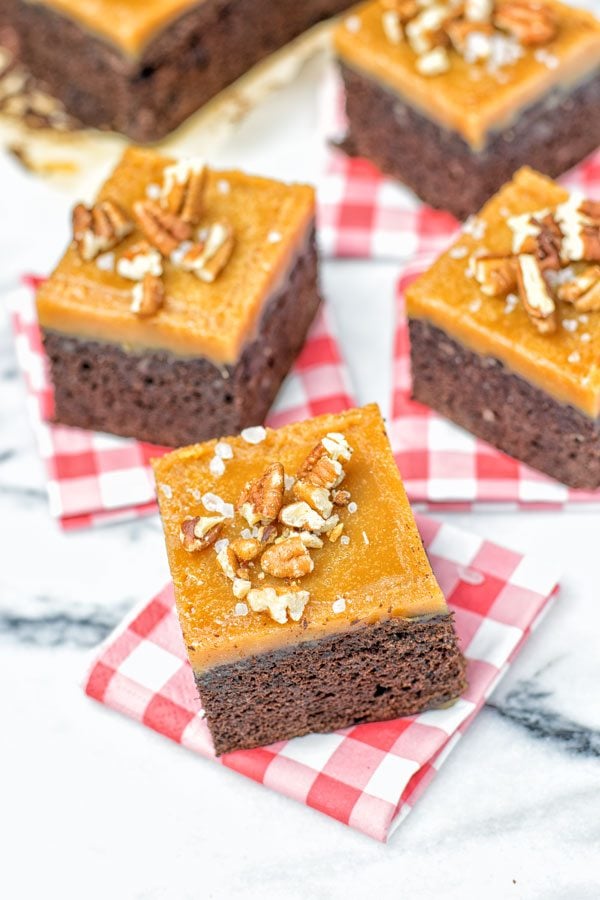 How to make gluten free brownies?
You may have noticed that when making a gluten free brownie mix in other recipes you have to make a mix from 5 different flours. Not with this one for my Banana Bread Brownies.
As you can see in the directions you only need one flour. I used teff flour, mixed this with mashed bananas, raw cacao powder, coconut blossom sugar, chopped vegan chocolate, baking soda and water to get the right consistency.
So easy. Only one bowl is required. You bake these for 25 minutes and you've done. You can use any flour you want except almond or coconut flour.
Here I will recommend use just 1/4 cup and mix with another neutral flour.
Just almond or coconut flour won't work for the taste and texture. But when mixing with another flour it will turn out delicious.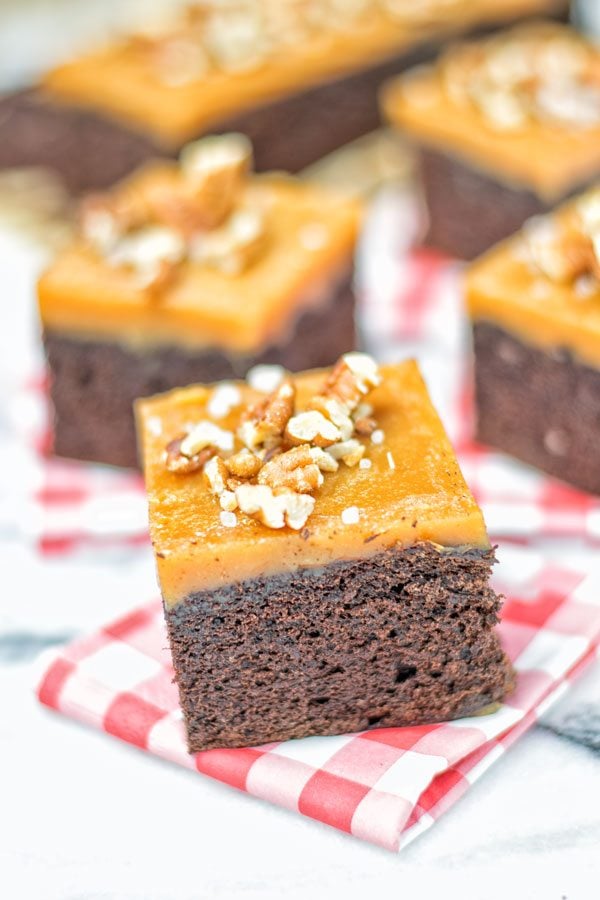 How to make Vegan Caramel and the best maple pecans you can ask for
How to make homemade caramel that's the question. Of course if you don't want to keep it dairy free or plant based you can go for sugar, butter and heavy cream.
Trust me and believe me, it's super easy and fun to make vegan caramel. All you need is a blender. Put dates, water and coconut nectar in its bowl, blend until smooth and you have an easy date caramel from scratch.
For the Maple pecans as you can see in the recipe, I keep it really simple. Put pecans, maple syrup and vanilla, in a small pan heat over medium heat until lightly browned carefully watch not to burnt them.
After the brownie is cooled a bit after taking it out of the oven, spread the prepared homemade caramel on it.
Follow it up with the maple pecans and sprinkle with some salt on the very top. Cut into 16 equal pieces, enjoy.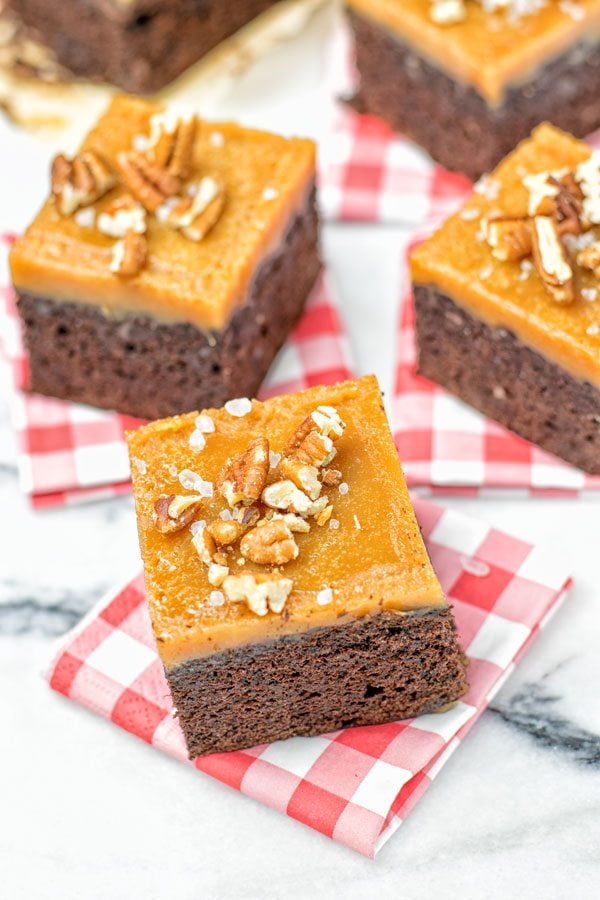 These Salted Caramel Brownies with Maple Pecans are amazing gluten free gifts.
Not only are they an easy dessert recipe, they are also a wonderful edible gift for everyone. Yes, no matter what diet direction you follow these are the food gifts to go.
Also fantastic for the holidays. My tip for you, fill some Christmas gift baskets with these Salted Caramel Brownies and you have a wonderful gourmet food gift to bring to any occasion, not only in the holidays.
You can make for yourself as well, bring to a date night, to your loved ones or maybe you date someone new.
I guarantee you will seriously wow everyone. For me a dessert completes every meal, yes don't forget it, or leave it out. Who's with me? I'm pretty sure you are.
If you're looking for more great gift ideas for everyone check this "26 Gift Ideas For Vegans".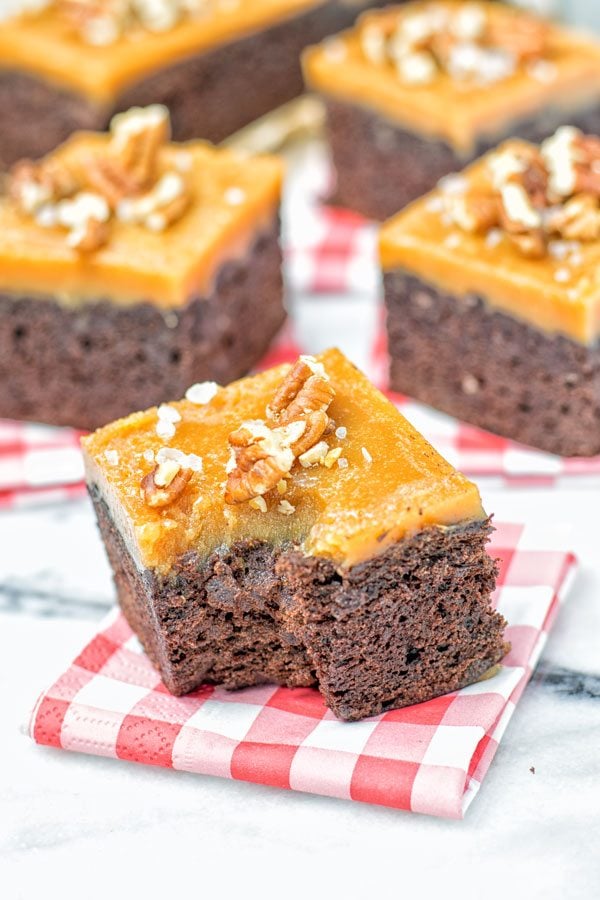 A sweet indulgence that is packed in healthy brownies
You wouldn't believe me when I tell you these are meant to be healthy brownies, would you?
But they are! Packed with amazing ingredients bananas are high in minerals like potassium, copper, manganese, magnesium, and vitamins like B6 and C.
Raw cocoa powder is high in iron, magnesium, and calcium. To be precise there is more calcium in cocoa powder than in cow's milk.
It makes for a great calcium alternative for dairy free people and vegans alike.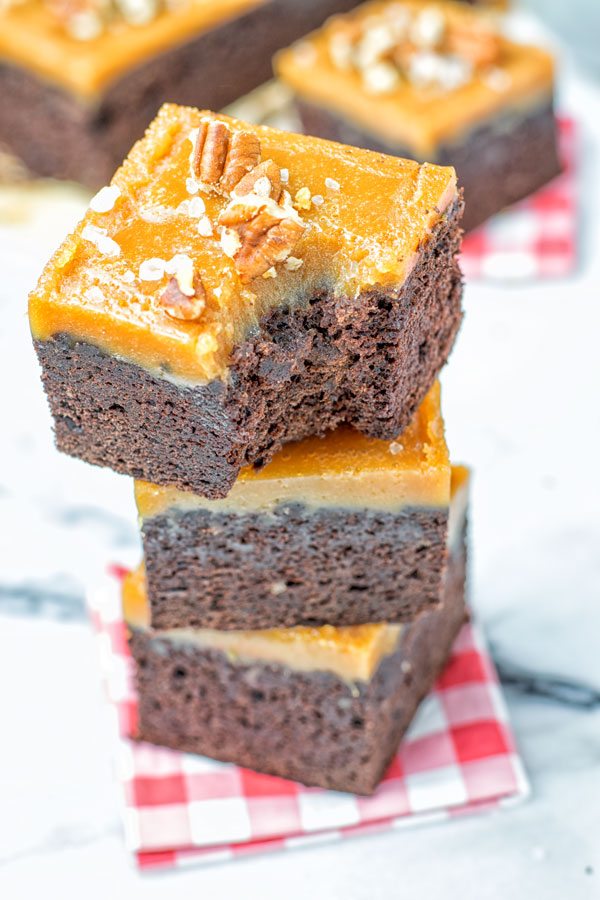 Pecans, rich in antioxidants are packed with anti-inflammatory benefits. They are not only delicious and a great snack. They are also high in manganese which is a fantastic immune booster.
I mention some of the ingredients, so you can be sure my Salted Caramel Brownies are not only mouthwatering but also made with quality ingredients and refined sugar free.

If you give these are try, tag me on Instagram and Facebook as always, show me a picture of your creations. Happy baking, cheers, Florian.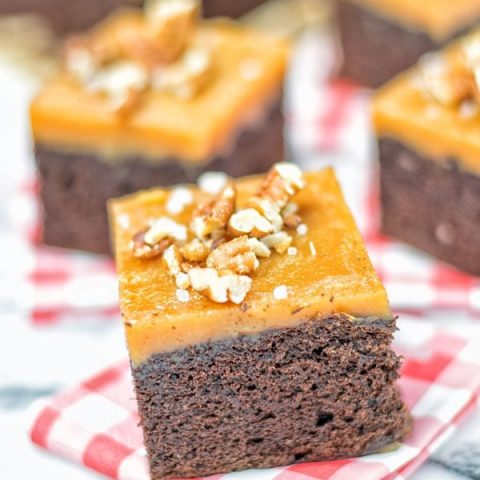 Salted Caramel Brownies with Maple Pecans
Amazingly satisfying Salted Caramel Brownies with Maple Pecans. An easy recipe for delicious gluten free brownies which happen to be vegan as well.
Instructions
Prepare the batch of Banana Bread Brownies according to the directions. Don't take the brownies out of the baking dish.
Prepare the homemade caramel, and give it over the brownies.
Top with the Maple Pecans, and a bit of sea salt flakes. Done.
Nutrition Information:
Yield:

16
Amount Per Serving:
Calories:

146
Total Fat:

4g
Saturated Fat:

1g
Trans Fat:

0g
Unsaturated Fat:

0g
Cholesterol:

0.5mg
Sodium:

7.4mg
Carbohydrates:

30g
Fiber:

4g
Sugar:

18g
Protein:

2g