After the long holiday period these 10 Easy Cleanse Recipes are a perfect way to start with a New Year Detox. Lots of amazing bowls with abundant freshness that help your body get started again. No need for a juice only master cleanse. Just enjoy good and healthy food that brings you back on track.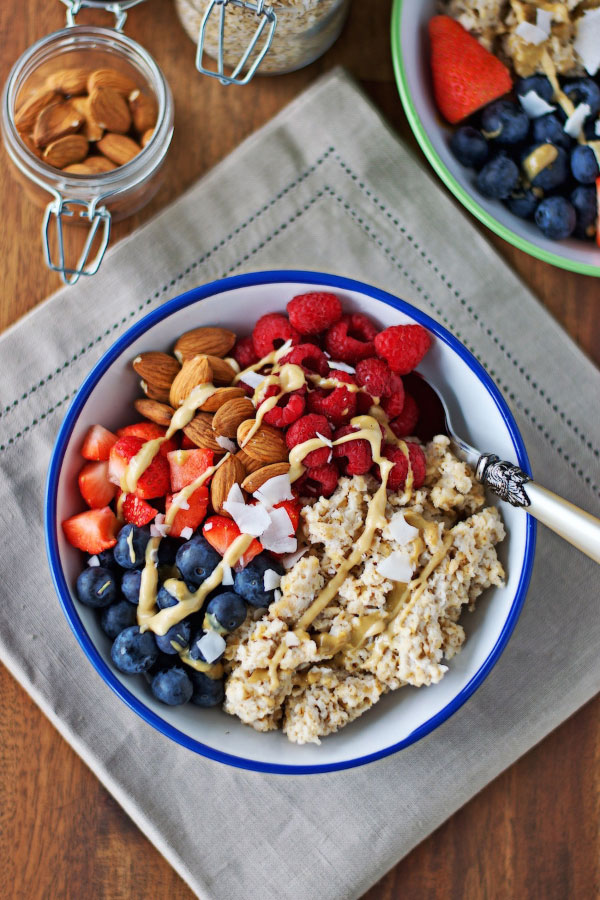 Best is to start with an easy healthy breakfast. My Vegan Breakfast Bowl is full of fruits, nuts, and comes with gluten free oats. Both nourishing and also delicious. It boosts your energy for the whole day. To give this one extra punch I suggest you sprinkle your favorite nut butter over this bowl.
I created this bowl because I found it somewhat difficult to get my daily dose of fruits in. Integrating more into my breakfast seemed like a good and natural idea how to improve this. And many of these yummy fruits also help with your cleanse.
In my Breakfast Bowl I combine fruits and nuts. You have a bit of choice how to so this according to your tastes. My favorite combination is blueberries, strawberries, raspberries, and almonds.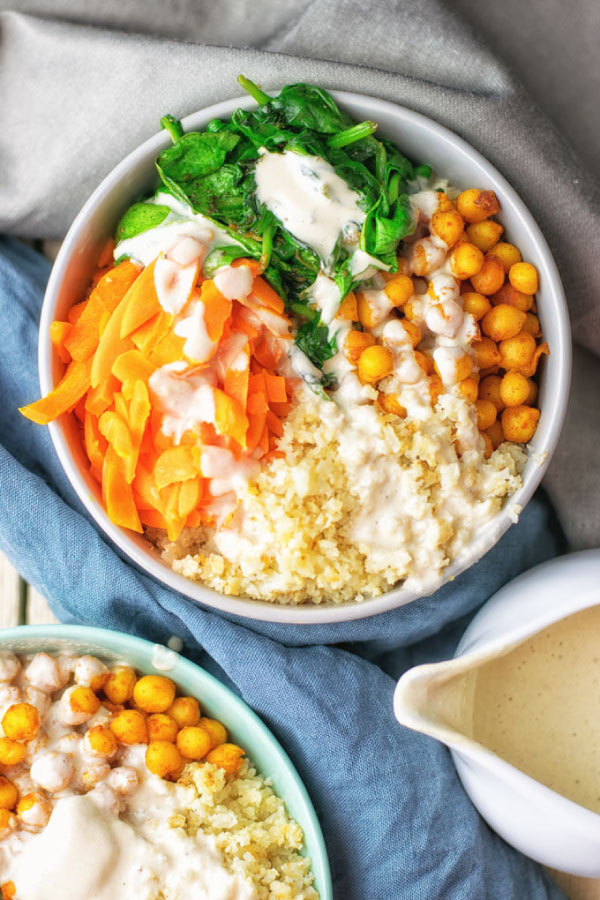 This Cauliflower Rice Buddha Bowl is very much what you know from traditional Buddha bowls. This one has a low carb twist, though.
Making food in a bowl is an eye catcher. I just love to look at them, always feeding my eyes and not only feeding my body. So bowl food is an amazing way to go for me.
And this one is both vegan and gluten free. Most importantly, it is made from just 6 ingredients. It comes with great flavor of Tandoori chickpeas, combined with fresh vegetables, and my amazing Roasted Garlic Tahini Sauce.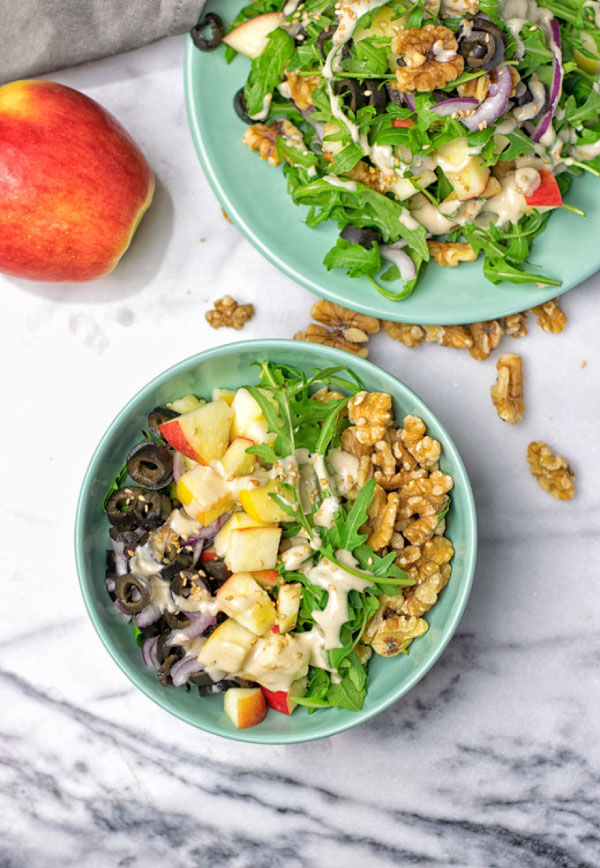 Salads cannot be missing on this list of 10 Easy Cleanse Recipes. They are some of my personal favorites because they are so straightforward to make and usually quick and easy.
Even more so, it's super easy to add a bit of detox function. In a way that does not come with loss of taste and enjoyment. To the opposite!
Stars in this salad are the walnuts. They are full of many powerful antioxidants and are therefore an immune booster, good for bone health. On top of that, there are omega 3s inside which brighten your mood every time.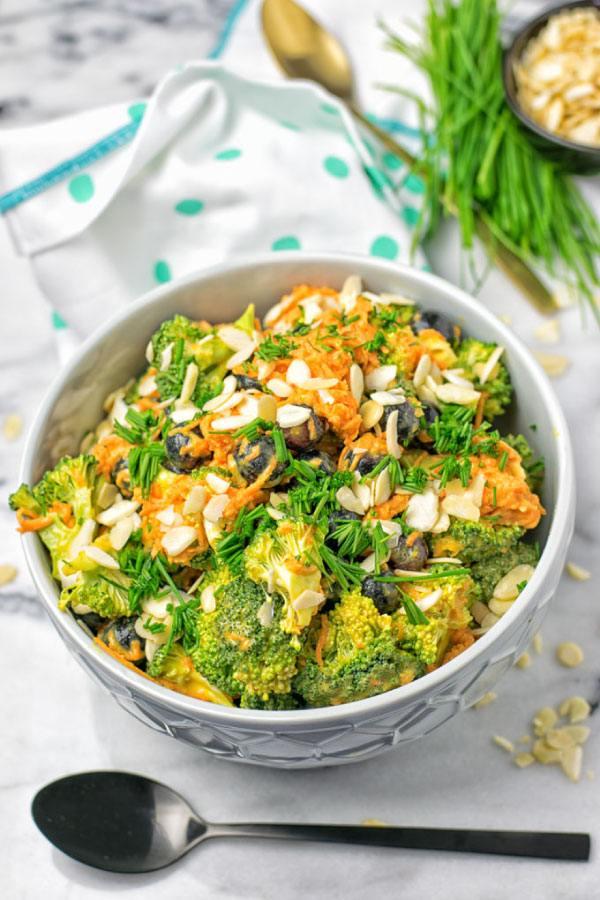 Here is another salad that is a great dish for all paleo friends out there.
This dairy free sensation is super fresh, raw and the real deal. It's made for everyone and when I say everyone I really mean it. And of course the result is absolutely delicious and easy.
No need to turn the oven or stove on for this. I find this is best when we need something quick and satisfying for lunch, dinner, or even a snack with an amazing crunch.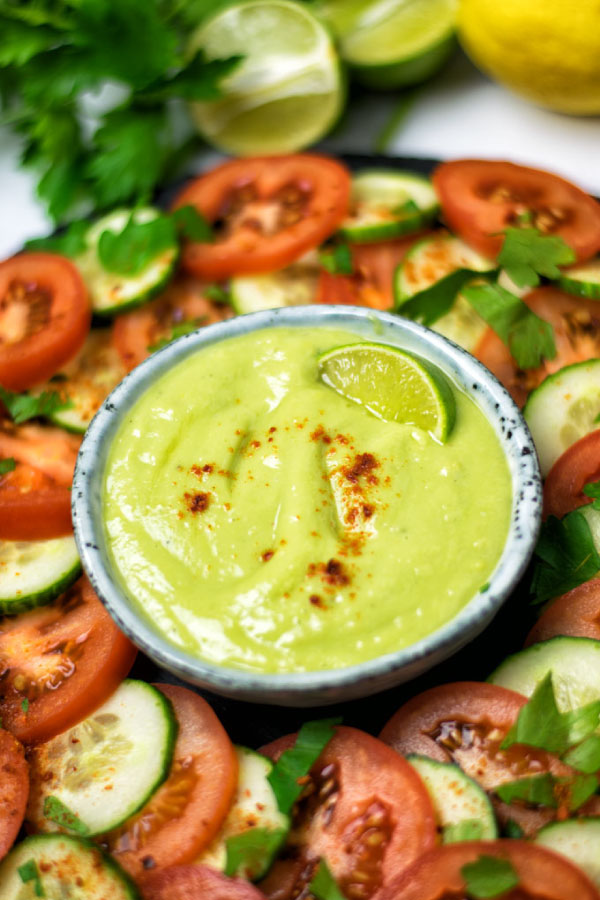 My Everyday Detox Dipping Sauce you can make from just 4 simple ingredients anytime at home. Combines the green power of avocado and citrus.
For many people, when they think about a cleanse, it often doesn't sound comfortable. We associate with it giving up on delicious favorites like pizza, pasta, sweets, and the like.
Not so with this dipping sauce. No giving up anything. Instead it's an everyday tasty condiment which goes well with plain veggies, or your favorite tortillas. Possibilities are endless of course.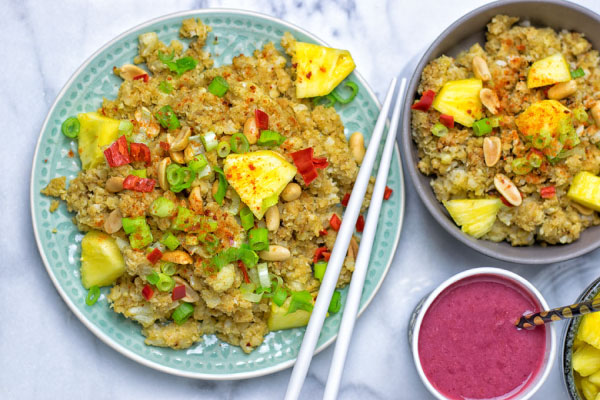 I have celebrated the start of New Year before with the Thai Green Curry Detox Cauliflower Rice. It's healthy beyond belief. A prefect way to reset your body to a healthy start.
And the best part is, you can do this with only 6 ingredients and in 2 easy steps.
This cauliflower rice is healthy and detoxifying thanks to pineapple. Easy, flavorful, fresh, green, your new to-go in every time of the season. Not just for the new year, delicious and the best way to turn your goals into reality.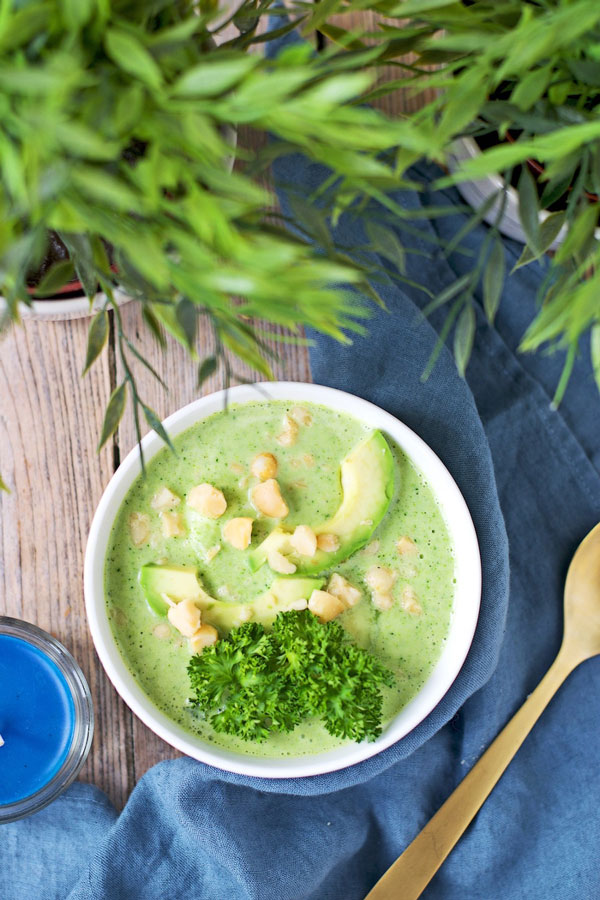 My Detox Broccoli Soup is full of flavor, good ingredients, and a lot of heart and soul. Can you believe that with only a few simple ingredients you can make a complex tasting and satisfying soup? One that is also good for your body?
Think of all the holidays during the year that involve lots of eating. Nothing wrong with that of course, but I believe that one needs to reset oneself once in a while too. Or think about times when life becomes hectic and stressful. We all tend to eat in a hurry. Not good in the long run, if it's not the right kind of food.
You can enjoy a nourishing and healthy soup even in the most hectic times. This easy soup recipe is also a great way to eat more veggies and greens in your nutrition.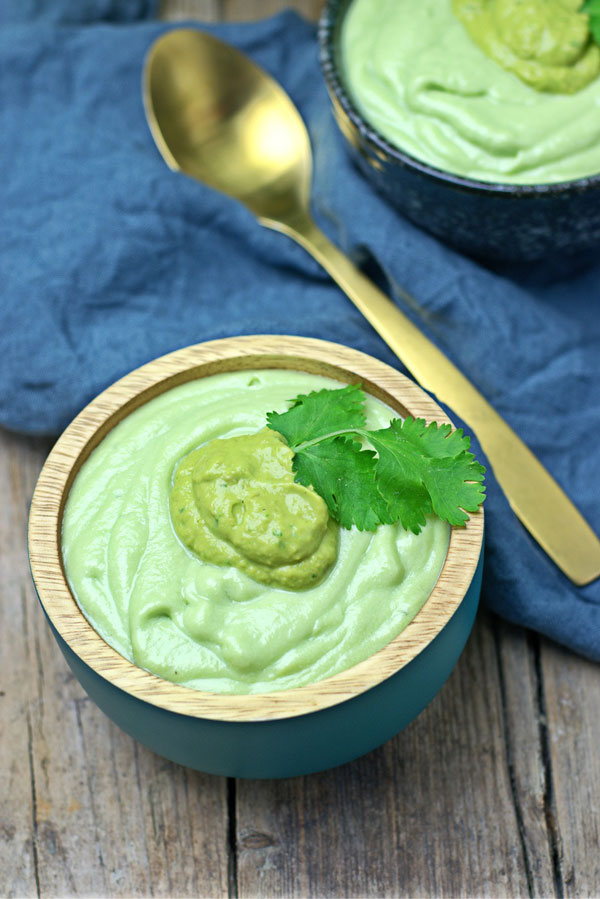 This Easy Avocado Detox Soup is the perfect choice for you starting a cleanse or if you are just into a quick and easy healthy soup.
Whatever plans we had not to overindulge during the holidays, they are very hard to stick to. Add to that that we probably don't move as much as we should.
Making this soup just takes 3 simple steps. An amazing cilantro-cashew topping gives it the extra boost of green power boost we need in these times.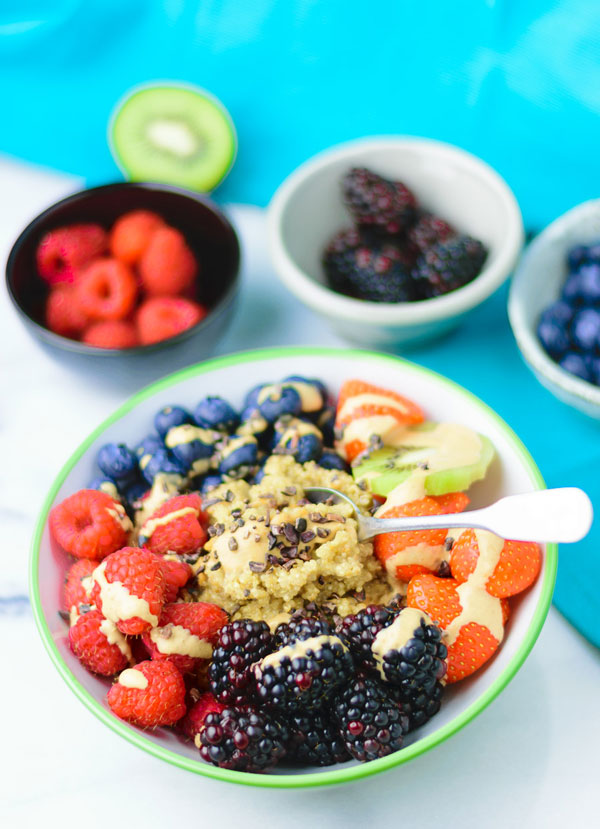 My easy Everyday Quinoa Breakfast Bowl is an awesome breakfast. It combines quinoa cooked in almond milk with fresh fruit and a sprinkle of nut butter. Charge your batteries to full with this breakfast quinoa.
This recipe gives another special twist to your breakfast options. Quinoa is one of the healthiest foods of the world. That means this easy recipe is full of benefits for you.
You can add your favorite fruits like strawberries, raspberries, blue berries, you name it. It also shows that quinoa breakfast recipes are basic but not boring at all.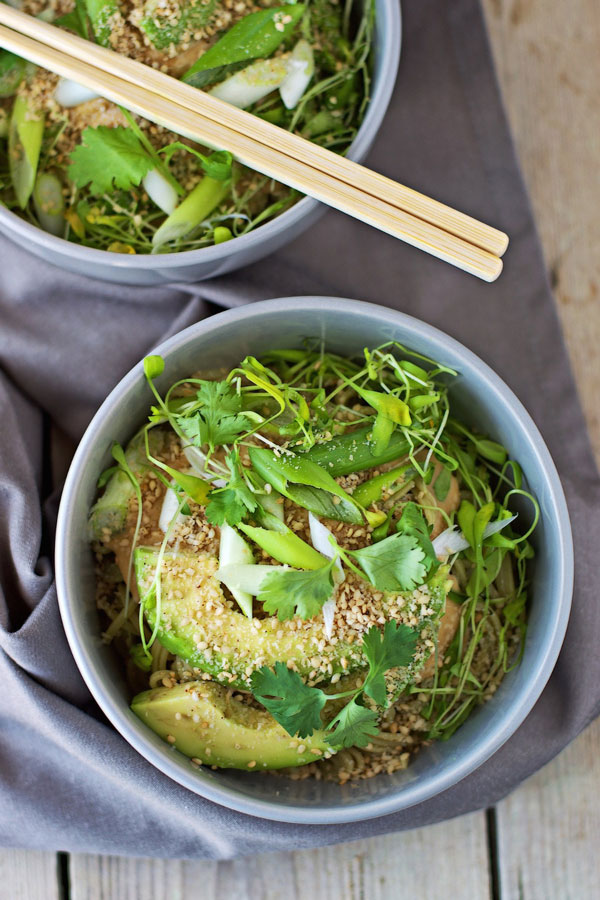 Here we have finally a super-healthy Green Bowl with Gomasio. Gluten-free soba noodles, a hearty tahini sauce, and lots of fresh greens: the avocado and scallions, with some additional cilantro and cress – or whatever one is in the mood for.
Top all of this with the Gomasio and it should be a majestic quick and yummy lunch bowl.

If you give these 10 Easy Cleanse Recipes a try, let me know. Give me a tag on Instagram or Facebook as always. Love seeing all your creations. See you soon and cheers, Florian.