Lemon Rice is made with leftover rice, lemon juice, garlic and lots of fresh herbs. It has all the amazing flavors that you love and know from Greek rice, but is so much easier to make.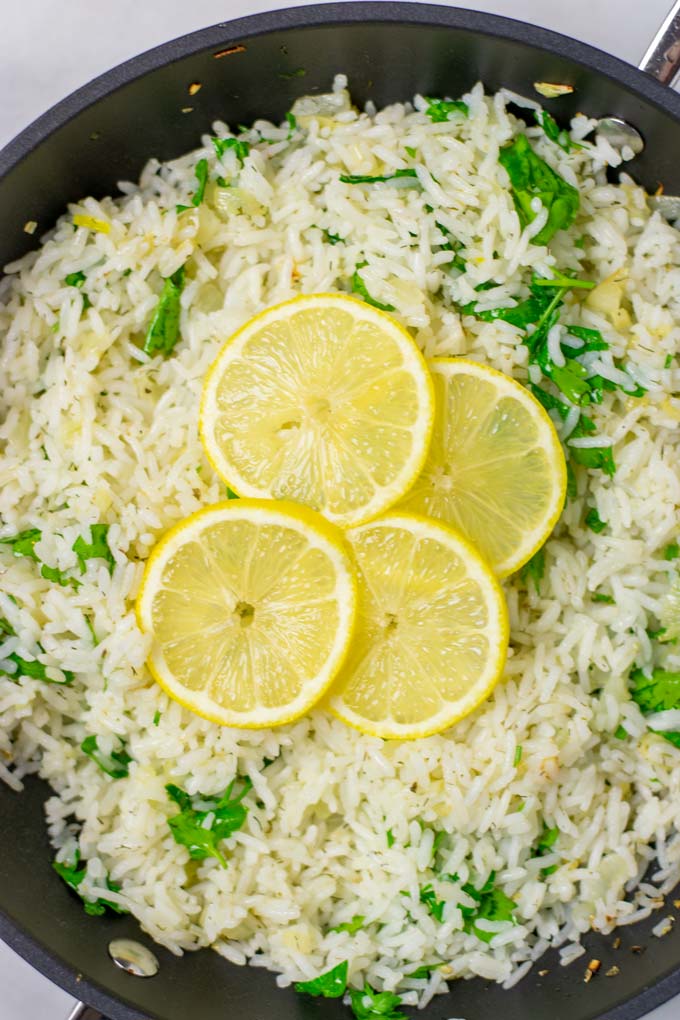 This is a really versatile dish that goes well with other Mediterranean recipes like Greek Lemon Potatoes, Greek Fries, my Greek Pasta Salad or Tzatziki Sauce.
Oh boy, I'm getting really hungry just thinking about all these tasty creations. But friends this Lemon Rice is absolutely delicious plain and can be of course a full main course, yum.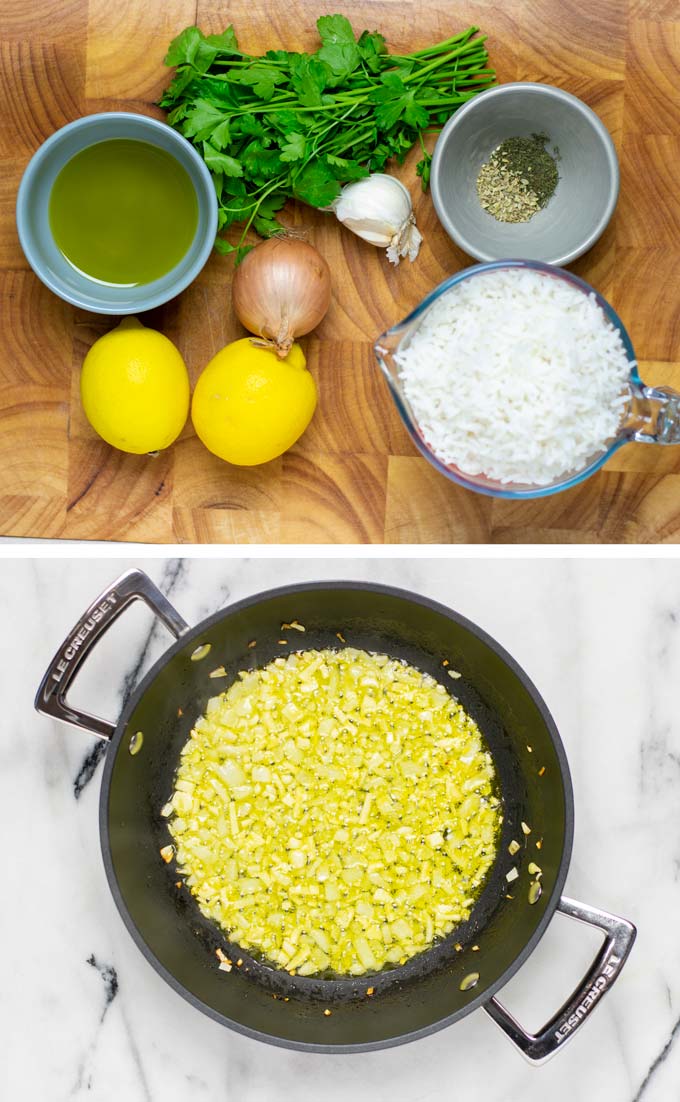 Reasons to make this Lemon Rice
As I said above my Lemon Rice has all the amazing flavors that you love from Greek rice. When making Greek rice you first need to wash it properly and then soak it for approximately 25 minutes. This helps to shorten the further cooking process and to remove starches. Last but not least at the end of the cooking you should remove the rice from your stove and let it sit for about 10 minutes.
I tell you, I don't bother with these time-consuming steps and simply use leftover rice for this recipe. What a timesaver!
Everyone loves the fresh lemon and other savory components so this is winner that everyone will love.
You won't believe everything comes so fast together and taste so amazing as if it came from a restaurant.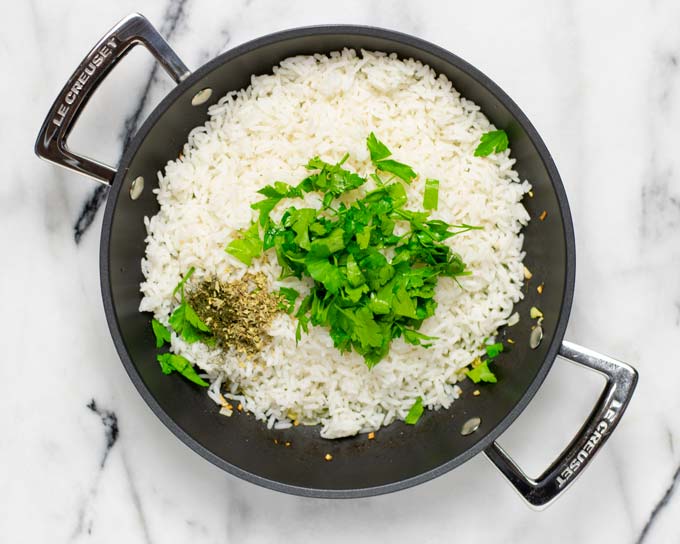 Lemon Rice ingredients
You will need the following ingredients for making this Lemon Rice recipe:
Rice: you can use any rice that you prefer, because we use leftover that is cooled and ready to work with. You don't have to be aware that brown rice needs more cooking liquid or does take longer.
Garlic and onions are essential flavor boosters and of course you can use as much garlic as you want. I find 3 cloves of fresh garlic just the right amount to enhance the flavor.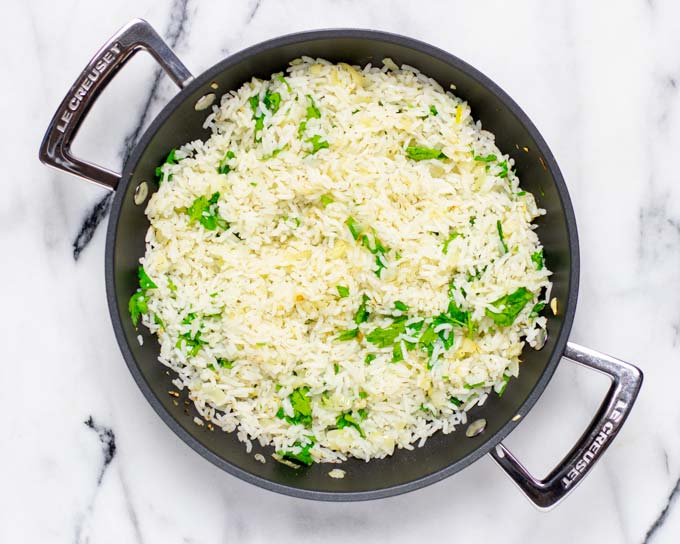 Lemon juice adds so much freshness and great lemon flavor that I do love always in dishes like my Lemon Pasta or the Lemon Pasta Sauce.
Parsley, dill and oregano: lots of great herbs are going here into the Lemon Rice. I find the combination from fresh parsley, dried dill and oregano great.
Olive oil: this is one of my favorite oils, because it give so much richness and depth to almost any dish and this one is no exception.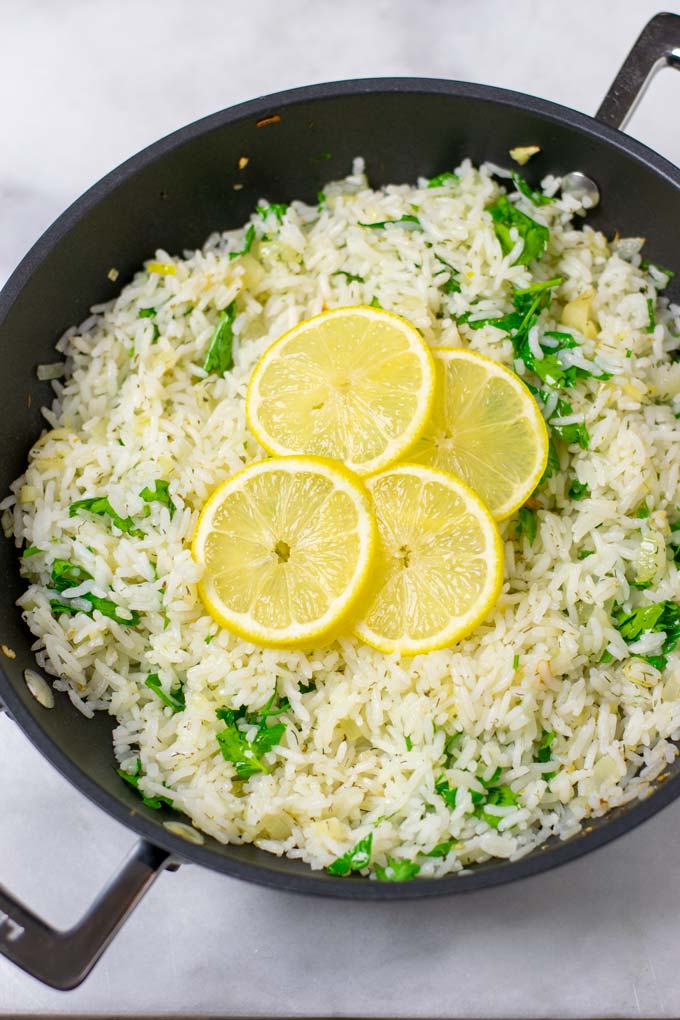 How to make Lemon Rice
In a pan, heat olive oil. Add the minced garlic and diced onions and cook them for 4 minutes on high heat.
Then, give the leftover rice and oregano into the pan. Mix well and cook all for another 4 minutes.
Finally add lemon juice and remaining herbs with a pinch of salt and pepper. Ready to serve.
Leftovers are great for around 5 days. You can easily reheat in the microwave or on the stove, but I tell you the Lemon Rice tastes even great cold.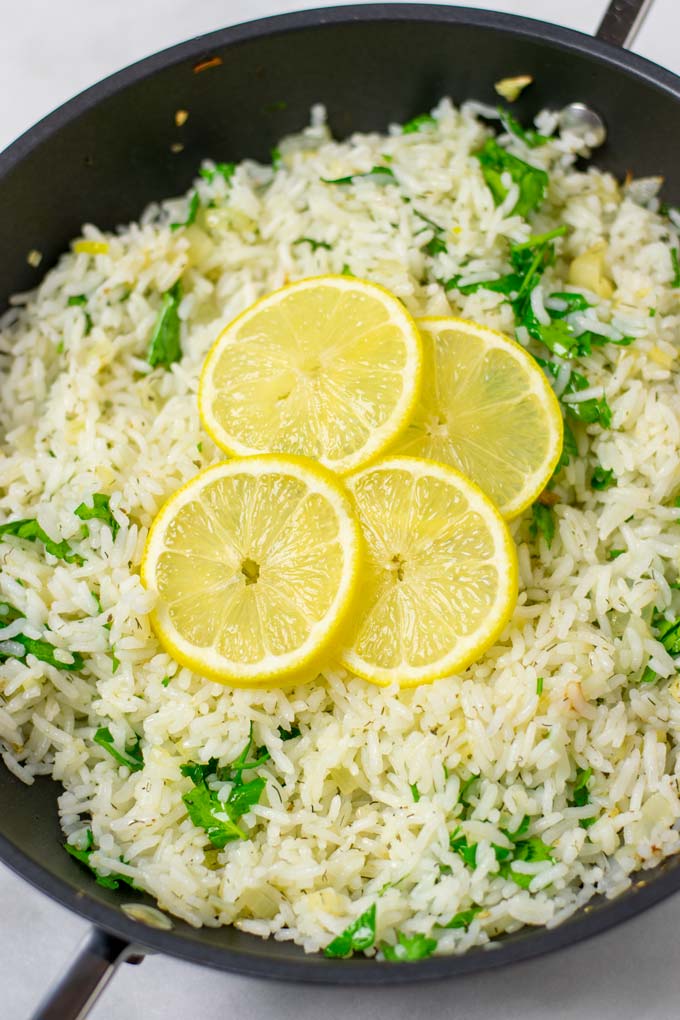 More recipes to try
If you are a garlic fan like me this Garlic Sauce is the recipe for you. What is great about it is the preparation. I'm sure you haven't tried or made anything like that. You just use your food processor and that is where the magic is happen. The result is silky, smooth like a souffle, yes.
Zucchini Parmesan is a great way to use all your leftovers zucchinis in your fridge or from your garden. There isn't any tastier way, yum.
Spaghetti sauce: you probably have your favorite one that you always serve with spaghetti. This one is mine. I always come back to it. The texture and tomato flavor are on point.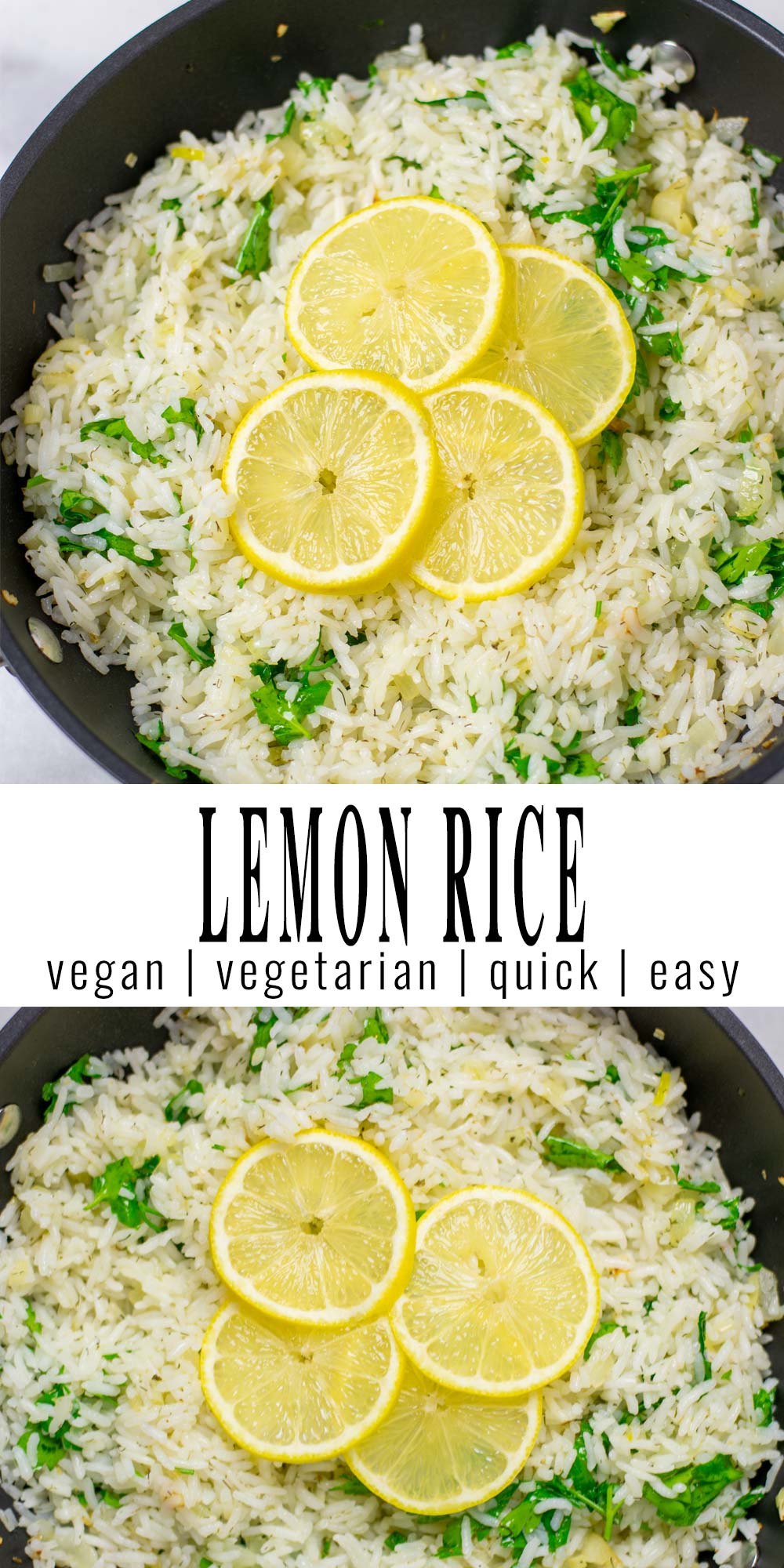 Try my Lemon Rice and let me know what you think. Tag #contentednesscooking on Instagram or share your thoughts on Facebook.
Leave a comment and a star rating below!
Enjoy, Florian.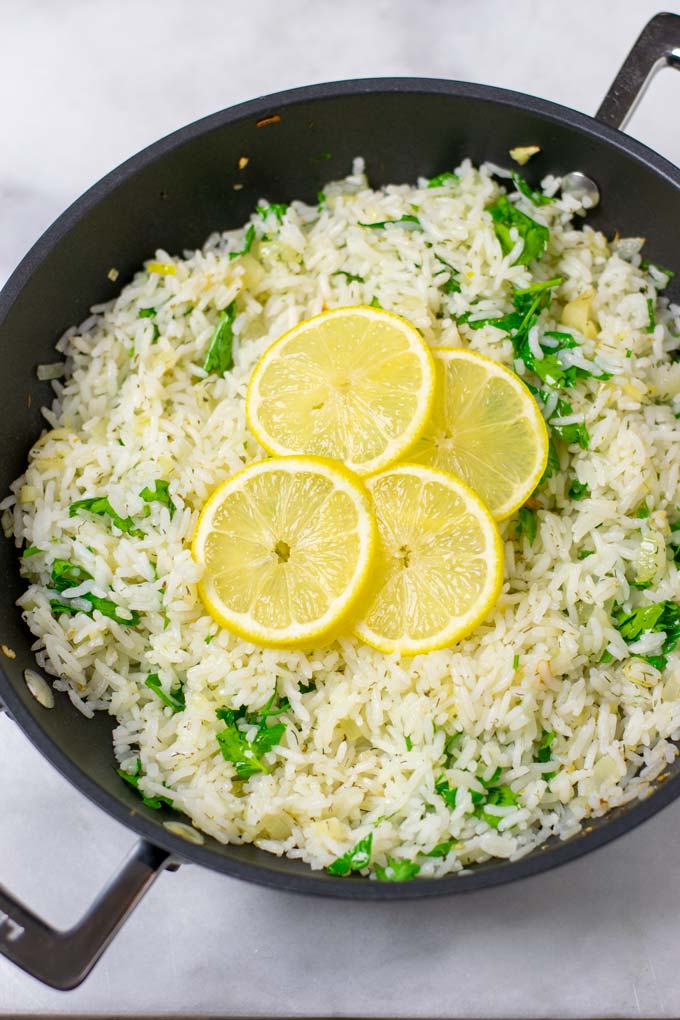 Lemon Rice
Lemon Rice is made with leftover rice, lemon juice, garlic and lots of fresh herbs. It has all the amazing flavors that you love and know from Greek rice, but is so much easier to make.
Ingredients
2 heaping cups leftover rice
1 lemon, juiced
1/4 cup olive oil
4 cloves garlic, minced
1/3 cup onions, diced
1 tsp dill
1/3 cup parsley, chopped
1/2 tsp oregano
salt, pepper to taste
Instructions
Add olive oil into a pan and heat it. Give the minced garlic and diced onion to it and fry all for about 4 minutes.
Next, add the leftover rice and oregano to the pan. Mix them with the garlic and onions and let all cook on the stove for 4 minutes more.
Finally, mix in the lemon juice, fresh parsley and of course a pinch o salt and pepper.
Serve on plates or in bowls.
Nutrition Information:
Yield:

4
Serving Size:

1 cup
Amount Per Serving:
Calories:

241
Total Fat:

14g
Saturated Fat:

2g
Trans Fat:

0g
Unsaturated Fat:

11g
Cholesterol:

0mg
Sodium:

151mg
Carbohydrates:

27g
Fiber:

1g
Sugar:

1g
Protein:

3g