Spinach Pasta is creamy, cheesy, satisfying and comes together fast, just like you know from an Alfredo Sauce. Spinach has never tasted this good. Find out how to make a simple pasta recipe that will you can be sure even pickiest eaters will enjoy.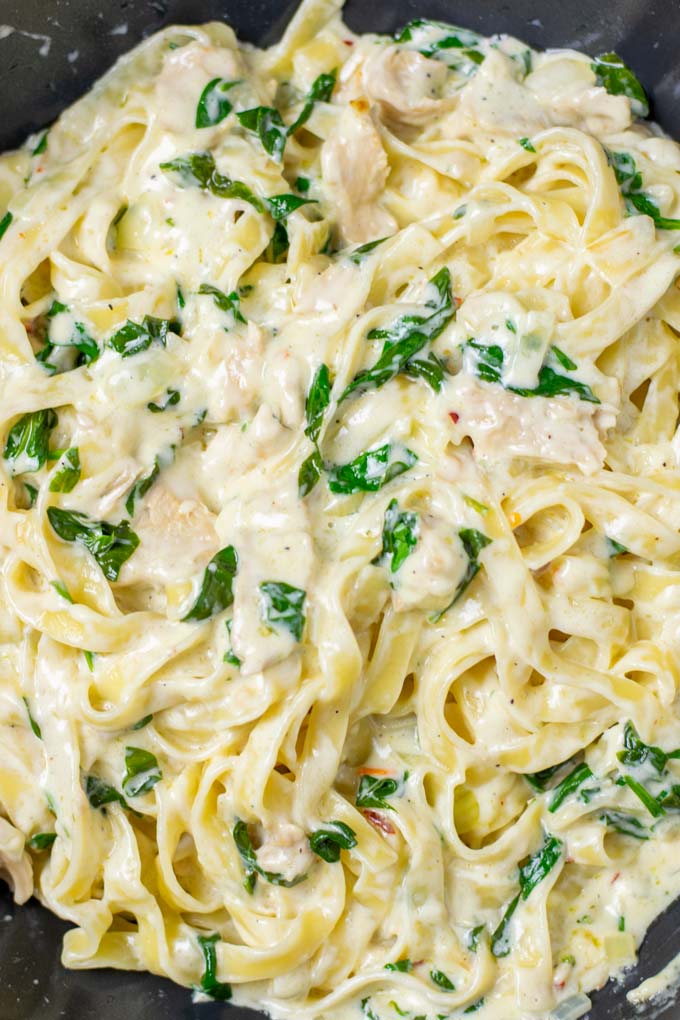 When it comes to making amazing food for any occasion, be it work lunches or weeknight family dinners, pasta is always on the top of my list. Because it cannot get any better than simply combining all ingredients for a dish and have it ready in 20 minutes.
Even better if the result tastes like a fancy dinner in a restaurant, but is so easy to make. I don't know anyone who would not love this combination.
As a bonus, if you use leftover pasta you can speed up the preparation even more.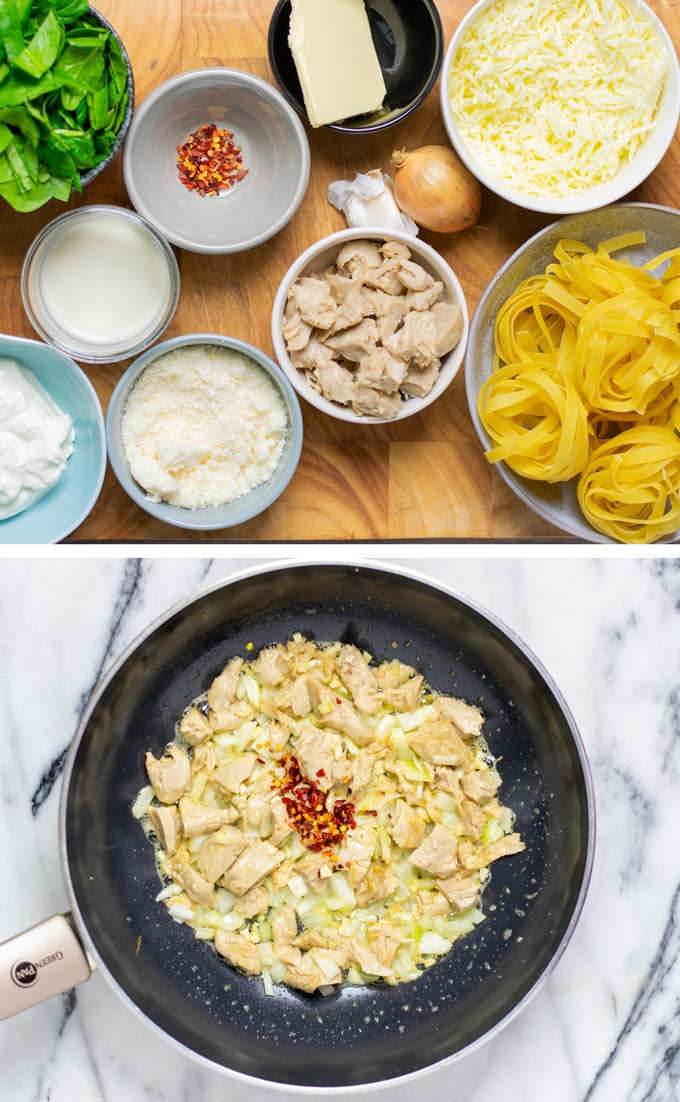 What you need for this Spinach Pasta recipe
Of course you will need some pasta. Which one you choose is not important. As you can see, I used tagliatelle but the recipe works just as perfectly with any other.
Besides this, you will need the following ingredients:
Spinach: I recommend that you use fresh spinach. It just adds the brightest green colors and a bit of crunch even after cooking.
Vegan cream cheese: For this recipe, I am not whipping up a white sauce but make instead an extra cheesy and rich sauce. I am really such a big fan of cream cheese as you probably know from my Roasted Cauliflower Soup, Sweet Potato Pasta, Bacon Mac and Cheese, or Broccoli Bake.
Vegan chicken bites: I like to use them to give this dish a hearty and meaty texture. If you prefer to leave them out, you can of course do that. While the texture will be a bit different, it will still be enjoyable.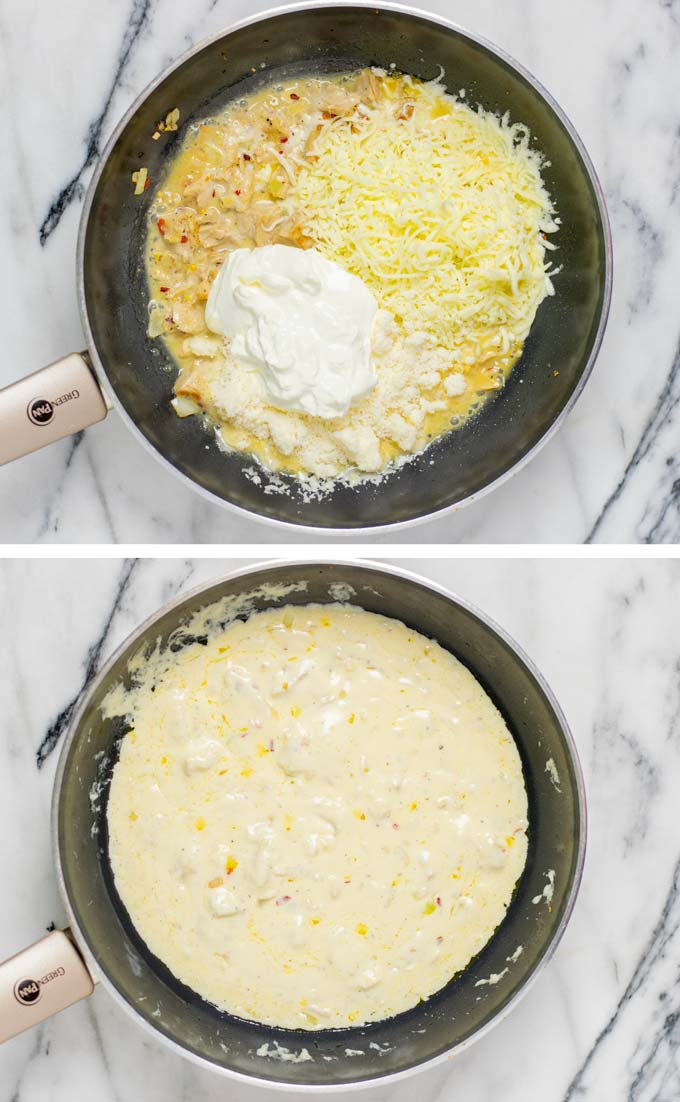 Garlic and onions: I use fresh garlic and onions which provide a lot of flavor. If you don't have any fresh ones in your pantry, you can absolutely use garlic and onion powder. There is nothing wrong about that, friends.
Dairy free butter: this is another ingredient that adds richness and creaminess to the sauce and is the reason why this Spinach Pasta tastes so decadent and delicious.
Vegan mozzarella and parmesan: these are both here to add cheesiness which I think makes everything so great.
Red pepper flakes: add a little bit heat, totally delicious and so yummy.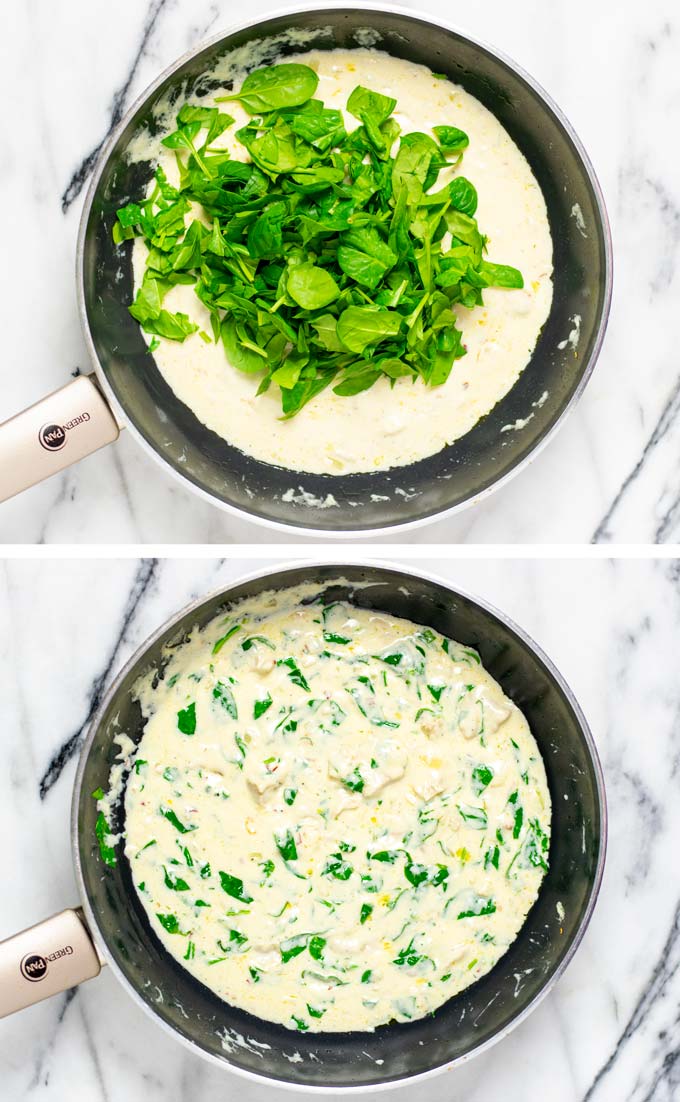 How to make Spinach Pasta
Cook the pasta of your choice in salted water according to the manufacturer's directions.
While the pasta is cooking, it is time to make the sauce. Use a large skillet or pan and heat the butter until it melts. Then add vegan chicken bites together with the diced garlic and onions. Fry everything on high heat for around 3 minutes until the onions start to soften and the lightly chicken browns on the outside.
Reduce heat to medium and give the cream cheese, milk, parmesan, mozzarella, and red pepper flakes to the skillet. Season with salt and pepper to taste, and heat everything while stirring so that all the cheeses melt and combine to a sauce. Cook on low heat for 5 minutes more.
Last but not least, add spinach (you can chop it a bit) for one minute more. Serve with the cooked pasta.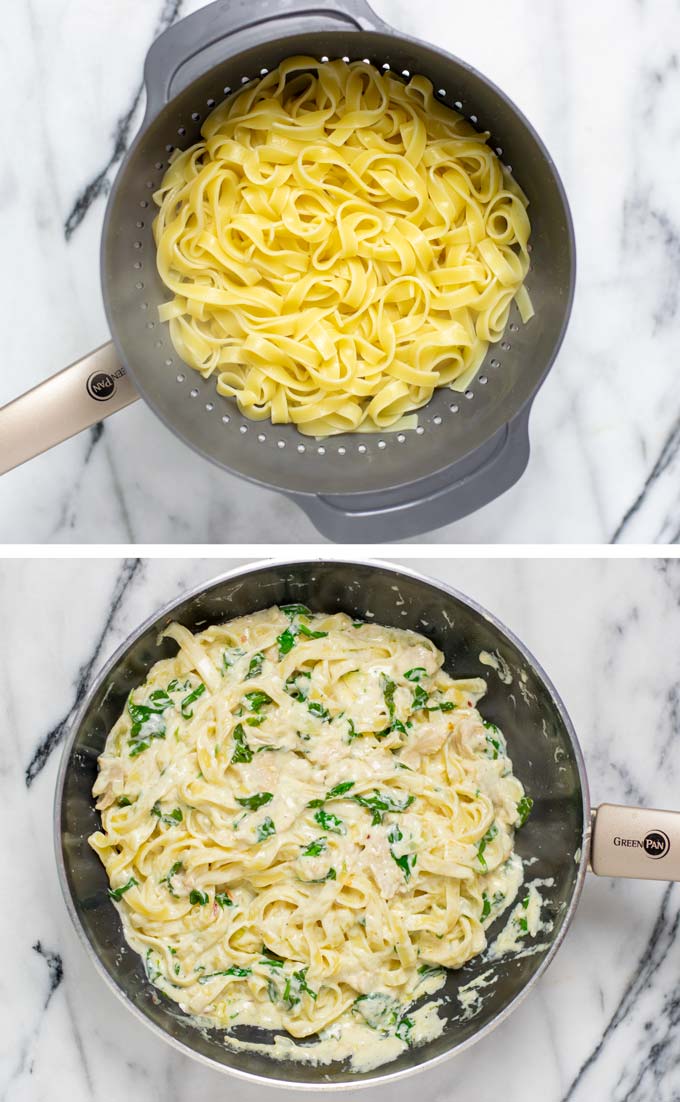 Tips and tricks to get the best out of this Spinach Pasta
If you don't find fresh spinach, you can use frozen. Keep in mind you need to thaw it completely and drain as much liquid as you can.
This works also great as casserole just bake everything, yum.
Mushrooms complement the other components really well, so add them if you like.
For meal prep: you can prepare a bigger batch of the Spinach Pasta in advance and eat it during the week. It will stay fresh in the fridge for 5 days.
As I mention before you can absolutely use any precooked or leftover pasta: great with spaghetti, bowtie, penne, rigatoni, gnocchi.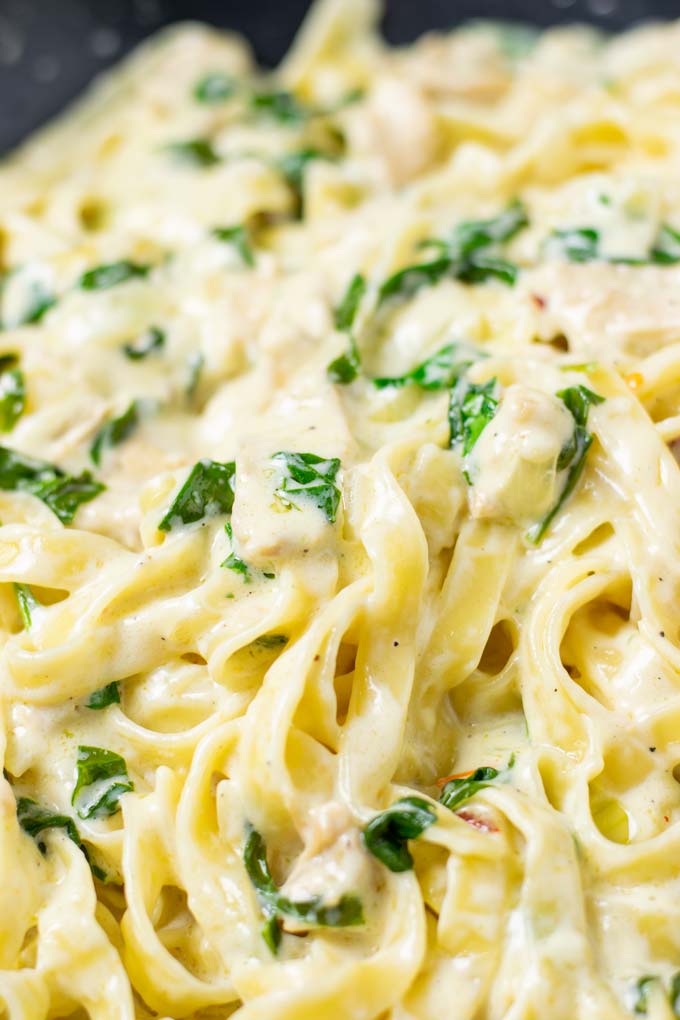 Other pasta recipes that taste amazing and you won't get enough of
Making Zucchini Pasta is a great way to use your leftover zucchinis from the pantry or garden. This combination is just so amazing and satisfying and every time I make it I go for a second or third plate.
Cheeseburger Pasta has all the flavors you know from a great cheeseburger. Who doesn't love that? But here is the thing: it tastes so amazing in pasta form. I tell you this is such an satisfying way to fill your burger and pasta cravings at the same time.
Lemon pasta: this is a keeper. Check it out and see what a splash of coconut milk does for your pasta sauce. The result is unbelievably delicious and fantastic.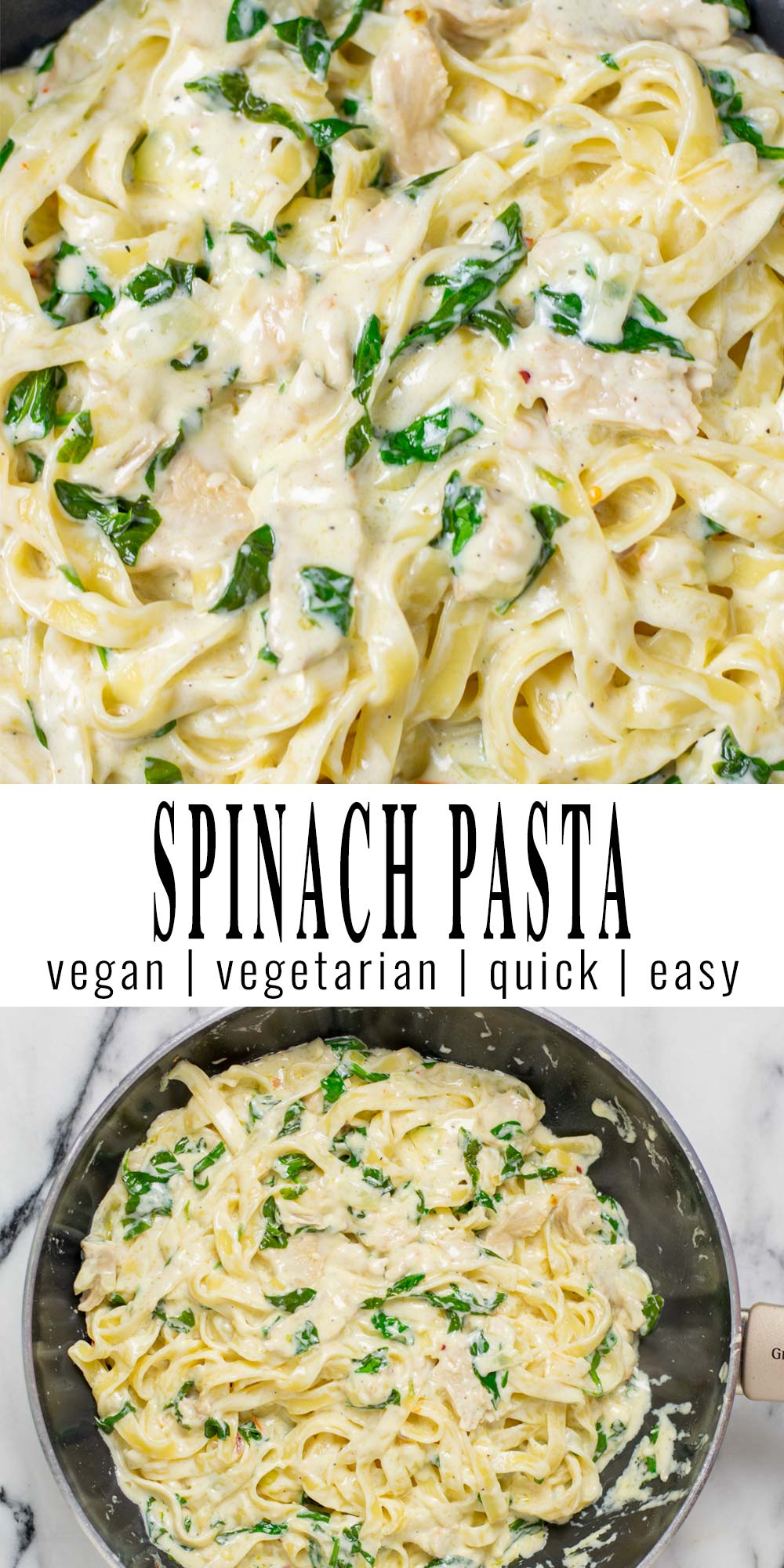 Try this Spinach Pasta recipe and know it is amazing.
Tag me with your remakes on Instagram or Facebook, and leave a comment and rating below!
Enjoy, Florian.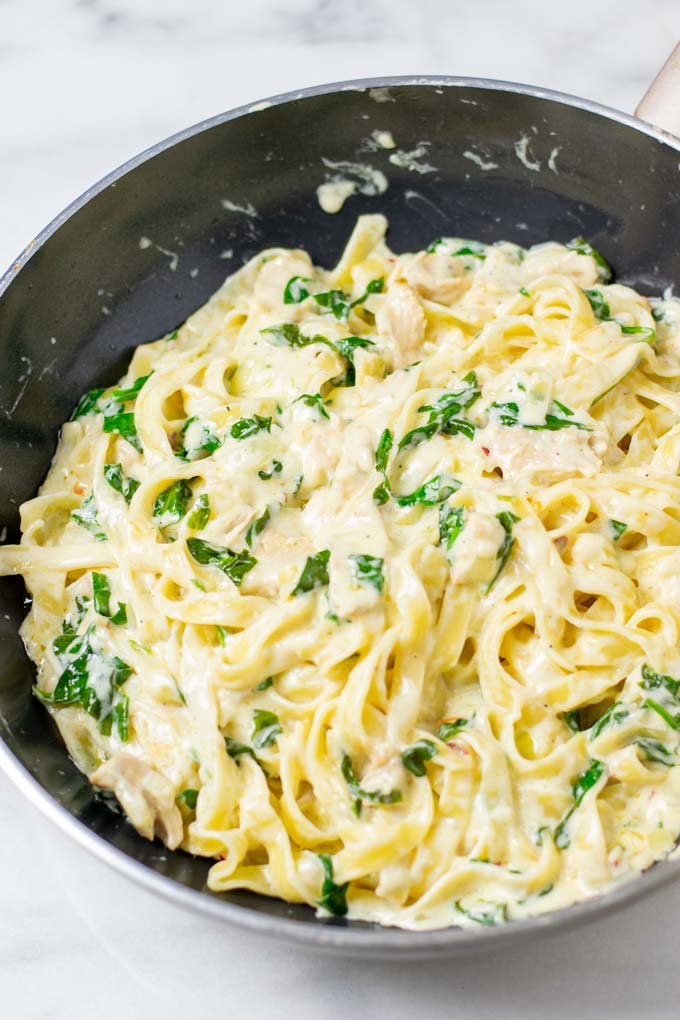 Spinach Pasta
Spinach Pasta is creamy, cheesy, satisfying and comes together fast, just like you know from an Alfredo Sauce. Spinach has never tasted this good. Find out how to make a simple pasta recipe that will you can be sure even pickiest eaters will enjoy.
Ingredients
10 oz pasta (use gf, if you prefer)
1 large handful fresh spinach
8 oz vegan cream cheese
1/2 cup oat milk
1 Tbs dairy-free butter
1/2 tsp red pepper flakes
6 oz vegan chicken
3/4 cup vegan parmesan
5 oz vegan Mozzarella, shredded
3 cloves garlic, minced
1/3 cup onions, diced
salt, pepper to taste
Instructions
Cook the pasta of your choice according to the package directions.
Make the sauce: on the stove, heat vegan butter in a pan or large skillet. When hot, add chicken bites, the minced garlic and diced onions onions. Cook on high heat for around 3 minutes.
Stir in the cream cheese, oat milk, vegan mozzarella and parmesan, as well as the red pepper flakes and a pinch salt and pepper.
When everything is melted, leave the sauce on medium heat for 5 minutes more on the stove. Keep stirring from time to time.
Finally add the spinach and be patient cooking for 1 minute more. Enjoy with cooked pasta.

Nutrition Information:
Yield:

4
Serving Size:

1.5 cup
Amount Per Serving:
Calories:

614
Total Fat:

39g
Saturated Fat:

19g
Trans Fat:

1g
Unsaturated Fat:

16g
Cholesterol:

0mg
Sodium:

832mg
Carbohydrates:

34g
Fiber:

2g
Sugar:

5g
Protein:

33g