Tirokafteri is a Greek feta dip with amazing flavors and is super creamy. Everything comes together in minutes, but the result is so good that you feel like you eat in an amazing restaurant. Great for dinner, lunch or any occasion.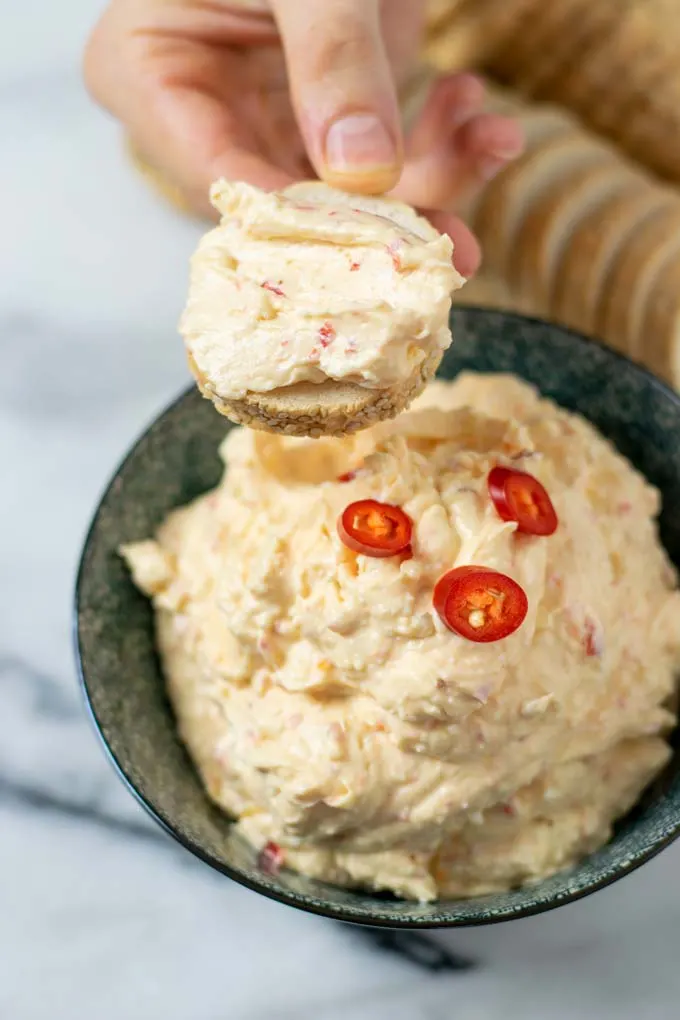 What to serve with Tirokafteri
As you can see in my step by step pictures I like to serve this Greek dip with party bread. I found one with sesame seeds on top in my local supermarket. But there are so many other great foods to serve this with:
It can be part of a mezze platter and that is what I love so much about this dip: you can build your party platter. Start with some olives, bell peppers, carrots, cucumber slices. Serve with Tzatziki or hummus.
Also Tirokafteri is fantastic with some pita bread, or make a full meal out of it and serve with Greek Lemon Potatoes.
Chips or pretzels are also delicious. Versatile and great any time.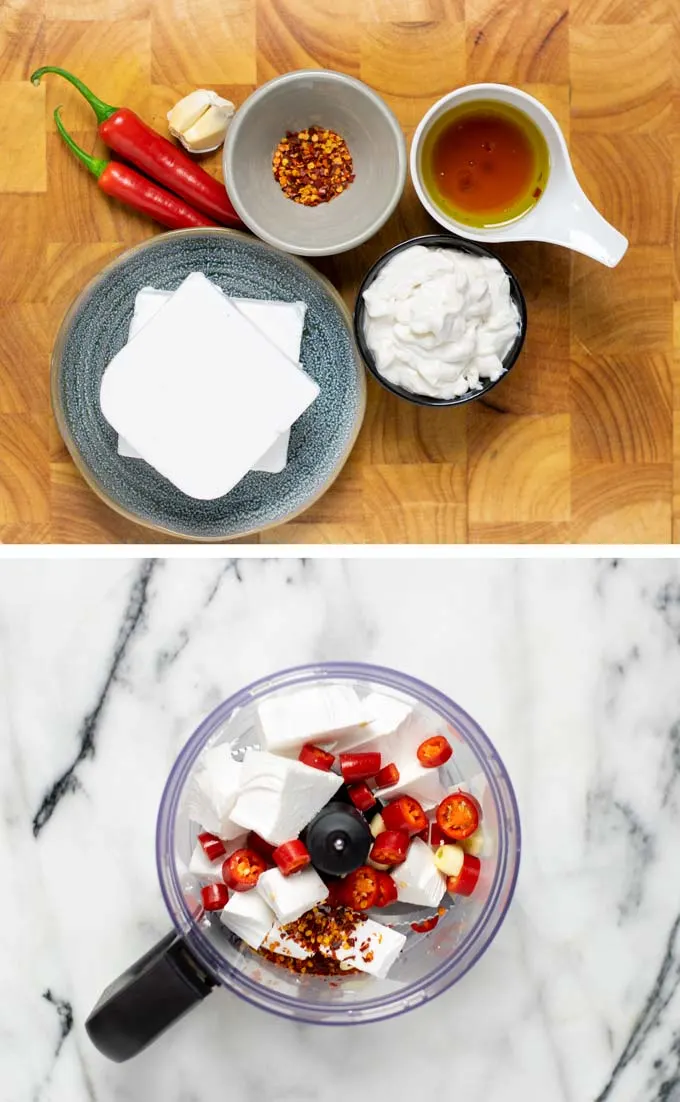 Reasons to make this Greek feta dip
It starts with just a quick prep and in minutes you have a wonderful and creamy dip that will impress guests in no time. Even pickiest eaters will eat it up when served, yummy.
The balance between the spicy and savory flavors will make you eating this dip without stopping. This is how I exactly feel every time I'm making it and I do it a lot.
Try this and you know what I'm talking about, because it is a really versatile dip that goes with almost anything you can think of.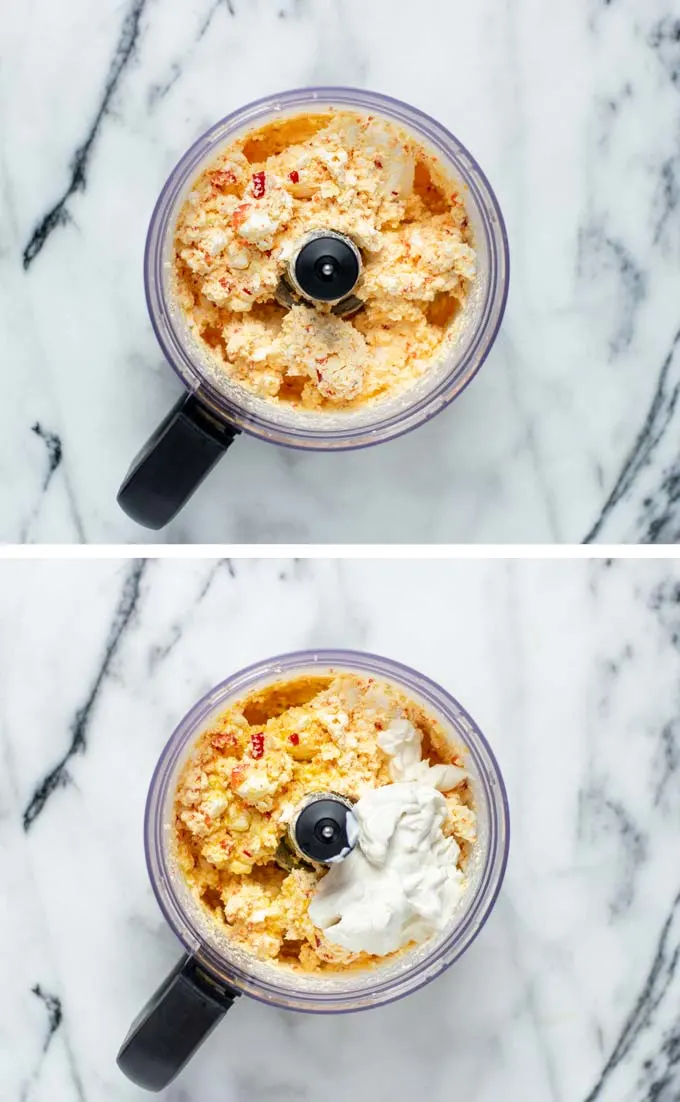 Dip ingredients
Here is what you need to make this Tirokafteri recipe:
Vegan feta is the key to so much creaminess and saltiness in this recipe. No surprise that it is such a wonderful and versatile ingredient that I use often.
Red vinegar is an amazing condiment that you can use widely and you can be sure it won't disappoint you. It adds another great layering of flavoring, not only actually here, but you can think of marinades, salad dressings and more.
Olive oil: this is simply used for a more robust flavor. In my gusto that is what you get. You can use of course any other oil, but for me there isn't any comparable.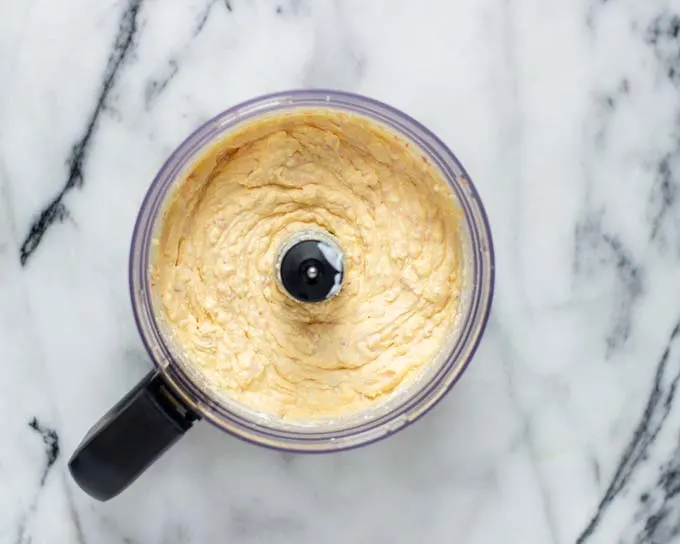 Red pepper flakes and chilis. Both are here to add a little kick to the Tirokafteri. You really need the combination of both here. If you are a bit sensitive to spicy food, just used half of both.
Two cloves of garlic is a must have for flavor. Feel free to use as much garlic you like.
Dairy free Greek yoghurt is the ingredient which makes everything so wonderful. Keep in mind to get an unsweetened yoghurt. You can use whatever yoghurt you want, therefore if you want the best result Greek style yoghurt is always the way to go.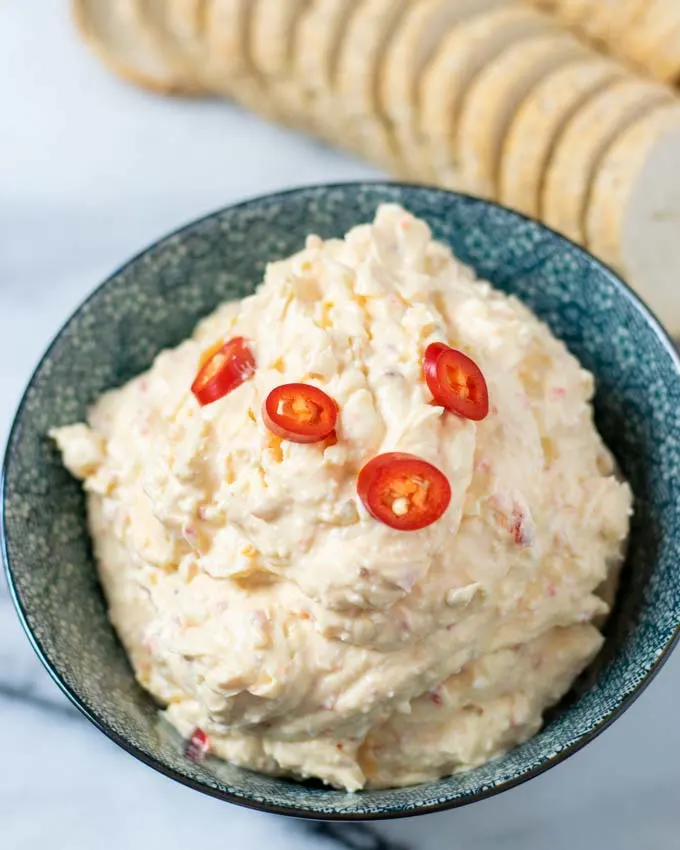 How to make Tirokafteri
Add chopped chilis, feta, garlic, red pepper flakes to the bowl of a food processor. Pulse everything a couple of times until well combined.
Proceed with giving olive oil, yoghurt, vinegar and a pinch of salt of pepper to the bowl and pulse a couple of times again. Do not overmix! There can be some texture to this.
Serve in a bowl and if you are feeling adventurous garnish with chilis on top.
Leftovers can be stored in the fridge for around 5 days.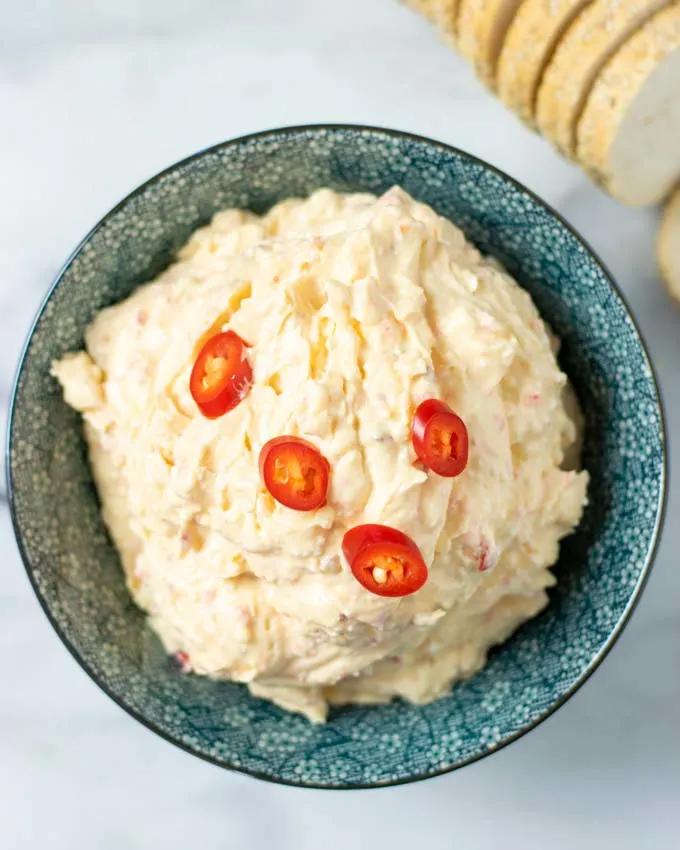 Tips and tricks
If you do not have a food processor just make sure to chop your chilis and garlic really fine. You can use a potato masher or fork and mash everything in a bowl to make the Tirokafteri.
Also a hand blender or stand mixer delivers great results as well.
For freezing: this Greek feta dip freezes well. Just give it into an airtight container and it will stay fresh in the freezer for around 3 months. This comes handy if you make a really large batch.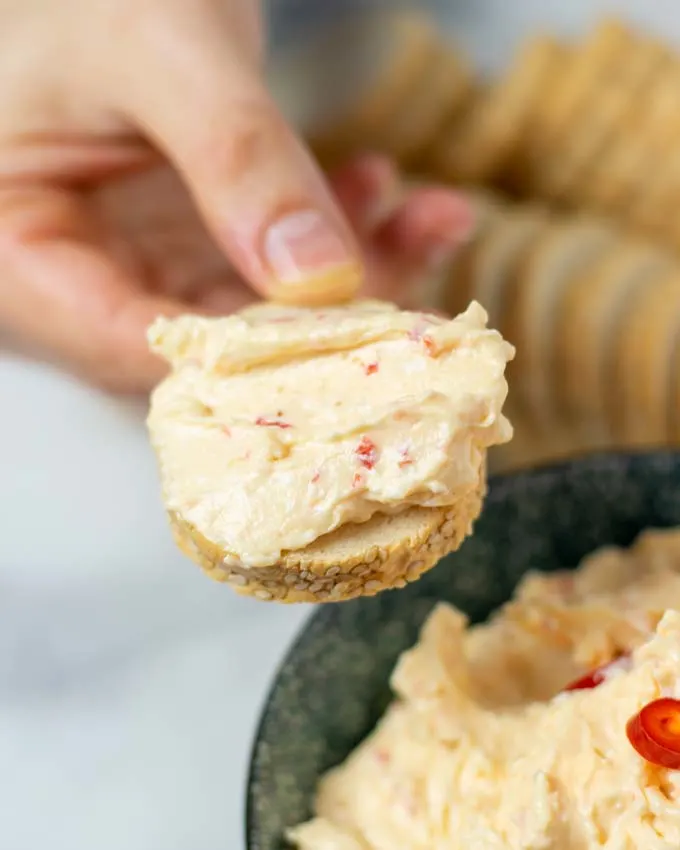 Other Mediterranean recipes you will love
My Mujadara is truly one of my favorite recipes ever. I could eat this every day with hummus or my Garlic Sauce.
If you love pasta you must try my Lemon Pasta. You will never look back, friends. Lemon juice is really great for sauces as well, yum. So much fresh flavor.
Italian Pasta salad: this one has all the flavors you adore and you won't get enough of it once you taste the dressing. So yummy.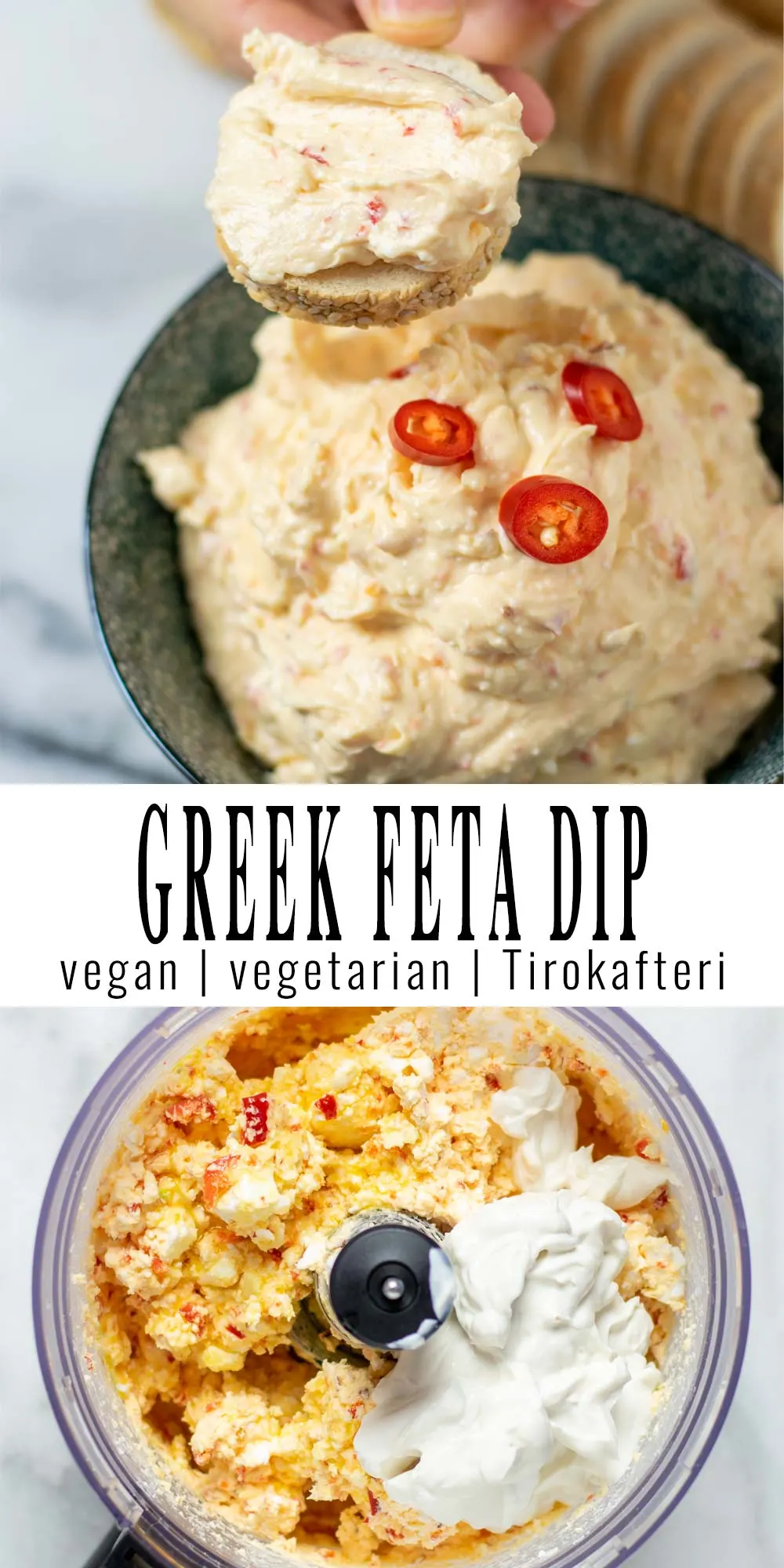 Try my Tirokafteri and let me know what you think. Tag #contentednesscooking on Instagram or share your thoughts on Facebook.
Leave a comment and a star rating below!
Enjoy, Florian.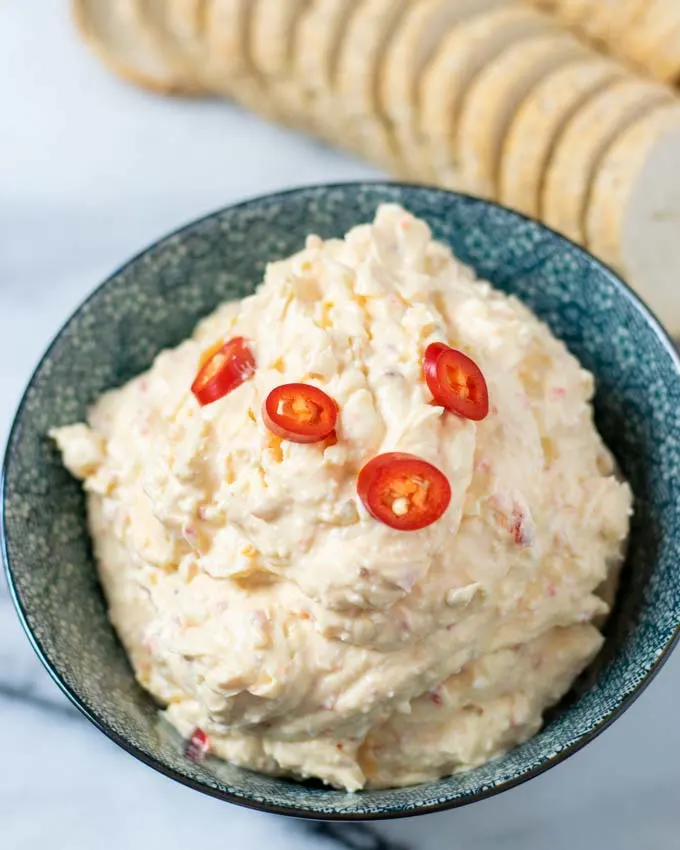 Tirokafteri
Tirokafteri is a Greek feta dip with amazing flavors and super creamy. Everything comes together in minutes, but the result is so good that you feel like you eat in an amazing restaurant. Great for dinner, lunch or any occasion.
Ingredients
16 oz vegan feta
1 Tbs red vinegar
3/4 cup dairy free Greek yoghurt
1/3 cup olive oil
1 tsp red pepper flakes
2 chilis, roughly chopped
2 cloves garlic
salt, pepper to taste
Instructions
Use a food processor and add roughly chopped chilis, the feta, garlic, and red pepper flakes to its bowl. Pulse everything for a couple of times.
Further add olive oil, Greek yoghurt, red vinegar and finally a pinch of salt and pepper. Run your machine and pulse again a couple of times.
Transfer the Tirokafteri dip to a bowl and enjoy.

Notes
Not everyone has a food processor, so I add instructions for you that you can still get amazing results without one: Start and chop your garlic and chilis fine manually. For further preparation steps use a potato masher or fork.

Get a bowl and add your finely chopped chili and garlic. Combine with feta, olive oil, vinegar, yoghurt, salt, pepper to taste. Use a masher or fork and mash everything until you have the desired consistency.

There isn't really any texture suggestions you can either mash it fine or rougher it is really left to you and will be always delicious.
Nutrition Information:
Yield:

12
Serving Size:

1/4 cup
Amount Per Serving:
Calories:

261
Total Fat:

20g
Saturated Fat:

8g
Trans Fat:

0g
Unsaturated Fat:

9g
Cholesterol:

12mg
Sodium:

134mg
Carbohydrates:

8g
Fiber:

1g
Sugar:

4g
Protein:

12g